New ethics code to groom Russian lawmakers: report 俄新倫理規範 嚴整議員風紀
Russian lawmakers and their aides will soon have to follow a new ethics code forbidding miniskirts and indiscreet behavior that may tarnish the image of parliament, a report said on March 25.
The Code of Ethics impacts everyone working in the State Duma, Russia's lower house of parliament, including deputies and their staff members, the Moskovsky Komsomolets daily said.
The code recommends a "business style marked by formality, restraint, tradition, and neatness", which might spell the end of miniskirts and low-cut blouses for many parliamentary assistants, the paper quipped.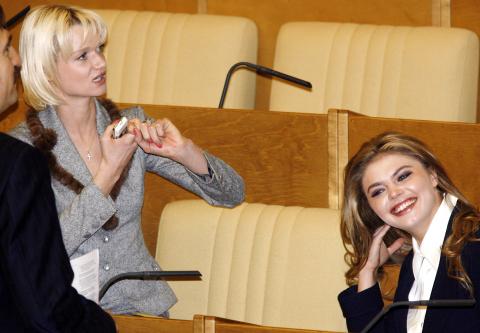 Russian State Duma lawmakers Svetlana Khorkina, left, and Alina Kabayeva, right, who are both gymnastics champions, are shown at the first parliamentary session in Moscow, Russia on Dec. 24, 2007. 二零零七年十二月二十四日攝於俄國莫斯科,是俄羅斯國家杜馬(國會)議員斯維特蘭娜‧霍爾金娜(左)與阿麗娜‧卡巴耶娃(右)在第一次議會上的照片。兩位議員都是體操冠軍。
Photo: AFP
照片:法新社
Duma workers will also have to minimize contact with journalists, directing all work-related questions to the press service, though in a "polite" manner, the paper said.
And when speaking to each other, they will have to refrain from all "rudeness" and "arrogance," the guidelines prepared on the orders of the President's anti-corruption committee said.
The Russian Duma was infamous for loud arguments and even fistfights during its raucous sessions in the 1990s, although the chamber has now lost much of its spark, with many deputies failing to show up for regular sessions.
(AFP)
一篇三月二十五日的報導說,俄羅斯議員與他們的助理不久將受到新版倫理規範的約束,禁迷你裙與不檢點行為,因為這些都可能損壞國會形象。
《莫斯科先鋒報》說,新倫理規範將對每位在俄羅斯國家杜馬工作的議員與他們的助理造成影響。杜馬是俄國聯邦議會的下議院。
報紙語帶玄機地透露,此規範建議服裝是「正式、內斂、傳統與整潔為主的商務風格」,這可能讓許多國會助理不能再穿迷你裙與低胸上衣上班。
報紙指出,在杜馬工作的員工未來也要減少與記者接觸,但還是要「客套」一下,將所有工作相關問題轉給新聞服務單位。
由總統反貪腐委員會下令擬定的準則指示,員工在相互交談時將應避免有「粗野」與「傲慢」的行為。
俄羅斯杜馬在其九零年代的喧鬧會議中,因咆哮爭吵甚至是上演全武行而聲名狼藉。現今的議院已大大失去昔日激烈的情緒,因許多議員們都在例行會議中缺席。
(法新社/翻譯:林亞蒂)
Publication Notes
TODAY'S WORDS 今日單字
1. code n.
規範 (gui1 fan4)
例: Many discotheques have a dress code that forbids jeans and trainers.
(許多舞廳都有服裝規範,禁穿牛仔褲與球鞋。)
2. tarnish v.
損壞 (sun3 huai4)
例: Eggs, salt and vinegar will tarnish or corrode silverware, so it's better to eat these foods with stainless steel cutlery.
(蛋、鹽與醋將損壞或腐蝕銀器,所以最好使用不鏽鋼食器食用這些食物。)
3. infamous adj.
聲名狼藉的 (sheng1 ming2 lang2 ji2 de5)
例: This district used to be infamous for crime and sleaze, but is now a thriving center for culture and the arts.
(這個區域曾經因為犯罪與烏煙瘴氣而聲名狼藉,不過現在已成為一個蓬勃發展的文化藝術中心。)
Comments will be moderated. Keep comments relevant to the article. Remarks containing abusive and obscene language, personal attacks of any kind or promotion will be removed and the user banned. Final decision will be at the discretion of the Taipei Times.