Don't tweet from the church: Royal etiquette guide 皇室禮節須知:不要在教堂裡玩行動裝置
Don't give the queen a friendly hug and don't tweet from the church.
That's just the start of the advice being offered to those attending Britain's April 29 royal wedding.
St. James's Palace says the guest list is an eclectic mix of European royalty, military personnel, charity workers, diplomats and friends of Prince William and fiancee Kate Middleton. Some invitees will have been born into families that teach children to curtsey as soon as they can walk, but others may need a bit of help navigating the etiquette and protocol that such an important day demands.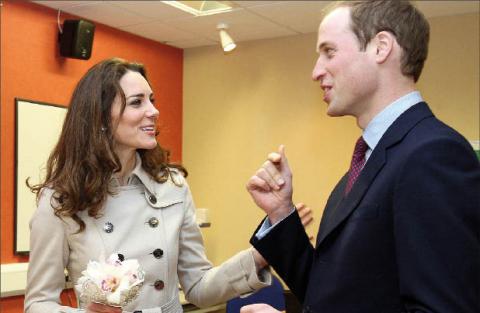 Britain's Prince William, right, and his fiancee Kate Middleton share a joke with wedding florist Rachel Gibson, unseen, in County Antrim, during a visit to Northern Ireland, on March 8. 英國威廉王子(右)與他的未婚妻凱特‧密道頓三月八日於北愛爾蘭安特里姆郡,正與婚禮花藝家瑞秋‧吉布森(未入鏡)談笑風生。
Photo: AFP
照片:法新社
Anyone who is invited to the royal wedding will be given detailed instructions on how and when to arrive at Westminster Abbey, where the wedding is being held.
The first rule: Don't be late.
"The queen should be the very last person to arrive at the church before the bride and her attendants," said wedding planner and etiquette adviser Sarah Hayward. "At most weddings, guests are asked to arrive around 20 minutes before the ceremony but the royal wedding will obviously have several important guests and very high levels of security so give yourself plenty of time to get there."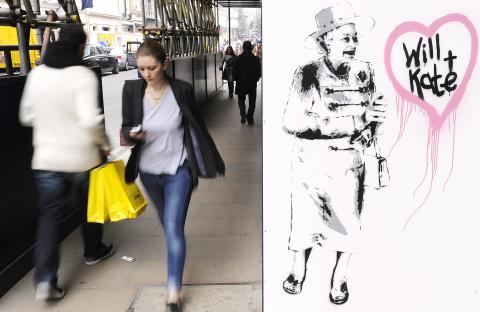 Pedestrians walk past an artwork of Britain's Queen Elizabeth, made by street artist Rich Simmons to celebrate the forthcoming wedding of Prince William and Kate Middleton in London, on March 16. 路人三月十六日於倫敦路過一位街頭藝術家瑞奇‧席蒙斯畫筆下的英國女王伊莉莎白。這幅畫是為慶祝即將到來的威廉王子與凱特‧密道頓的婚禮所作的。
Photo: Reuters
照片:路透
Next, choose an outfit that blends in.
Women should wear a dress — not too short, not too skimpy and certainly not white. Most British women will complete the look with a hat or a fascinator — a small feathered or jeweled hairpiece attached to a clip or a comb.
"Never ever ever do anything to draw too much attention to yourself," says Hayward. "It's the day the bride shines."
Men in the armed forces should wear a military uniform. Male civilians are asked to wear either lounge suits — business suits by another name — or a morning suit, formal attire that includes a long jacket and a vest. A top hat should be carried, not worn, inside the church.
Cell phones must be left at home, turned off or on silent.
Guests may be asked by security to leave their cell phones outside the Abbey, but if they aren't, they need to make sure a ringing phone is not heard by millions during a service broadcast live around the world.
"The ultimate faux pas would be to have your mobile phone go off in the Abbey, even if you had God Save the Queen as your ringtone," Hayward said.
Etiquette rules are designed to make social occasions flow more smoothly and to put everyone at ease. Experts say if a guest is unsure about how to behave, he/she should just take cues from the people around him/her.
(AP)
不要給女王一個友善的擁抱,也不要在教堂裡玩行動裝置。
這只是給參加四月二十九日英國皇室婚禮賓客,禮節忠告的開場白。
聖詹姆士宮說,賓客名單有來自歐洲皇室、軍人、慈善工作者、外交官與威廉王子與凱特‧密道頓的朋友等折衷的混合。有些受邀者來自於一會走路就開始被教導禮貌的家庭,但有一些人,可能需要在這著大日子所要求的禮貌與禮節上,接受一點幫助。
任何受邀參加婚禮的賓客將得到如何與何時抵達婚禮舉行地西敏寺教堂的詳盡指示。
規定一,不要遲到
婚禮規劃師與禮節顧問莎拉‧海沃德說,「女王應該是在新娘與女方賓客之前,最後一位到教堂的人。」絕大多數的婚禮,賓客都被要求大約在典禮前二十分鐘到達。
下一步,選一套合時宜的服裝
女士們應該要穿洋裝─不要太短、不要太暴露,且千萬別穿白色。大多數英國女士將搭配戴帽子或一個附在髮夾或髮插上的小羽毛或飾有寶石假髮的頭巾。
海沃德說,「千萬千萬別做一些會吸引目光到自己身上的事情。」她說,「這是讓新娘風光的一天。」
在軍隊的男士們應穿軍服。一般男性平民則被要求穿著日常西裝─也稱正式黑西裝─或是(白天穿的)包含長外套與背心的正式男禮服。在教堂內攜帶一頂禮帽但是不要戴在頭上。
手機必須留在家中、關機或靜音。
賓客們可能會被保全人員要求將手機放置在大教堂外,不過如果他們沒有把手機留在教堂外,則一定要確保鈴聲的手機不會在全球實況轉播婚禮時被聽見。
海沃德說,「失禮至極就是讓你的手機在大教堂內響起,即使你的鈴聲是《天佑女王》也不例外。」
設計出的禮節規範就是要讓社交場合活動進行更順利,並讓每個人感到自在。專家說,若有一位賓客對於如何表現得體感到不知所措,他/她就只要照著他/她周圍的人們做就可以了。
(美聯社/翻譯:林亞蒂)
Comments will be moderated. Keep comments relevant to the article. Remarks containing abusive and obscene language, personal attacks of any kind or promotion will be removed and the user banned. Final decision will be at the discretion of the Taipei Times.