Royal wedding: charitable gifts, not presents 皇室婚禮 只要善款不要禮
What to get the couple who has everything? How about a donation to a rhino sanctuary — or an offer of help for earthquake victims in New Zealand?
Prince William and Kate Middleton on Wednesday requested charitable gifts in lieu of wedding presents, seeking to pre-empt the tide of extravagant — and unusual — offerings that typically flood in for a royal engagement.
The palace said the couple was "touched by the goodwill shown them," and selected 26 charities to benefit from a special charity gift fund.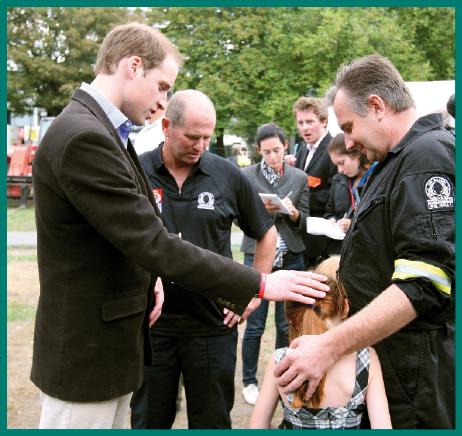 Prince William, left, visits response crews at the red zone in earthquake damaged Christchurch, New Zealand, on Thursday. 威廉王子(左)上週四到紐西蘭基督城遭地震襲擊的紅色區域造訪救援人員。
Photo: EPA
照片:歐新社
Their decision to forego toasters, gravy boats and candlesticks sets William and Middleton apart from other soon-to-be newlyweds and even the prince's parents, whose use of a wedding gift registry, replete with items such as a gourmet barbecue set and a pair of Cockatoos, was slammed by the press as "a vulgar, middle-class custom." While Charles and Diana did get some gifts in the form of charitable donations, William and his bride-to-be are said to be determined to make sure their April 29 wedding is not seen as overly ostentatious at a time when the British economy is hurting.
The charities they have selected — including some based in Canada, Australia and New Zealand — represent a range of issues, from support for army widows to local community foundations and the arts.
The list does not include any charities focused on relief efforts around the devastating earthquake and tsunami in Japan more than a week ago.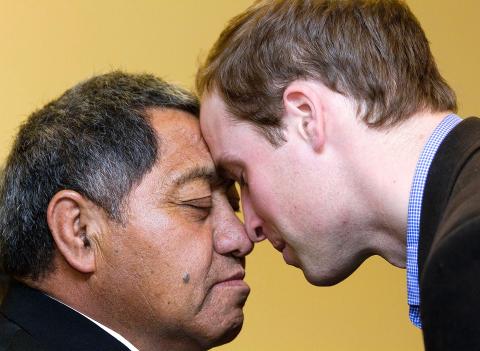 Britain's Prince William, right, receives a Hong, a Maori greeting, from a tribal leader in Greymouth, New Zealand on Thursday. 英國威廉王子(右)上週四於紐西蘭格雷茅斯以傳統的鼻碰鼻方式跟毛利部族首領打招呼。
Photo: AFP
照片:法新社
William and Middleton are "obviously very shocked and saddened by the events in Japan," but the list of charities has been in the works for weeks and is focused on countries the prince has visited, a spokeswoman for his office said. She spoke on condition of anonymity under palace rules.
"They are charities that have a particular resonance with Prince William and Miss Middleton and reflect issues in which the couple have been particularly interested in their lives to date," the palace said in a statement.
While William and Middleton are the first British royals to ask solely for donations, if past weddings are any indication, the young couple can still expect some offbeat presents.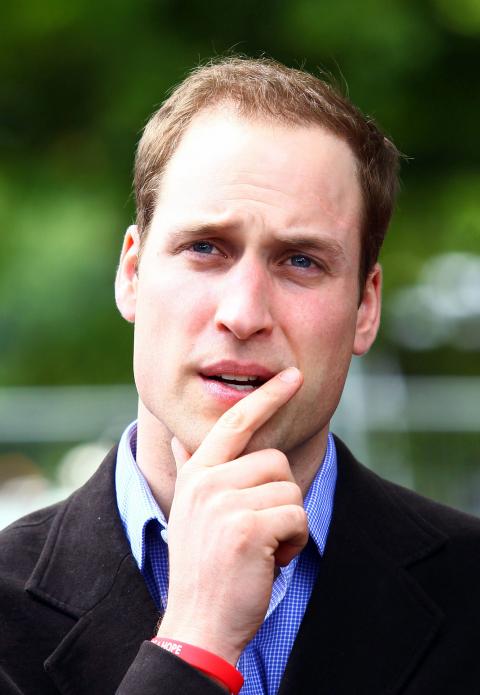 Prince William during a visit to the red zone Thursday in earthquake da-maged Christchurch, New Zealand. 威廉王子上週四造訪紐西蘭基督城遭地震襲擊的紅色區域。
Photo: EPA
照片:歐新社
Diana and Charles received a ton of locally grown peat from a council in Somerset, and the Canadian government reportedly sent them a room full of antique 18th and 19th century furniture — including a four-poster bed and a drop-leaf desk. Royal Wedding
Web site: www.officialroyalwedding2011.org
(AP)
衣食不缺的一對情侶還想要什麼呢?你認為捐助犀牛保護區如何?還是幫助紐西蘭地震災民?
威廉王子與凱特‧密道頓週三請求婚禮賓客以慈善捐款替代結婚禮物,試圖避免步入過去皇室婚禮不免俗湧入大量奢華與罕見贈禮的後塵。
王室說,這對情侶「對於各方好意心生感動」,因此會將慈善專款捐贈給已指定好的二十六所慈善機構。
威廉與米道頓不要烤麵包機、船形肉汁盤與燭台的決定,讓他們與其他準新人甚至是王子的父母大相逕庭。他的父母因結婚贈禮登記充斥著如美食家烤肉組與一對風頭鸚鵡等禮物,遭來媒體抨擊為「一個庸俗的中產階級習俗。」查爾斯與黛安娜當時得到一些慈善捐款作為結婚贈禮,不過據悉威廉與他的準新娘在英國經濟低迷不振的當下,已下決心確保四月二十九日婚禮不要太過鋪張浪費。
他們選定一些在加拿大、澳洲與紐西蘭的慈善機構,涵蓋了一系列的議題,舉凡慰問軍隊遺孀、幫助地方社區基金會到支持藝術都有。
這個名單不包括任何為日本一週多前大地震與海嘯賑災的慈善機構。
一位威廉辦公室發言人表示,威廉與米道頓「顯然對於日本發生的事件感到很震驚且難過」,不過這個名單已籌備數週了,對象鎖定王子曾經造訪過的國家。這位發言人根據王宮規定以匿名發言。
王宮在一篇聲明指出,「這些慈善機構和威廉王子與米道頓小姐特別投緣,並且反映這對情侶至今特別感興趣(或關注)的議題。」
威廉與米道頓是第一對全面要求善款的英國皇室成員,但根據過去皇室婚禮的紀錄,這對年輕情侶預期可能不免會收到一些不尋常的禮物。
黛安娜與查爾斯收到薩默塞特郡的大量泥煤,還有據說加拿大政府寄給他們一整間十八與十九世紀的骨董家具,其中包含四柱床與摺葉書桌等。
皇室婚禮網站:www.officialroyal
Publication Notes
Comments will be moderated. Keep comments relevant to the article. Remarks containing abusive and obscene language, personal attacks of any kind or promotion will be removed and the user banned. Final decision will be at the discretion of the Taipei Times.