Parents worry about rising cram school costs 十二年國教,家長憂心補習更多更花錢
The magazine Global Views Monthly recently published a major survey on the 12-year compulsory education system. It showed that 70 percent of parents were in favor of it, but over 50 percent of them thought that removing the entrance exam and instead looking at academic results would increase the pressure of schoolwork on children. Almost 50 percent of parents would choose to increase the time their children spent in cram schools. The monthly expense for supplementary education is estimated to be almost NT$7,000 per child. Once 12-year compulsory education is implemented, there are fears that this cost might increase.
Less than 40 percent of families with children between seven and 12 years old said they wanted their children to attend the senior high school in their school district, while 32 percent said they would let the children decide. Around 14 percent would move their children's household registration to a district with a reputable senior high school. In addition, close to 20 percent would register their children in private senior high schools with high university enrolment rates.
Sixty-seven percent of children under the age of 12 attend cram schools. The average sum spent on supplementary education is NT$6,950. For households with incomes less than NT$40,000, monthly spending on children's supplementary education exceeds NT$5,700.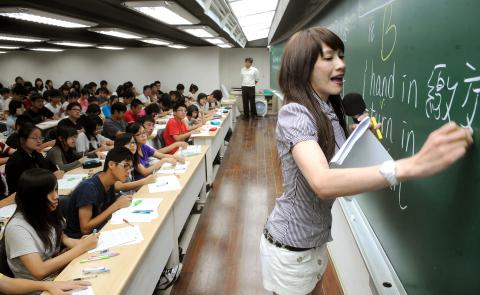 A cram school teacher, holding a microphone, writes on the blackboard during a class. 補習班教師上課時拿著麥克風講課,並於黑板上寫字。
Photo: Wang Min-wei, Liberty Times 自由時報記者王敏為攝
Global Views Monthly made this survey between Feb. 11 and 17 by random phone interviews to 823 people. The estimated margin of error is plus or minus 3.4 percent.
The National Alliance of Parents Organization (NAPO) suggests that enrolment in universities based on academic results would result in more students going to cram schools, and that since there are plans to let children enroll in schools without taking an exam, academic results should not be taken into account. NAPO also stressed that the survey results are a reflection of the fact that a majority of parents still view the 12-year compulsory education system based on traditional views with an excessive focus on moving on to higher education, and that the Ministry of Educations (MOE) promotion of the new system is insufficient.
The National Teachers' Association (NTA) said the survey shows the superstitious belief in cram schools among parents.
In response, the MOE said the 12-year compulsory education system has a complete set of complimentary programs once implemented. It is aimed at reducing the pressure on students of entering higher education, and it will also take account of parental concerns. A draft of the plan will be published around August, and it is scheduled to be implemented in 2014.
(LIBERTY TIMES, TRANSLATED BY TAIJING WU)
《遠見雜誌》最近公布十二年國民義務教育大調查結果,七成家長表態支持,但超過五成認為如果少了基測,改採在校成績,反而增加孩子的課業壓力。近五成家長會選擇增加孩子補習時間,目前每個小孩估計每月補習費近新台幣七千元,實施十二年國教後,補習費恐再增加。
家有七到十二歲的學童家長中,不到四成的受訪者表示,會配合政府十二年國教政策,讓孩子去唸學區內高中;三成二讓小孩自己決定,一成四左右則會把小孩戶口遷到明星高中學區內。此外,近二成家長會讓小孩去唸升學率高的私立高中。
台灣十二歲以下學童有補習比率達六成七,平均每個月補習費達新台幣六千九百零五元,家庭收入新台幣四萬元以下,每月也要花費新台幣五千七百多元。
遠見雜誌是在今年二月十一日到十七日,針對台灣家有十二歲以下小孩的父母,以電話訪問隨機跳號的方式,共訪問八百廿三人,誤差值為正負百分之三.四。
全國家長團體聯盟認為,採計在校成績一定會增加補習風氣,既然要推動免試入學,就不應該看在校成績。全家盟也強調,遠見的調查結果反映,大多數家長還是以傳統升學主義心態來看待十二年國教,教育部宣導不足。
全國教師會認為,這項調查凸顯台灣家長迷信補習。
教育部則回應,十二年國教實施時有整套的配套方案,目標在紓緩升學壓力,會考慮家長擔憂,將在八月左右公告草案,預計二零一四年起實施。
(自由時報記者林曉雲、胡清暉)
Publication Notes
TODAY'S WORDS 今日單字
1. compulsory adj.
必須的;義務的 (bi4 xu1 de5; yi4 wu4 de5)
例: You don't have a choice in the matter, attendance is compulsory.
(針對這件事情你別無選擇,出席是必須的。)
2. random adj.
隨機的 (sui2 ji1 de5)
例: There is no system to the selection process, it is completely random.
(在挑選上並無系統,完全是隨機的。)
3. superstitious adj.
迷信的 (mi2 xin4 de5)
例: He's so superstitious he even believes breaking a mirror will bring seven years' bad luck.
(他迷信到相信打破鏡子會帶來七年霉運。)
Comments will be moderated. Keep comments relevant to the article. Remarks containing abusive and obscene language, personal attacks of any kind or promotion will be removed and the user banned. Final decision will be at the discretion of the Taipei Times.