Senator hits 'made in China' US presidents 美總統雕像中國製 參議員痛斥
During Chinese President Hu Jintao's recent state visit to Washington, a US senator expressed disbelief on Jan. 19 that a major museum in the US capital sells only "crafted in China" busts of US presidents.
"That is pretty pathetic! I was not aware that the collapse of our manufacturing base had gone that far," Independent Senator Bernie Sanders said in a letter to the director of the National Museum of American History.
Sanders's office released photographs of bronze-colored busts of the first US president, George Washington, as well as his current successor, Barack Obama, labeled "crafted in China."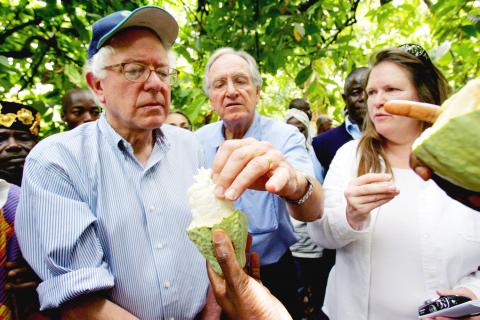 US Senators Thomas Harkin, center, and Bernard Sanders, left, and Sanders' wife hold cacao beans as they visit a cacao plantation near Abidjan, Ivory Coast in November 2008. 這張二零零八年十一月攝於象牙海岸阿比尚附近的照片,是美國參議員湯瑪斯‧哈金(中)、伯納‧桑德斯(左)與桑德斯的妻子,手拿可可豆參觀可可種植園。
PHOTO: AFP 照片:法新社
The lawmaker urged the museum to stock its shelves with US-made goods, while noting that the museum's purchase of Chinese goods "will not have a profound impact upon our massive trade deficit -- currently at US$457 billion (NT$13.71 trillion)…But the symbolism is extraordinary."
"It appears that a museum owned by the people of the United States, celebrating the history of the United States, cannot find companies in this country employing American workers that are able to manufacture statues of our founding fathers, or our current president," he said.
(AFP)
當中國國家主席胡錦濤在美國華府展開訪問,一位美國參議員一月十九日對華府的主要博物館只販售「中國製造」的美國總統半身像,感到難以置信。
無黨籍參議員伯納‧桑德斯在一封寫給「國立美國歷史博物館」(National Museum of American History)館長的信說,「這是很悲哀的!我不知道我們製造業已衰落到這般地步。」
桑德斯的辦公室公布美國首任總統喬治‧華盛頓與現任總統巴拉克‧歐巴馬半身銅像,上面都標示為「中國製造」。
當這位參議員發現這間博物館購買中國貨時,就呼籲博物館架上只放美國製造的產品。他說,儘管這「將不會對我們目前四千五百七十億美元(約新台幣十三兆七千一百億元)的鉅額貿易赤字造成深遠影響,但象徵意義非同小可。」
他說,「這顯示美國人民所有的博物館、頌揚美國歷史的博物館,在美國境內找不到雇用美國勞工的公司,可以製造我們國父與現任總統的雕像。」
(法新社/翻譯:林亞蒂)
Publication Notes
TODAY'S WORDS 今日單字
1. disbelief n.
難以置信 (nan2 yi3 zhi4 xin4)
例: Grant's parents were astonished when they saw how messy the house was. You could see the disbelief written all over their faces.
(葛蘭的父母對於看到房內如此凌亂感到十分驚訝。你可以看到他們的臉上流露難以置信的表情。)
2. profound adj.
深遠的;深刻的 (shen1 yuan3 de5; shen1 ke4 de5)
例: I like this song. The words aren't very profound, but the tune is very catchy.
(我喜歡這首歌。歌詞雖不太深刻,但曲子很動人。)
3. extraordinary adj.
非同小可的;卓越的 (fei1 tong2 xiao2 ke3 de5; zhuo2 yue4 de5)
例: He would make a great lawyer: he has extraordinary powers of reasoning.
(因為他有卓越的判斷力,他會是個好律師。)
Comments will be moderated. Keep comments relevant to the article. Remarks containing abusive and obscene language, personal attacks of any kind or promotion will be removed and the user banned. Final decision will be at the discretion of the Taipei Times.