Ashes of Paul the octopus on show in Germany 德國供奉章魚保羅遺灰 設館供瞻仰
Paul the octopus, who shot to fame during the football World Cup last year for his flawless record in predicting the outcome of games, will get a shrine to mark three months since he died, his aquarium in Oberhausen, Germany said last Monday.
The tentacled tipster was honored on Jan. 20 with a "Paul Corner" at his former home, containing his ashes and a "huge memorial," the center in western Germany said.
"There will be a statue around 1.8m (6ft) high of Paul, on top of a football, in the middle of which will be a see-through window with the golden urn containing Paul's ashes," spokeswoman Tanja Munzig told AFP.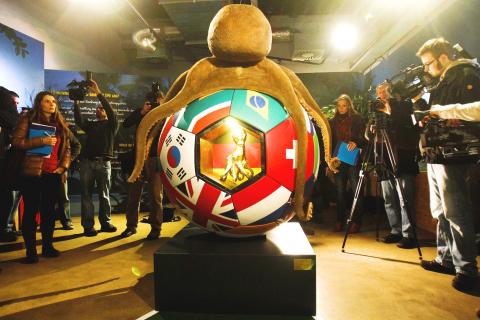 A shrine to the octopus Paul is presented at the Sea Life aquarium in the German city of Oberhausen on Thursday. 這張週四攝於德國奧伯豪森水族館的照片,是章魚保羅的紀念像。
Photo: REUTERS 照片:路透
Watched by a myriad of reporters, Paul would head to one box, wrench open the lid and gobble the tasty morsel, with the box he plumped for being deemed the likely winner.
Paul's astonishing ability made him a global media phenomenon. His later predictions were carried live on rolling news channels in Germany.
He died peacefully in his sleep aged nearly three in October last year, sparking hundreds of messages of condolence from his Facebook fan club, whose ranks have more than tripled since his death to 200,000.
The aquarium unveiled a replacement, a French octopus named Paul II on Nov. 3 last year.
The new cephalopod has not yet been tested on the field of play although speculation is rife that he could be wheeled out for the next European championship in Ukraine and Poland in 2012.
(AFP)
章魚哥保羅,因去年世界足球賽期間預測球賽結果萬無一失,讓牠一舉成名。在保羅逝世三個月後,德國奧伯豪森水族館上週一宣布,將為牠建紀念館。
德國西部的這間水族館表示,為這位有觸手的預測王打造的紀念館,位於其生前住所,一月二十日揭幕並被命名為「保羅角」,館內展示保羅的遺灰與一尊「大型紀念雕像」。
水族館發言人唐雅‧姆茨格告訴法新社說,「館內有一尊大約一點八公尺(約六英呎)高的保羅雕像,底座是一顆足球,其中有一扇透明窗,可看到內裝有保羅遺灰的金色灰罈供人瞻仰。」
在大量記者的見證下,保羅游向一個盒子並拉開盒蓋吃下盒內美味的食物,牠所挑選的盒子即是被視為最有可能贏的國家。
保羅驚人的能力讓牠成為全球媒體矚目的焦點。牠後續的預測在德國皆是以現場實況循環播出。
去年十月,保羅安詳地在睡夢中去世,享年近三歲。隨著死訊傳開,牠的臉書湧入上百篇粉絲悼念留言,人氣上升三倍,粉絲多達二十萬人。
水族館去年十一月三日推出一隻出生於法國的章魚,命名為保羅二世,成為保羅的接班。
雖然外界充斥各種猜測,指稱牠可能於二零一二年烏克蘭及波蘭共同舉辦的歐洲國家盃上場預測,不過這隻新的頭足類動物是否有這樣的能力要等試過才知道。
(法新社/翻譯:林亞蒂)
Publication Notes
TODAY'S WORDS 今日單字
1. deem v.
視為 (shi4 wei2)
例: A judge deemed Mrs. Carter the rightful owner of the painting.
(法官視卡特女士為這幅畫的合法擁有者。)
2. unveil v.
推出 (tui1 chu1)
例: Chrysler will unveil a new sedan at the motor show.
(克萊斯勒將在汽車展中推出一款新轎車。)
3. rife adj.
充斥的;盛行的 (chong1 chi4 de5; sheng4 xing2 de5)
例: Pickpocketing was rife in the market before surveillance cameras were installed.
(在監視器尚未安裝前,市場內扒竊盛行。)
Comments will be moderated. Keep comments relevant to the article. Remarks containing abusive and obscene language, personal attacks of any kind or promotion will be removed and the user banned. Final decision will be at the discretion of the Taipei Times.