South Korean civil servants to don long johns 南韓公務員關暖氣 穿保暖內衣褲上班
South Korea's civil servants have been ordered to do their public duty by switching off the heating and donning long johns as the severe cold puts a strain on power resources, officials said last Monday.
In an emergency energy savings plan, all ministries and state-run companies have been told to turn off the heating from 11am to noon and 5pm to 6pm, the Ministry of Know-ledge Economy said.
Government buildings have to keep the office temperature below 18°C and state employees are encouraged to wear thermal underwear to battle the cold, it said.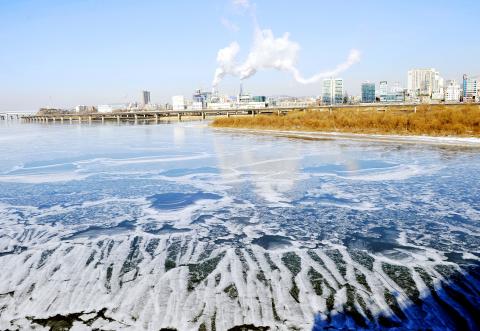 Smoke rises from the chimney of a thermal power plant on the Han River, which flows through South Korea's capital Seoul, last Monday. 從流經南韓首都首爾的漢江望去,是一座火力發電廠,其煙囪上週一冒出濃煙。
PHOTO: AFP 照片:法新社
"Offices will be quite cold under the required temperature, so state employees, whether encouraged or not, will end up wearing thermal underwear anyway," a ministry official told AFP.
Officials will patrol state buildings to check the temperature, he said.
"We're trying to set an example because the country may face a severe electricity shortage if the current pace (of heating consumption) continues."
Knowledge Economy Minister Choi Kyung-Hwan warned of possible blackouts two weeks ago after electricity demand soared to record highs this winter.
The temperature in Seoul on Jan. 16 fell to a 10-year record low of minus 17.8°C. Large parts of the Han river that bisects the capital are frozen over.
The temperature in the southeastern port of Busan sank to minus 12.8°C on Jan. 16, the lowest level in 96 years, causing the death of a homeless man.
Water supplies in the southeastern city of Gimhae were cut off on the same day after pipes burst.
(AFP)
南韓政府官員上週一表示,由於嚴寒造成電力吃緊,政府已下令公務員上班時關閉暖氣,並穿上保暖內衣褲。
南韓知識經濟部啟動緊急節能措施,下令各部會與國營企業在上午十一點至中午與下午五點至六點必須關暖氣。
該部門表示,政府大樓室溫必須低於攝氏十八度,並鼓勵公務員穿上保暖內衣褲禦寒。
該部官員告訴法新社說:「室溫不能超過規定的溫度將是相當冷的,所以不論鼓勵與否,公務員皆須穿保暖內衣褲禦寒。」
他表示,該部門會派員巡視政府辦公大樓查核室溫。
他說,「政府必須為民表率,若依目前(暖氣耗電量)的速度,南韓不久將面臨電力嚴重短缺。」
知識經濟部長崔炅煥兩週前警告,今年冬天用電量創歷史新高後,可能會造成停電。
一月十六日首爾的溫度僅攝氏零下十七點八度,創十年來新低。將首都劃分為兩半的漢江,大半江水都已結冰。
一月十六日,南韓東南方釜山港氣溫降至攝氏零下十二點八度,創九十六年來新低,也造成一位遊民死亡。
同日,南韓東南方的城市金海因水管破裂造成停水。
(法新社╱翻譯:林亞蒂)
Publication Notes
TODAY'S WORDS 今日單字
1. don v.
戴上;穿上 (dai4 shang4; chuan1 shang4)
例: It's very cold. If you go out you'd better don your hat and coat.
(天氣很冷,你外出最好戴上帽子與穿上外套。)
2. blackout n.
停電 (ting2 dian4)
例: I bought some candles just in case there's another blackout tonight.
(我買了些蠟燭以備今晚若再度停電使用。)
3. bisect v.
平分 (ping2 fen1)
例: The teacher drew a vertical line, neatly bisecting the triangle into two equal parts.
(老師畫了一條垂直線,恰巧將三角形平分為兩部分。)
Comments will be moderated. Keep comments relevant to the article. Remarks containing abusive and obscene language, personal attacks of any kind or promotion will be removed and the user banned. Final decision will be at the discretion of the Taipei Times.