New Taipei City rich in cherry blossom scenery 賞櫻情報 新北市私房景點爭豔
Cherry blossom viewing is an increasingly popular springtime activity. More and more cherry trees are being planted in hilly suburbs and downtown areas of New Taipei City. The city's Tourism and Travel Department says that cherry trees start to blossom by the end of January, but people have already seen some trees blooming ahead of time in Wulai.
Apart from Wulai, which is a well-known place for cherry blossom spotting, Sanjhih, Tamsui, Pingsi, Jinshan and Shihding also provide plenty of observation points. Cherry trees in these areas come into blossom at the beginning of February. These places could be good options for outdoor walks over the Lunar New Year holidays.
The tourism bureau says that there are several varieties of cherry tree in Wulai, with each variety blossoming at diffe-rent times. The Taiwan cherry, Yoshino cherry and Yaezakura cherry come into flower one after another. The best time to view them is between February and March. Cherry blossoms are to be seen all over Wulai's scenic area, as well as various kinds of mountain birds that flock among the flowers, so people can enjoy the cherry blossoms and go birdwatching at the same time.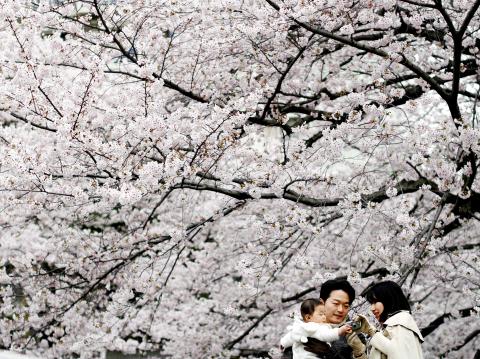 A family looks at pictures on a camera as they stand under cherry blossoms in full bloom in Tokyo on April 4, 2010. 這張去年四月四日拍攝的照片,是一家人在東京盛開櫻花下觀看照片。
photo: reuters 照片:路透
The Cherry Blossom Avenue and Tianyuan Temple are two new spots for admiring cherry blossoms in the Tamsui area. The Cherry Blossom Avenue is about three km long, with 1,200 native Taiwan cherry trees and 500 of the Yoshino variety. They blossom in February, creating a stunningly beautiful scene when they are in full bloom.
About five km from Tamsui lies the Tianyuan Temple, where 600 Yoshino cherry trees blossom in mid-to-late March. So many visitors come to see these flowers that the line of vehicles can stretch for several kilometers.
Cherry trees have been being planted along roadsides in Sanjhih since 1996. There are now 15,000 of them along almost 70 km of road, and they can be seen in full bloom in early February.
(LIBERTY TIMES, TRANSLATED BY TAIJING WU)
賞櫻逐漸成為春天盛事。新北市市區、山郊栽種的櫻花樹越來越多,新北市觀光旅遊局表示,櫻花通常在一月底陸續綻放,但近日烏來地區已有民眾發現,櫻花已經「偷跑」悄悄開花。
新北市櫻花密集的地方,除了遊客熟知的烏來,這幾年來三芝、淡水、平溪、金山、石碇等地,也有密集的櫻花美景,在二月初春節連續假期間,正好提供踏青出遊賞櫻的好景點。
觀光旅遊局推薦,烏來的櫻花種類繁多,花期不同。緋寒櫻、吉野櫻、八重櫻輪流綻放,最佳賞櫻季節在二至三月;烏來風景特定區內都有櫻花,還有各種山區鳥類在花叢間鑽動,賞櫻之餘,還可以賞鳥。
櫻花大道和無極天元宮是淡水兩處新興的賞櫻地點。櫻花大道全長約三公里,共有一千兩百株台灣原生種山櫻花、五百株吉野櫻,花期約在二月,盛開時繽紛花朵美不勝收。
無極天元宮離淡水約五公里,每年三月中、下旬,六百株吉野櫻盛開時,吸引賞櫻人潮,車陣綿延數公里。
三芝從民國八十五年起陸續在道路兩旁栽種櫻花,已達一萬五千多株,總長近七十公里,二月初花開最盛。
(自由時報記者何玉華)
Publication Notes
TODAY'S WORDS 今日單字
1. spot v.
看見 (kan4 jian4)
例: Train spotting is my favorite hobby because I like trains.
(看火車是我最愛的嗜好,因為我喜歡火車。)
2. option n.
選擇 (xuan3 ze2)
例: Many people learn English and Japanese, but German, French and Russian are other good options.
(許多人學英語跟日語,但是德語、法語跟俄語也是好選擇。)
3. stunning adj.
令人驚艷的 (ling4 ren2 jing1 yan4 de5)
例: The bride looked stunning in her white wedding dress.
(新娘穿著白色婚紗令人驚艷。)
Comments will be moderated. Keep comments relevant to the article. Remarks containing abusive and obscene language, personal attacks of any kind or promotion will be removed and the user banned. Final decision will be at the discretion of the Taipei Times.