Duchess Habsburg, a tenant in her own palace 哈布斯堡女公爵 自家城堡當租客
After 60 years in exile in Switzerland, Duchess Marie-Christine von Habsburg, 87, is living out her golden years as a tenant in two rooms of her family's vast palace in the town of Zywiec, southern Poland.
The property was expropriated by communists after the war, and her family never tried to reclaim it after the 1989 demise of communism.
A member of the House of Habsburg, a dynasty origina-ting in what today is Austria and which reigned over much of Europe from the 15th to the 20th century, she was able to return to the 19th-century palace only after the fall of communism two decades ago. Her family had been driven out by the Nazis during World War II and the communists prevented their return after 1945.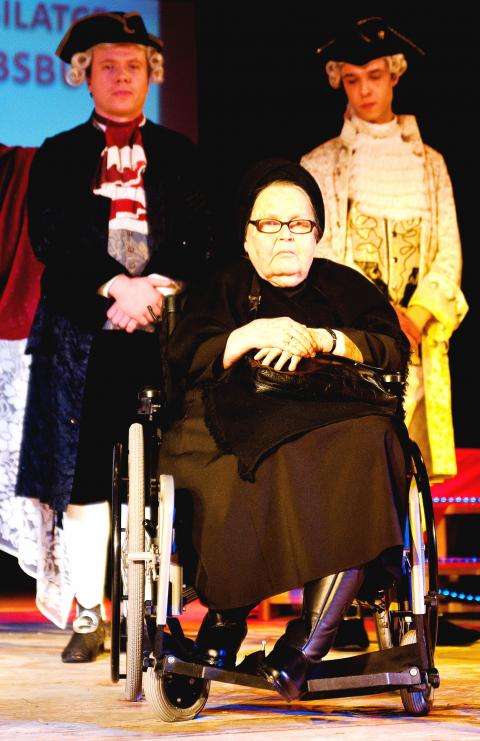 Residents of the southern Polish town of Zywiec pose with Duchess Marie-Christine of Habsburg, center, on her 87th birthday on Dec. 11 last year. 這張攝於去年十二月十一日的照片,是波蘭南方小鎮居民與哈布斯堡女公爵瑪莉‧克莉絲汀(中)慶祝女公爵八十七歲生日的合照。
Photo: AFP 照片:法新社
But in 2001, the town of Zywiec offered her life-time use of an apartment in what was once the palace's games room on the ground floor, allowing her to enjoy the surrounding gardens.
"When the city asked me to return to the palace, I didn't hesitate for a moment. I sold off my apartment in Switzerland and I'm here. I'm very happy, I'm treated like a queen. A Habsburg, who is completely Polish," she told AFP, speaking in French.
"My brother lives in Sweden, my sister in Spain, they have their families there and could not come back," explains the duchess.
Nothing inside the palace now evokes the splendor of its golden days. No antiques, paintings or family memorabilia. Just simple new furniture, some of it in a rustic style, decorates the apartment where the duchess resides with her two cats and is cared for by two social workers.
When World War II erupted in 1939, her father Charles Albert, a Polish army officer, refused to declare himself a German. The family paid a high price for his decision: he was deported by the Nazis to a labor camp and the palace was confiscated.
But even this did not stop his wife from joining the Polish resistance, while his son joined the Free Polish Army in London.
At the end of the war, Poland's new communist authorities denied Polish citizenship to the Habsburgs of Zywiec, expelling them from Poland as Austrian aristocrats and nationalizing their property.
But decades later, the people of Zywiec haven't lost their fondness for the aristocratic family. Each year they publicly celebrate Marie-Christine's birthday.
"The duchess is our ambassador, she's a symbol of patriotism, of loyalty to this land and Poland, an example for us all," Zywiec mayor, Antoni Szlagor told AFP.
(AFP)
在瑞士度過六十年放逐生涯後,八十七歲的哈布斯堡女公爵瑪莉‧克莉絲汀回到她黃金歲月時與家人在波蘭南部日維茨居住的廣大城堡度過餘生,但她住的兩間房間,是用租的。
這座城堡在戰後遭共產黨沒收,哈布斯堡王朝在共產黨一九八九年解體後並未試圖要求歸還。
哈布斯堡王朝起源於現今的奧地利,從十五世紀到二十世紀統治大部分的歐洲,王朝的這位成員只能在共產黨二十年前瓦解後才能回到她十九世紀的城堡。她的家族在二次世界大戰被納粹驅逐,共產黨員防止他們在一九四五年後返回。
在二零零一年,日維茨鎮提供女公爵終生使用過去是遊戲室的城堡一樓,還讓她享受周圍的花園。
女公爵用法語告訴法新社:「當這個城市請我回到城堡時,我一秒都未遲疑。我賣掉我在瑞士的公寓,然後我在這裡。我很高興,我被像皇后般地對待。我是哈布斯堡人,道地的波蘭人。」
女公爵解釋:「我兄弟住在瑞典,我姊妹住在西班牙,因他們在當地都有自己的家庭,所以無法返回。」
這座城堡裡面沒有一樣東西能喚起它的輝煌的黃金年代,內部沒有古董、畫作、家族紀念品等,取而代之的只有新傢俱,有些是鄉村風格,用來裝飾女公爵與他的兩隻貓與兩位社工同住的公寓。
當第二次世界大戰於一九三九年爆發時,她的波蘭軍官父親查爾斯‧艾伯特,因拒絕宣告自己是德國人,讓全家因為他的決定而付出沉重的代價:他被納粹驅逐到集中營,而這座城堡因而被沒收。
儘管如此,這般遭遇並未讓他的夫人打消加入波蘭抵抗組織的念頭,在此同時,他的兒子在倫敦加入解放波蘭的軍隊組織。
戰爭即將結束之際,波蘭新的共產黨當局反對日維茨哈布斯堡人的波蘭公民權,並以他們是奧地利貴族為由,將他們逐出波蘭,並將他們的財產充公。
數十年後,日維茨的居民並未失去對貴族家庭的愛戴,他們每年都會公開慶祝瑪莉‧克莉絲汀的生日。
日維茨鎮長安東尼‧史拉格告訴法新社說:「這位女公爵是我們的大使,她是個對波蘭忠誠的愛國象徵,我們所有人的典範。」
(法新社/翻譯:林亞蒂)
Publication Notes
TODAY'S WORDS 今日單字
1. vast adj.
廣大的;廣泛的 (guang3 da4 de5; guang3 fan4 de5)
例: He has read many books on military history, and has a vast knowledge on the subject.
(他廣讀軍史書籍,並在這科目上有廣泛的知識。)
2. splendor n.
輝煌 (hui1 huang2)
例: I wish I were rich, I would love to live in luxury and splendor.
(我希望我是富有的,我想要住享豪華與輝煌。)
3. confiscate v.
沒收 (mo4 shou1)
例: Knives are not allowed in school, they will be confiscated if found.
(攜帶刀子到校是不被允許的,查到後將被沒收。)
Comments will be moderated. Keep comments relevant to the article. Remarks containing abusive and obscene language, personal attacks of any kind or promotion will be removed and the user banned. Final decision will be at the discretion of the Taipei Times.