Spain's bars and restaurants go smoke-free in tough law 西班牙禁菸令生效 酒吧餐館成無菸區
Smokers stubbed out their cigarettes in tapas bars and restaurants across Spain on Jan. 2 as one of Europe's strictest anti-tobacco laws came into effect.
The new law banning smoking in all bars, cafes, restaurants and public places -- even some outdoor areas – was imposed at the stroke of midnight on Jan. 1.
It was a shock for many Spaniards for whom the cafe culture -- lighting up with a few friends while enjoying a drink and tapas -- has been an essential part of daily life.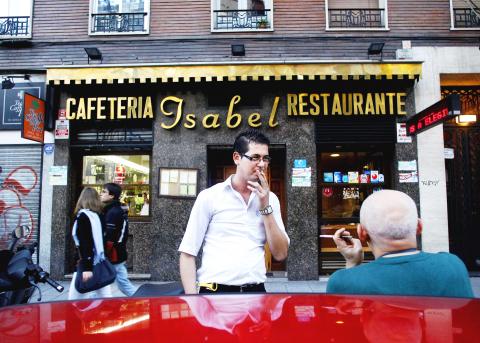 Waiters Tarik Zeekaf, left, and Francisco Sanchez smoke outside the restaurant where they work in central Madrid, Spain on Jan. 2. 一月二日,西班牙馬德里市中心一家餐廳的兩位服務生泰瑞克‧奇卡夫(左)與法蘭西斯科‧桑切斯在他們工作的餐廳外吸菸。
PHOTO: REUTERS 照片:路透
Establishments overnight began displaying notices on their doors and windows such as "Smoke-Free Area. No Smoking."
In Madrid's historic center, bars and restaurants were packed for breakfast and for lunch on Jan. 2 despite the new rule. At the dozen or so visited by AFP, no customers were smoking.
In cold but sunny weather, cafes with outdoor terraces, where smoking is permitted, were doing brisk business.
At the Txacolina bar, it was elbow-room only as dozens of customers, many with children, munched Spanish appetizers and downed beer, wine and vermouth, a traditional Sunday lunchtime drink.
"We have a lot of customers today, but it's only the first day and we have to see what will happen," said the duty manager, Pedro Ayllon. "But I don't think (the new law) will hurt us."
Himself a non-smoker, he welcomed the new law after seven years working in smoke-filled bar.
At the nearby Taberna del Capitan Alatriste restaurant, manager Antonio Pino said lunch reservations were normal for a Sunday.
"It's a fair law as it's the same for everyone, so there will be less problems," he said.
Spain has had an anti-smoking law since January 2006 but the impact was barely noticeable.
It banned smoking in the workplace, on public transport and in shops. But it allowed owners of bars, restaurants and cafes to decide whether to ban smoking or not. Most, faced with a drop in business, naturally chose to permit their customers to light up.
The new law bans smoking in all enclosed public spaces, including bars, restaurants and nightclubs, and makes it illegal to smoke in children's parks or anywhere on school or hospital grounds.
(AFP)
西班牙一月二日開始執行歐洲最嚴格的禁菸法令,從此癮君子,進入全國境內的小吃酒吧與餐廳前,必須先熄菸。
一月一日後,新的菸害防制法生效,所有酒吧、咖啡館、餐廳與其他公共場所,甚至有些戶外場地全面禁菸。
西班牙人對新法感到震驚,因為他們的咖啡文化就是與三五好友吃吃喝喝時,一起點根香菸,這已成為他們日常生活中很重要的一環。
業者在一夜之間開始在門與窗上放置「非吸菸區,禁止吸菸」的警語。
儘管新令一月二日上路,馬德里的歷史中心酒吧與咖啡館當天還是擠滿了吃早餐與午餐的顧客。法新社記者造訪的數十家餐廳,沒有看到任何一位顧客吸菸。
冷冬陽光下,咖啡館可吸菸的戶外露台生意格外興隆。
德士可里納酒吧內,擠滿了客人,其中許多帶著小孩,啖西班牙開胃菜,並大口喝著週日傳統午餐必備的啤酒、葡萄酒與苦艾酒。
餐廳值班經理佩德羅‧艾隆說,「我們今天有很多客人,不過今天是新法上路的第一天,所以我們還要靜觀其變。」艾隆說,「不過我不認為(新法)會影響生意。」
艾隆本身不吸菸,在吞雲吐霧的環境中工作七年後,他對新法表示歡迎。
附近的一家Taberna del Capitan Alatriste餐廳經理安東尼歐‧皮諾說,預約午餐的顧客人數跟其他週日人數不相上下。
他說,「新法是公平的,因為它一視同仁,所以問題也會比較少。」
西班牙於二oo六年一月已頒布禁菸法令,不過成效不彰。
當時規定禁止民眾在工作場所、大眾運輸工具與商店吸菸,但是酒吧、餐廳與咖啡館業者可以自行決定禁菸與否。大部分實行禁菸的業者面臨生意下滑,自然而然選擇開放顧客吸菸。
新法禁止民眾在酒吧、餐廳、夜店等密閉公共場合吸菸。另外,在兒童公園、校園與醫療院所吸菸也是違法的。
(法新社╱翻譯:林亞蒂)
Publication Notes
TODAY'S WORDS今日單字
1. stub out v. phr.
熄滅 (xi2 mie4)
例: Please stub out cigarettes before you enter the building.
(請在進入這棟大樓之前將香菸熄滅。)
2. munch v.
啖 (dan4)
例: I like to munch celery and carrots.
(我喜歡啖芹菜與紅蘿蔔。)
3. noticeable adj.
顯著的 (xian3 chu4 de5)
例: There is a noticeable improvement in his handwriting.
(他的書寫體有顯著的進步。)
Comments will be moderated. Keep comments relevant to the article. Remarks containing abusive and obscene language, personal attacks of any kind or promotion will be removed and the user banned. Final decision will be at the discretion of the Taipei Times.