Argentine archbishop slams Santa Claus 阿根廷大主教不信耶誕老人
A Roman Catholic archbishop surprised his parishioners in Argentina by telling the children that Santa Claus was not real, but instead a commercialized symbol of Christmas.
"That's not Christmas," Archbishop Fabriciano Sigampa of the northern city of Resistencia said in mass, insisting that children should not confuse celebrating the birth of Christ "with a fat man dressed in red."
Sigampa's ire was aroused by plans for a snow covered cabin in the city's main square where a Father Christmas figure would hear children's wishes and receive donated toys to be given out to poor children.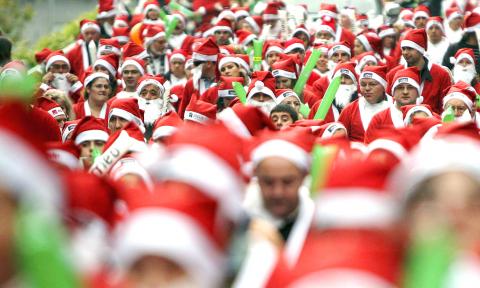 Fourteen thousand people dressed in Santa Claus costumes gathered to break a new Guinness world record in Porto, Portugal, on Dec. 12, 2010. 十二月十二日,大約一萬四千個穿著耶誕老人服裝的人聚集在葡萄牙的波爾多,打算創下新的金氏世界紀錄。
PHOTO: AFP 照片:法新社
"Surely, in the coming days there will be a deluge of advertisements after they inaugurate the house where a fat man dressed in red lives. And we should not confuse, we should not confuse Christmas with that."
He said children "should know that, in reality, the gifts come from the efforts of their parents and with the help of Jesus."
After the bishop aired his objections, organizers dropped plans for a Santa and renamed the cabin the "House of Christmas."
Sigampa has attracted controversy before.
In the 1990s, he caused a stir by ordering a mural for the cathedral of the northern city of La Rioja that showed the Virgin Mary with then president Carlos Menem and members of the Catholic hierarchy.
(AFP)
阿根廷一位羅馬天主教大主教近日告知教區小孩,耶誕老人並不是真的,只不過是耶誕節商業化的代表罷了,此舉使教區教徒感到驚訝。
法布里俠諾‧希岡拔大主教於北方雷西斯藤西亞城的一場彌撒上表示,「這不是耶誕節,」他並強調小孩子不應該將慶祝耶穌誕生,與「一位穿紅色衣服的胖子」混為一談。
希岡拔的憤怒是因為當局打算在市區大廣場設置一個蓋滿雪花的小屋,讓小孩子進去對耶誕老人訴說願望,並獲得他人捐獻給貧窮兒童的玩具。
「想當然爾,過幾天這間住著一位身穿紅衣胖子的小屋落成儀式後,廣告將大量出現。但我們不應該混淆,我們不應該將這個與耶誕節混為一談。」
他說孩子們「必須了解,事實上禮物是因父母努力,加上耶穌的幫忙才有的。」
在大主教發表反對看法後,主辦單位便放棄原本的耶誕老人計畫,並將該小屋改名為「耶誕之家」。
希岡拔過去曾引發爭議。
他於九零年代,因為下令於拉里奧哈省的該北方城市大教堂牆上,畫上聖母馬利亞與時任阿根廷總統的卡洛斯‧梅內姆,以及天主教高層人士肖像。
(法新社/翻譯:吳岱璟)
Publication Notes
TODAY'S WORDS 今日單字
1. archbishop n.
大主教 (da4 zhu3 jiao4)
例: The archbishop will preside over the Christmas Eve mass.
(大主教將主持平安夜彌撒。)
2. ire n.
憤怒 (fen4 nu4)
例: Ancient Greeks believed that thunder storms represented Zeus' ire.
(古代希臘人相信雷雨代表天神宙斯的憤怒。)
3. controversy n.
爭議 (zheng1 yi4)
例: The new education minister is no stranger to controversy.
(新任教育部長對爭議早已司空見慣。)
Comments will be moderated. Keep comments relevant to the article. Remarks containing abusive and obscene language, personal attacks of any kind or promotion will be removed and the user banned. Final decision will be at the discretion of the Taipei Times.