Albino kookaburras found in northern Australia 澳洲北部發現僅見白子藍翼笑翠鳥
Australian wildlife workers yesterday said they had discovered a never-before-seen pair of blue-winged albino kookaburras, believed to have been swept from their nests in a wild storm.
The six-week-old birds, renowned for their laughing cry, were found waterlogged at the base of a tree by a cattle farmer near Ravenshoe, in far northern Queensland, said Harry Kunz from the Eagles Nest Wildlife Sanctuary.
The pink-eyed, pink-beaked and starkly white creatures, thought to be sisters, are the first specimens of their kind ever found in Australia, Kunz said. They are still too young to feed themselves or fly.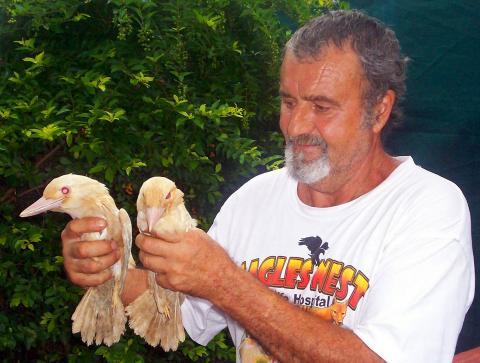 An undated handout photo released by the Eagles Nest Wildlife Sanctuary on Dec. 6, 2010 shows wildlife expert Harry Kunz holding two extremely rare blue-winged albino kookaburras in Ravenshoe, Queensland. 十二月六日,鷹巢野生動物醫院所提供的這張未標日期照片中,是野生動物專家哈利‧康茲,於昆士蘭北部的雷文斯賀,抓著兩隻非常稀有的白子藍翼笑翠鳥。
Photo: AFP / Eagles Nest Wildlife Hospital / HARRY KUNZ
照片:
"Everybody asks me 'are they rare?' They have never been seen because in nature they would not survive a few days out of the nest because their white color sticks out and every reptile, owl or predator will get them," Kunz told AFP.
"In the whole of Australia I know there are about three white laughing kookaburras but they are not albino, they have black eyes. For blue wings nobody knows that they exist or can be hatching in this color."
Wild storms which had recently rocked the area were believed to have swept the unusual chicks from their nests, he added.
Feeding on a diet of small mice, cicadas and moths, the birds were in good health and would be raised at the sanctuary, said Kunz.
"Luckily this farmer found and saved them, they're the real heroes, because probably within the next day they would be dead," he said.
Kunz, founder of the non-profit park, said he was seeking public sponsorship for the birds' care and would offer the rights to name them to the highest bidders.
Usually cream-breasted and bellied with dark brown and blue wings, the kookaburra — a type of kingfisher — is an iconic Australian bird which is best known for its call, which sounds uncannily like human laughter.
(AFP)
澳洲保護野生動物人員昨日表示,發現一對從未看過的白子藍翼笑翠鳥,據說這對鳥是遭暴風雨吹落鳥巢。
鷹巢野生動物保護區哈利‧康茲表示,這對因叫聲類似笑聲而得名的鳥年約六週,它們全身溼透在昆士蘭北部,一個靠近雷文斯賀的地方,被一位牧場業者在一棵樹下撿到。
康茲表示,這一對全身雪白、眼睛跟喙都呈粉紅色、且看似姊妹的鳥未曾於澳洲出現。它們尚未達到能夠自己飛翔與進食的程度。
康茲告訴法新社,「每個人都問我『牠們很稀有嗎?』它們之所以很少在野生狀態被發現,是因為無法在鳥巢外生活超過數天,這是由於身上的白色非常顯眼,使得每個爬蟲類、貓頭鷹,或者牠們的天敵就會盯上牠們。」
「整個澳洲內我只認得三種白色的笑翠鳥,但牠們都不是白子,因為眼睛是黑色的。至於藍翼這種,沒有人知道居然還有白子,或生下來就這種顏色的。」
他補充說,這些小鳥應該是遭最近的暴風雨吹落鳥巢。
康茲說,他以小老鼠、蟬,與蛾餵食這些鳥,牠們健康狀況良好,會在保護區生長。
他說,「很幸運地,這位農夫找到並救了牠們。牠們真勇敢,因為可能過不了幾天就會死掉了。」
這個非營利園區創辦人康茲說,他公開尋求各方資助照顧這些鳥,並開放給出價最高者命名這兩隻鳥。
這種鳥胸部通常為乳白色,腹部為深咖啡色,雙翼是藍色。笑翠鳥也是翠鳥的一種,是代表澳洲的一種鳥類,以其酷似人類笑聲的叫聲出名。
(法新社/翻譯:吳岱璟)
Publication Notes
TODAY'S WORDS 今日單字
1. waterlogged adj.
溼透 (shi1 tou4)
例: The referee abandoned the game after the pitch became waterlogged.
(裁判於球場溼透後宣布停止比賽。)
2. hatch v.
孵化 (fu1 hua4)
例: The eggs hatched slightly earlier then everyone expected.
(蛋孵化的時間比所有人預期早。)
3. uncannily adv.
異常地 (yi4 chang2 di5)
令人無法解釋地 (ling4 ren2 wu2 fa2 jie3 shi4 di5)
例: The song is uncannily similar to a song recorded in the 1980s.
(這首歌與一首一九八零年代錄製的某個歌曲異常地相似。)
Comments will be moderated. Keep comments relevant to the article. Remarks containing abusive and obscene language, personal attacks of any kind or promotion will be removed and the user banned. Final decision will be at the discretion of the Taipei Times.