Air India welcomes back 'chubby' air hostesses 印度航空歡迎超重空服員回鍋
India's embattled state carrier Air India has invited back former flight hostesses it sacked for being overweight as it seeks to overcome a severe shortage of cabin crew, a spokesman said last week.
The company has approached nine to 10 women who were fired more than a year ago because they did not meet strict weight criteria for staff working in the cabin.
"About three of them have indicated that they would be willing to come back," the spokesman told AFP, asking not to be named, in line with company policy.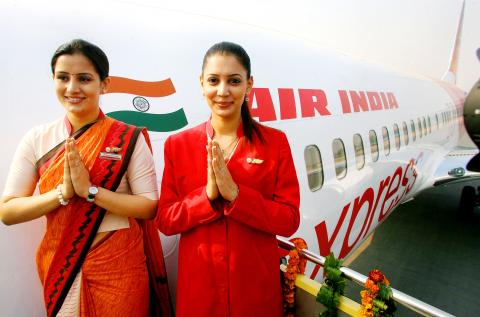 In this picture taken on Nov. 6, 2006, Air India air hostesses wearing their new uniform pose for photographers in New Delhi. 二零零六年十一月六日,兩位印度航空女性空服員於新德里身著新制服讓記者採訪攝影。
Photo: AFP
照片:法新社
He stressed that the weight limits were still in force — they are calculated based on height and age — and that the crew would have to be more svelte if they re-applied for their former jobs.
"We are not relaxing our standards," he said.
Sacked overweight women have unsuccessfully challenged Air India's policy in Indian courts, which upheld clauses in the group's employment contracts.
The crisis-hit airline has faced protests from passengers in recent weeks over severe delays to its flights caused by a shortage of cabin crew, endemic absenteeism and problems adapting to a new airport terminal in New Delhi.
The Hindustan Times newspaper reported last week that the loss-making group, which is seeking a new government bailout, will run out of cash in the next few months and be unable to pay staff after March.
(AFP)
印度航空一位發言人上週表示,處境艱難的該公司因為缺乏空服員,而邀請數名因體重過重遭開除的員工回鍋。
印度航空詢問了九到十位一年多前,因未達機艙工作人員嚴格的體重限制而遭開除的人員。
因公司規定而要求不具名的發言人告訴法新社,「她們當中大約有三位表示願意回來。」
他表示,體重的限制依然存在,而且重新申請回鍋必須比之前還更苗條─這限制依照體重與年齡計算。
他說,「我們並沒有放鬆標準。」
遭開除的女空服員訴諸法律,企圖藉此挑戰公司政策,但法庭支持勞資合約的立場,而未對空服員做出有利的裁決。
進日頻遭困難的印度航空飽受空服員短缺之苦,造成乘客因班機嚴重延誤而投訴。除此之外還有該公司特有的員工無故缺勤問題,與他們適應新德里機場新航空站等問題。
印度斯坦時報上週報導表示,這家尋求政府支援的虧錢集團資金於未來幾個月將完全用盡,並於三月份後無法給付員工薪水。
(法新社/翻譯:吳岱璟)
Publication Notes
TODAY'S WORDS 今日單字
1. svelte adj.
苗條的 (miao2 tiao2 de5)
例: Despite recently giving birth, Maxine looks more svelte than ever.
(雖然剛生產,瑪辛看起來比以往更加苗條。)
2. clause n.
條款 (tiao2 kuan3)
例: A clause in the pitcher's contract will allow him to leave at the end of the season.
(投手合約中有個條款使他得於球季末離開。)
3. absenteeism n.
缺勤 (que1 qin2)
例: The school has been plagued by chronic absenteeism for many years.
(學校多年來受到學生長期缺勤的問題所苦。)
Comments will be moderated. Keep comments relevant to the article. Remarks containing abusive and obscene language, personal attacks of any kind or promotion will be removed and the user banned. Final decision will be at the discretion of the Taipei Times.