Matsu bridge festival set to break new ground 太平媽、溪洲媽 12/11西螺大橋會香
This year's annual Hsilo Bridge Tourism and Cultural Festival will be different from usual. The Choshui River stands between the Matsu goddess statues of Yunlin County's Hsilo Township and Changhua County's Hsichou Township, but at this year's festival the two will meet on Hsilo Bridge from where Hsilo Township's statue — known as Taiping Matsu — will begin a one day and one night tour of Changhua County's towns and villages.
Last year's Hsilo Bridge Tourism and Cultural Festival was held alongside Hsilo Township's Fuhsing Temple Matsu parade. At this year's festival, to be held from Dec. 10 to Dec. 12, the two sides will collaborate once again, but a new chapter of the festival's history will be written when the statues exchange places with their counterpart from across the river.
According to representatives from Fuhsing Temple, for the past six years the Taiping Matsu has done a 14 day tour to 13 of Changhua and Yunlin's local religious festivals. But in March, Yang Wen-chung, the chairman of the parade organizing committee, cast divination moon blocks to see what Matsu thought of continuing with the same parade route. The blocks came back with a "laughing response" suggesting Matsu was not keen on the proposal so it was decided to suspend this year's parade. But when the Yunlin County government proposed that the bridge festival be held along with the Matsu parade, the temple authorities once again cast the moon blocks and got Matsu's approval. The parade, however, was cut down to only two days.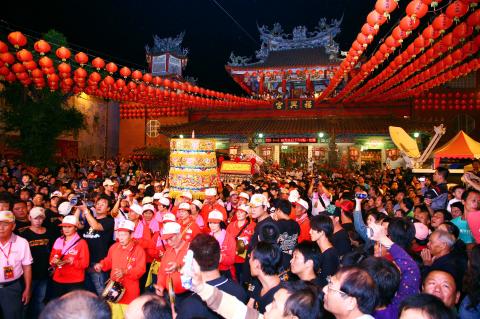 An undated photo of Matsu celebrations at the Fuhsing Gong Temple in Hsilo Township, Yunlin County. 這張日期不明的照片攝於雲林縣西螺鎮福興宮,當時正舉行媽祖遶境的活動。
photo: Chan Shih-hung
Fuhsing Temple representatives say that the theme of this year's parade will be "Embracing Peace and Giving Thanks for Peace." Its aim is to protect people on both sides of the river and ensure a bumper harvest. On Dec. 10, the two goddesses will travel to their respective sides of the bridge where worshippers will say prayers. On the following day they will proceed to the middle of the bridge for a joint celebration. The Hsichou Matsu will then cross the river to view a performance, while the Taiping Matsu will spend one day and one night traveling around Changhua.
On Dec. 11 there will be firework displays and performances of Taiwanese opera at the ends of the bridge. At noon the following day, Taiping Matsu will return to Hsilo Township from where she will set off on a parade around Hsilo.
(LIBERTY TIMES, TRANSALTED BY TAIJING WU)
年年都舉辦的西螺大橋觀光文化節今年將以不同的面貌呈現給世人。分別在濁水溪兩岸的雲林縣西螺鎮,與彰化縣溪州鎮的媽祖廟神明,將於西螺大橋上會合,之後西螺的太平媽祖將以一天一夜的時間,遶境彰化縣部分鄉鎮。
去年的西螺大橋文化節,與西螺的福興宮太平媽出巡遶境聯合舉行。今年兩宮廟再度攜手,將於十二月十日至十二日舉辦大橋文化藝文活動,其中西螺的太平媽將與溪州的溪州媽於十一日在西螺大橋會香,為濁水溪兩岸媽祖交流,寫下新頁。
福興宮表示,太平媽出巡為期十四天、遶境彰雲十三個鄉鎮的宗教活動,已連續舉辦六年。今年三月董事長楊文鐘擲筊請示遶境時間,結果連得笑杯,原本以為今年將暫停遶境活動,八月雲林縣文化處提出大橋文化節與太平媽遶境繼續合辦邀請,楊董再度擲筊,獲得太平媽首肯,但遶境時間大幅縮短為兩天。
福興宮表示,今年太平媽遶境主題為「迎太平,謝平安」,庇佑濁水溪兩岸的子民平安,農作物順利成長,十日溪州媽與太平媽將共同在西螺大橋頭的臨時紅壇坐駕,供信眾參拜,十一日太平媽與溪州媽分別由西螺及溪州出發,在西螺大橋的中間會香,溪州媽獲邀至西螺看戲,太平媽則進入彰化,進行一天一夜的遶境活動。
福興宮表示,十一日晚上大橋頭將有煙火秀、河洛歌仔戲演出,太平媽則在十二日中午返回西螺鎮,由全省各大宮廟到西螺迎接太平媽,並在西螺進行遶境活動。
(自由時報記者詹士弘)
Publication Notes
TODAY'S WORDS 今日單字
1. collaborate v.
合作 (he2 zuo4)
例: He collaborated with one of the world's best guitarists for his latest album.
(他在最近一張專輯裡,與世界頂尖的吉他手之一合作。)
2. divination n.
占卜 (zhan4 bu3)
例: We learned about some local divination techniques during our trip to Africa.
(我們在非洲旅遊時學了一些當地的占卜技巧。)
3. harvest n.
收成 (shou1 cheng2)
例: This year's harvest has produced lower yields than we expected.
(今年收成的收益比我們預期的還少。)
Comments will be moderated. Keep comments relevant to the article. Remarks containing abusive and obscene language, personal attacks of any kind or promotion will be removed and the user banned. Final decision will be at the discretion of the Taipei Times.