Druidry recognized as religion in Britain 英國承認德魯伊教為正式宗教
Britain has recognized druidry as an official religion for the first time, thousands of years after the Celtic pagan faith emerged in Europe, the country's charity commission said last week.
The Druid Network, an organization representing the religion in Britain, was granted charitable status in a decision that not only gives it tax breaks but also lets the religion take its place alongside more mainstream beliefs.
"This has been a long, hard struggle, taking over five years to complete," the Druid Network said in a statement after its application to be registered as a charity had been accepted by the Charity Commission.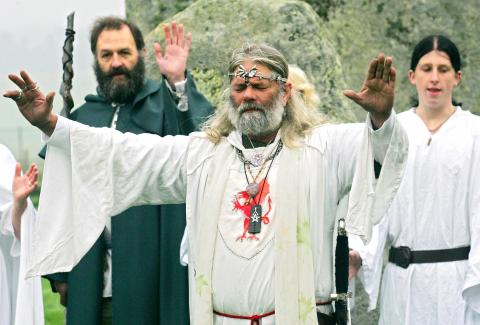 A photo taken on Oct. 17, 2006 shows druids performing a pagan Samhain blessing ceremony at Stonehenge in Wiltshire, in southern England. 二零零六年十月十七日,這張攝於英國南部威爾特郡史前時期巨大石柱群,是德魯伊教徒進行的異教薩溫祈福儀式。 照片:法新社/卡爾‧迪‧蘇沙
Photo: AFP/CARL DE SOUZA
In its ruling on the group's application, the commission said it accepted that druidry was an "ancient pagan religion" in its own right involving the worship of nature, particularly the sun and the earth.
Druid rituals involve "commonality of practice" across the faith including solar and fire festivals, ceremonies at various phases of the moon, seasonal festivals and rites of passage in life.
There had also been some official recognition already, it added, including a provision by Britain's Prison Service for the practice of druidry and the attendance of a pagan chaplain at services.
"The board members concluded that the Druid Network is established for exclusively charitable purposes for the advancement of religion for the public benefit," the Charity Commission said.
Druidry emerged in ancient Ireland and Britain and spread further afield during the Iron Age, especially into France, but became largely supplanted as Christianity took hold across Europe.
It has gained recent popularity because of its pantheistic nature and concern with ecology. (AFP)
英國慈善委員會上週宣布,承認居爾特人於歐洲所創的德魯伊教為正式宗教,這是德魯伊教創立後,首次獲承認。
在英國代表這個宗教的德魯伊教聯絡網,近日正式成為慈善團體,不但使它得享優惠稅率,也可讓該宗教與其它主流宗教平起平坐。
在申請成為慈善團體由慈善委員會通過後,德魯伊教聯絡網發表聲明表示,「這段奮鬥漫長又艱辛,總共歷時五年才達成。」
慈善委員會在裁決上表示,德魯伊教是個「古老異教」,並且崇拜大自然,尤其是太陽跟大地。
德魯伊教的儀式無論在何處舉行「內容都一致」,當中包括太陽與火的節慶,在月亮的不同狀態也會有相同的儀式,季節性節慶等,且隨著每個人生命的不同階段,也會有相對應的典禮。
聲明表示,過去已經有少數官方承認,包括英國監獄規定,德魯伊教授刑人得以參加監獄裡的德魯伊教儀式。
慈善委員會表示,「委員會成員決議,德魯伊教聯絡網的創立,以民眾的福祉為目的,而促進宗教發展,且僅以慈善為宗旨。」
德魯伊教在古時候發源於愛爾蘭跟不列顛,並在鐵器時代進一步的散播,特別是在法國,但是基督教在歐洲扎根後,德魯伊教即遭取代。
近日德魯伊教因為泛神論的本質與對生態的關心而漸漸普及。
(法新社/翻譯:吳岱璟)
Comments will be moderated. Keep comments relevant to the article. Remarks containing abusive and obscene language, personal attacks of any kind or promotion will be removed and the user banned. Final decision will be at the discretion of the Taipei Times.