Noisy Spanish bar owner jailed for five years 西班牙酒吧老闆因製造噪音被判五年徒刑
A bar owner in Spain has been sent to jail for five and a half years for "torturing" his neighbors with loud music from his sound system, officials said last Monday.
A court in Barcelona said three people living near the city's Donegal pub "developed depressive anxiety syndrome that needed medical treatment" due to the noise from five speakers, which played music non-stop from 9:00am until 3:00am.
The judges described the noise as "a method of torture".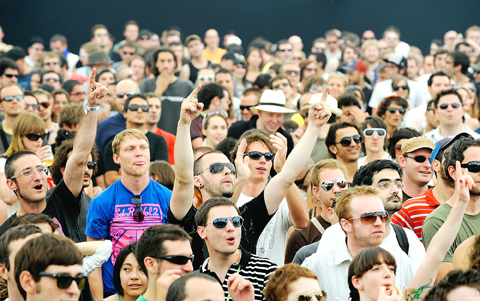 Visitors to the 15th Advanced Music and Multimedia Art International Sonar 2008 Festival in Barcelona, Spain, on June 20, 2008, enjoy a performance on the second day of the three-day festival. Sonar is the essential meeting point for cutting-edge artists and the most influential professionals from the sectors of music and modern arts 二OO八年六月二十日,在西班牙巴塞隆納舉行的「第十五屆先進音樂暨多媒體藝術國際聲納節」活動第二天,遊客們盡情欣賞表演。為期三天的「聲納節」是前衛藝術家及音樂、當代藝術界最具影響力的大師齊聚的重要場合。照片:美聯社
PHOTO: AP
The owner of the bar, closed since 2006 by the local authorities, had installed the powerful sound system without permission.
The judges decided to hand down "a stiff sentence, the hardest ever by a Spanish court" for this type of crime, the newspaper El Periodico said.(afp)
西班牙官員上週一表示,一名酒吧老闆因以音響系統播放高分貝音樂「折磨」鄰居,而被判處五年六個月有期徒刑。
巴塞隆納法院表示,該市多尼哥酒吧附近的三名住戶出現「需要靠藥物治療的壓抑性焦慮症候群症狀」,是因為酒吧的五座喇叭每天上午九點到凌晨三點連續播放音樂所致。
法官形容這種噪音是「一種折磨人的手段」。
該酒吧老闆未經許可就擅自裝設強力音響系統;該酒吧二OO六年就被當地政府勒令歇業。
西班牙《El Periodico》報報導,法官決定「重判,這是西班牙法院有史以來對這類案件最嚴厲的判決」。(法新社╱翻譯:袁星塵)
Publication Notes
TODAY'S WORDS 今日單字
1. jail n.
監獄 (jian1 yü4)
例: A dangerous criminal has recently escaped from jail.
(一名危險的罪犯最近從監獄脫逃。)
2. speaker n.
擴音機 (kuo4 yin1 ji1),喇叭 (la3 ba1)
例: I can't wait to try out these new speakers at the party tonight.
(我等不及要在今晚的派對上試試這組新喇叭。)
3. method n.
方法 (fang1 fa3)
例: We've just learnt a great method for learning English.
(我們剛學會一個有效學習英文的方法。)
4. permission n.
許可(xü2 ke3)
例: You need to get permission before leaving the classroom.
(你必須得到許可才能離開教室。)
Publication Notes
EXTRA INFO 小小百科
British rock band The Who hold the record for the loudest concert ever, recorded at 126 decibels in 1976.
英國搖滾樂團《誰人》是有史以來最高分貝演唱會的紀錄保持者,一九七六年以一百二十六分貝寫下紀錄。
Comments will be moderated. Keep comments relevant to the article. Remarks containing abusive and obscene language, personal attacks of any kind or promotion will be removed and the user banned. Final decision will be at the discretion of the Taipei Times.