Dressing down in style 男性時尚休閒風
Paris designers have showcased casually luxurious outfits to take men from the boardroom to the bedroom, proving that dressing down has never been so chic.
The displays by Emanuel Ungaro and Shawn Collins were a welcome alternative to the glut of suits seen on the catwalks this season.
French designer Franck Boclet, now in his second season at Ungaro, loosened up the silhouette with dressing gown coats layered with long cashmere or fur shawls and tied with a slim cord.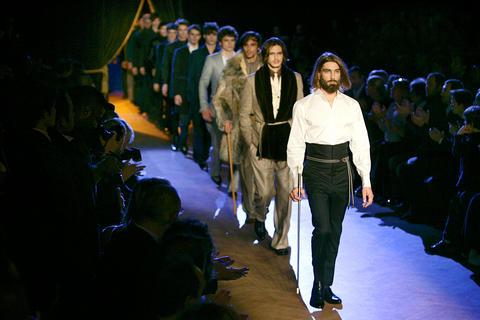 Models wear creations by French designer Franck Boclet for Ungaro, at the end of his men's fall/winter 2008-2009 fashion collection in Paris, Jan. 19, 2008. 一月十九日,「恩加洛」巴黎二OO八-二OO九秋冬男裝秀尾聲,模特兒們穿著法國設計師法蘭克.波克萊的設計亮相。 照片:美聯社
PHOTO :AP
"I'm going for a bohemian chic effect," he said "The silhouette is elegant and different, that of a man who is slightly more mature, a bit more of a dandy and a bit more offbeat."
Though the looks were influenced by the gypsy style of Sarajevo-born filmmaker Emir Kusturica, the effect was sober and modern.
Coats were stripped of their lining for ease, but deep slits in front meant you could easily reach your trouser pockets. Pants were either flowing and loose or high-waisted and slim.
Boclet introduced several new signature effects, including U-shaped pockets and zipper attachments - a subtle way to signal a designer label without having it written on your sleeve.
At Shawn Collins, some of the models looked like they had just stepped out of bed. Knit tracksuit bottoms and chunky slipper socks were inspired by lazy Sundays spent reading the paper.
"I'm just trying to address the issue of modern dressing," Collins said before the show. "I don't really know anyone that wears a suit anymore." (AP)
巴黎服裝設計師展示了一系列奢華的休閒男裝,讓男人從會議室到臥室一樣有型,證明休閒打扮也能很時尚。
和本季伸展台上眾多正式服飾相較,艾曼紐.恩加洛和尚恩.柯林斯展出的服裝成了受歡迎的選擇。
法國設計師法蘭克.波克萊在「恩加洛」的第二季作品,款式更加活潑,設計出飾以喀什米爾長羊毛或毛草披肩,並用細繩綁束的長外套。
「我想展現出波西米亞嬉皮式的風格,」他說:「款式既優雅又與眾不同,適合時髦又品味獨特的輕熟男。」
雖然樣式受到塞拉耶佛出生的電影導演艾米爾.庫斯杜利卡的吉普賽風格影響,但卻給人一種素淨又不失現代感的印象。
為了展現更休閒的感覺,外套都沒有做內裡,正面向下的開口讓人可以輕鬆地觸及褲子口袋,褲子的款式則有寬鬆飄垂或高腰窄管的設計。
波克萊加入了一些新的設計元素,包括U型口袋和拉鍊式連接配件─不用在袖口縫上商標,就能巧妙凸顯設計師品牌。
至於尚恩.柯林斯的部份,走秀模特兒看起來就像剛下床的樣子,針織運動褲搭配厚短襪的靈感來自於出星期天慵懶閱讀報紙的感覺。
「我只是想點出現代服裝的爭議點,」柯林在服裝秀開始前表示:「我幾乎看不到穿成套西裝的人了。」
(美聯社/翻譯:袁星塵)
Publication Notes
TODAY'S WORDS 今日單字
1. glut n.
供應過度 (gong1 ying4 guo4 du4)
例: There was a glut of bottle blondes at the audition.
(徵選會上來了太多把頭髮染金的人。)
2. silhouette n.
款式 (kuan3 shi4)
例: It is important to consider the silhouette when choosing an outfit.
(在挑選服飾時,要以款式為考量重點。)
3. dandy n.
時髦的男子 (shi2 mao2 de5 nan2 zi3),花花公子 (hua1 hua1 gong1 zi3)
例: Uncle Henry always struck me as a bit of a dandy.
(亨利叔叔總是給我些許時髦花心的感覺。)
4. gypsy n.
吉普賽人 (ji2 pu3 sai4 ren2)
例: My immediate family is decended from gypsies.
(我們家有吉普賽人的血統。)
Publication Notes
SAY WHAT? 說說看
bohemian chic 波西米亞風
Phrases with the word chic are often used to describe trends in the fashion industry. For example Kate Moss became famous whilst heroin chic was all the rage.
Bohemian chic, also called boho chic, is created by layering clothes and mixing fabrics. The look is inspired by the hippie scene from the 1970s. Volume and length are key features, as are accessories such as chunky belts and bangles. Tunics and sandals are also par for the course.
包含「chic」這個字的片語通常用來形容時尚產業中的趨勢,例如凱特.摩斯剛好在模特兒病態削瘦風流行時爆紅。
「bohemian chic」也有人說是「boho chic」是一種多層次混搭的風格,受到一九七O年代嬉皮的影響,波浪皺褶和長度是重點特色,配件則以寬皮帶和手鐲為主,長罩杉和涼鞋也是此風格的基本搭配。
Publication Notes
OUT LOUD 對話練習
May: I've no idea what I'm going to wear to Lisa's party!
Mags: Well, boho chic is in right now.
May: Really? I just chucked out all my peasant skirts and tunics from my trip to India!
Mags: What a shame!
May: Well, I guess I'd better go shopping then.
梅:我不知道我要穿什麼去莉莎的派對!
梅格:唔,波西米亞風現在正流行。
梅:真的嗎?我才剛把我從印度帶回來的民族風裙子和罩杉扔掉耶!
梅格:真是太可惜了!
梅:那我想我得去血拼一番囉!
chuck out 扔掉
To chuck out (something), or to chuck (something) out, means to dispose of it. It is also possible to chuck (someone) out of a place.
「chuck out (something)」或「chuck (something) out」表示把這個東西丟掉;這個片語也可以用在人身上,「chuck (someone) out」表示把某人從某處打發走。
Comments will be moderated. Keep comments relevant to the article. Remarks containing abusive and obscene language, personal attacks of any kind or promotion will be removed and the user banned. Final decision will be at the discretion of the Taipei Times.