The legend of the poinsettia 耶誕紅的由來
Have you noticed that there are a lot of poinsettias around at the moment? Poinsettias are a very popular Christmas plant. Do you know the story of the poinsettia?
In Mexico, children take presents to their local churches at Christmas. The presents are for baby Jesus, whose birthday is celebrated at Christmas. The story says that a very poor child, Pepita, wanted to take a present too. But she didn't have any money to buy anything. She didn't have anything at all that she could give because her family was so poor. Not even a toy.
Pepita decided to pick some flowers as a present. But because it was winter there weren't any flowers. So she picked some weeds instead and took those.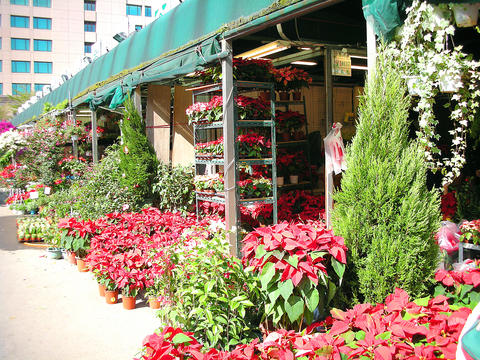 Poinsettias on sale at the Taipei Flower Market, Neihu, Dec. 10, 2007. 上星期一,耶誕紅在台北市內湖區的台北花市減價銷售。 照片︰台北時報
PHOTO: CATHERINE THOMAS, TAIPEI TIMES
When she arrived at the church all the other children had nice presents. Pepita tried hard not to look at the other people as she went up and put down her gift. Suddenly, the weeds turned into a beautiful red plant!
Parents in Mexico explain to their children that a present given with love will always be beautiful, no matter what it is.
(CATHERINE THOMAS, STAFF WRITER)
你是否有注意到現在耶誕紅到處可見?耶誕紅是耶誕節很受歡迎的植物。你知道耶誕紅的故事嗎?
在墨西哥,耶誕節當天,小朋友會帶禮物到當地教堂慶祝耶穌基督的誕生。聽說有從前有一個名叫Pepita的小孩,也想要送禮物,但她一毛錢也沒有。她也沒有任何東西可以送人,因為她家很窮,連一個玩具都沒有。
Pepita決定採些花當作禮物,但是因為正值冬天,沒有什麼花,所以她摘了些野草當禮物。當她到了教堂,所有其他小孩都準備了精美的禮物。Pepita不管其他人的眼光,走向前並放下她的禮物。突然間,這些野草變成了美麗的紅色植物!
在墨西哥,父母親跟他們的小孩解釋說,充滿愛心的禮物,不管它是什麼,總是很漂亮。 (翻譯:楊鴻泰)
Publication Notes
TODAY'S WORDS 今日單字
1. celebrate v.t./v.i.
慶祝 (qing4 zhu4)
例: I'm celebrating New Year's Eve at Taipei 101.
(我要去台北101大樓慶祝新年來臨。)
2. poor adj.
貧窮的 (pin2 qiong2 de5)
例: There are poor children in every country in the world.
(世界上每個國家都有貧窮的小孩。)
3. weed n.
野草 (ye2 cao3)
例: Daisies are weeds, even though they are pretty.
(雛菊雖然很漂亮,但其實是野草。)
4. parents n.
父母親 (fu4 mu3 qin1)
例: My parents don't let me watch TV.
(我爸媽不讓我看電視。)
Publication Notes
EXTRA INFO 小小百科
Many people mistake the red part of the plants for petals, but actually they are leaves. Poinsettias actually have tiny green flowers inside the red leaves.
很多人會將耶誕紅的紅色葉子誤認為是花瓣。其實耶誕紅的花瓣是綠色的,藏在紅葉下面。
Publication Notes
PUT IT TOGETHER 句子重組
Put the words below each sentence in the correct order to complete the sentences.
將句子下面的字重組,造成一個完整的句子。
1. I wanted to go to the fair but _______________ money.
didn't / I / have / any
(我想要參加博覽會,但是我沒有錢。)
2. After we added water to the mixture, _______________ gloopy mess.
turned / a / into / it
(我把水加入這混合料後,它變成一團黏糊狀的東西。)
3. I want to go to winter camp just _______________ children.
all / like / the /other
(我想要像其他小孩一樣參加冬令營。)
Comments will be moderated. Keep comments relevant to the article. Remarks containing abusive and obscene language, personal attacks of any kind or promotion will be removed and the user banned. Final decision will be at the discretion of the Taipei Times.