Paint it red, the protester said 抗議民眾染紅羅馬許願池
A man threw a bucket of red paint or dye into Rome's Trevi Fountain earlier this month, coloring the waters of the 18th century monument bright red in front of a crowd of astonished tourists and locals, witnesses said.
The man escaped, leaving the fountain, which normally runs on a closed cycle, spouting red water. Police arrived at the scene, and technicians briefly shut off the water before restoring a clear flow.
Experts said the fountain was not permanently damaged and the marble statues had not absorbed the color.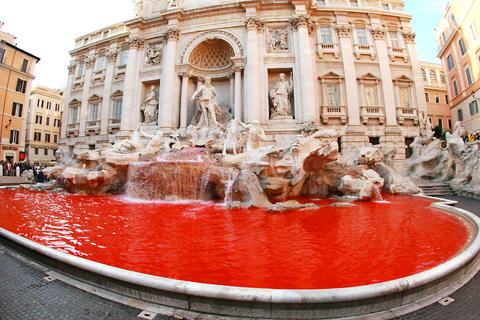 The Trevi Fountain on Oct. 19, 2007, Rome, Italy. 本月十九日,義大利羅馬的特雷維噴水池。
Photo: Afp
"There shouldn't be any relevant damage," said Eugenio La Rocca, superintendent for Rome's monuments.
The landmark, designed by architect Nicola Salvi, has been a tourist hotspot since Federico Fellini's 1960 movie La Dolce Vita, which featured actress Anita Ekberg seductively splashing in the fountain's waters. Many visitors flip a coin into the fountain, as tradition says that doing so promises a prompt return to the Eternal City.
The news agency ANSA reported that a box was found near the fountain containing leaflets by a group that claimed responsibility for the act. The leaflets said the red paint was a protest for expenses incurred in organizing the Rome Film Festival and symbolically referred to the event's red carpet, ANSA reported.
Rome's monuments are monitored with security cameras and police, but the risk of random vandalism remains, said Silvio Di Francia, city councilman for culture.
"We are obviously in a city full of tourists so the gesture of an agitator is always a potential problem," he said.(AP)
目擊者指出,本月初,一名男子在眾目睽睽之下將一桶紅色油漆或染料倒入羅馬的「特雷維噴水池」,將這個十八世紀的歷史遺跡染成一片鮮紅,令現場的遊客與當地民眾一陣錯愕。
這名男子犯案後逃逸,讓原本採用封閉循環方式的噴泉,不斷冒出紅色的池水。警方稍後抵達現場,工程人員在很短的時間內暫停水流,汰換乾淨的水。
專家指出,這次破壞並未對噴泉造成永久的損害,大理石雕像也沒被染色。
「這事件應該沒有造成任何損害,」羅馬古蹟保護主管尤吉尼歐.拉.洛加說。
這個由建築師尼古拉.薩爾維設計的地標,因為名導演菲德烈珂.費里尼一九六O年所執導的《生活的甜蜜》片中,女星安妮妲.愛寶在這個池中誘人的戲水畫面,而成為觀光客到羅馬必造訪的熱門觀光景點。許多遊客拋擲一枚硬幣到水中許願,因為傳說中,這樣做的人很快就能重遊這座「永恆之城」。
義大利安莎通訊社報導指出,警方在噴水池旁找到一個裝有傳單的盒子,一個組織宣稱犯行。安莎社報導,傳單上聲明,在噴水池潑紅漆是為了抗議政府籌辦羅馬影展浪費大筆公帑,紅色的池水就象徵影展的紅地毯。
羅馬的古蹟一直受到監視錄影及警方的監控,但仍有隨機蓄意破壞的風險存在,羅馬市議會文化委員西維歐.迪.法蘭西亞表示。
「羅馬城總是充滿了遊客,所以煽動者的行為始終是一個潛在的危機,」西維歐說。(美聯社/翻譯:袁星塵)
Publication Notes
TODAY'S WORDS 今日單字
1. monument n.
古蹟 (gu3 ji1)
例: What's your favorite Taipei monument?
(你最喜歡台北的那個古蹟?)
2. spout v.i./v.t.
噴出 (pen1 chu1)
例: The dolphin spouted water out of its blowhole.
(那隻海豚從牠的呼吸孔噴出水來。)
3. seductively adv.
誘惑地 (you4 huo4 di5)
例: Rita seductively beckoned the man to her table.
(麗塔誘惑那個男人到她這桌來。)
4. vandalism n.
蓄意破壞公物 (xu4 yi4 po4 huai4 gong1 wu4)
例: Vandalism is a big problem in many cities.
(蓄意破壞公物的行為是令許多城市頭痛的問題。)
Publication Notes
SAY WHAT? 說說看
la dolce vita
甜蜜的生活
La dolce vita is an Italian phrase which translates as "the good life." It entered the English language following the popular 1960 film La Dolce Vita. The film, which was directed by Federico Fellini, followed a tabloid journalist on a sensational and sordid journey through Rome.
People who live la dolce vita could be accused of being indulgent or epicurean. For example "Enrico is the most indulgent person I know; he only knows of the epicurean lifestyle."
「la dolce vita」在義大利文中是「甜蜜的生活」的意思。這句話因為菲德烈珂:費里尼在一九六O年執導的《生活的甜蜜》而成為英文常用的說法。片中描述羅馬一位小報記者放浪形骸、沉淪慾海的生活。
過著這種「甜蜜的生活」的人常被認為過度「indulgent(放縱)」、「epicurean(奢侈)」,例
如:「安里哥是我認識最放縱的人了,他奉行
享樂主義生活」。
Publication Notes
OUT LOUD 對話練習
Hal: Have you ever gone swimming in a public fountain?
Leonard: No, but I think it would be a blast and make for a good story.
Hal: You'd have to choose a fountain without much security, so you wouldn't get into trouble.
Leonard: You seem to have already thought this one out.
Hal: No ... I was only speaking hypothetically.
赫爾:你有在公眾噴泉池游泳過嗎?
里歐納:沒有耶,但我想那樣做應該會很有趣,而且是好的新聞題材。
赫爾:你一定要慎選一個沒有嚴密保全的噴水池,這樣才不會惹上麻煩。
里歐納:你好像已經認真想過這整件事了嘛。
赫爾:沒有啦...我只是假設性的聊聊而已。
be a blast 好玩的趣事
Something that is a blast is a lot of fun. For example, "I think the trip to the amusement park was a blast," or "You should think about coming to the party with us; it's sure to be a blast."
我們形容某事「be a blast」代表那件事非常有趣,例如:「我覺得我們去遊樂園玩的那次非常好玩,」或是「你應該考慮跟我們一起去參加派對,一定會很有趣的」。
Comments will be moderated. Keep comments relevant to the article. Remarks containing abusive and obscene language, personal attacks of any kind or promotion will be removed and the user banned. Final decision will be at the discretion of the Taipei Times.