Eco-warriors 環保戰士
A man hopped over security barriers in the British Museum and attached surgical masks to the faces of two Chinese terracotta warriors in an attempt to criticize China's response to its pollution problems, a spokeswoman said last week.
Security guards stopped the man and escorted him away after alarms sounded, British Museum spokeswoman Hannah Boulton said. The man was not arrested and the statues were not damaged.
The popular exhibition, which pre-sold 200,000 tickets and raked in more than £2 million (NT$132.7 million) in advance sales alone, includes 19 human figures selected from the more than 7,000 statues discovered in 1974 near the tomb of the emperor Qin Shihuang.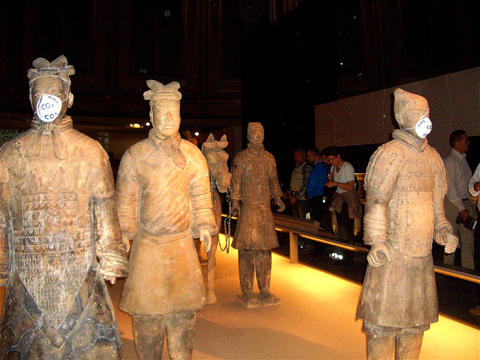 Two figures, part of the Chinese Terracotta Army exhibition in the British Museum, wear face masks in London, Oct. 15, 2007. 本月十五日,兩尊在倫敦大英博物館展覽的中國陶製兵馬俑被戴上口罩。 照片:美聯社
PHOTO: AP
The museum used a novel approach in exhibiting the statues, allowing patrons to get extremely close and stand almost face to face with the commanding, life-size figures of warriors, archers, horses, musicians, acrobats and a charioteer.
"Part of the point of the exhibit is to see the statues up close," Boulton said.
The environmental protester stepped over a knee-high barrier to attach the masks with the word "CO2," or carbon dioxide. The movement near the statue triggered a silent alarm at the museum's security nerve center, but not before the masks were placed on two of the warriors.
Greenpeace and other environmental activists have criticized China for its environmental policies. China recently surpassed the US as the world's largest greenhouse gas emitter, according to a June report by the Netherlands Environmental Assessment Agency.
The protester, who has been identified as Martin Wyness, 49, was visiting the exhibit with his two daughters aged seven and 14. Mr Wyness has been banned for life from visiting the British Museum.(Staff writer with AP)
上週大英博物館的發言人表示,一名男子為了抗議中國政府對其國內污染問題的回應,竟穿越博物館的警戒護欄,替兩尊中國兵馬俑戴上手術用口罩。
大英博物館女發言人漢娜.波爾頓表示,博物館警衛在聽到警鈴聲後,上前制止這名男子,並陪同他離開現場。此人並未遭到逮捕,秦俑也沒有被破壞。
這場特展受到非常多人的歡迎,光是預售票就賣了二十萬張,已為博物館賺進兩百萬英鎊(約合新台幣一億三千兩百七十萬元)。這場特展展出包括一九七四年在秦始皇陵墓外圍發現的七千多尊秦俑中的十九件人型雕像。
這場展覽採用一種新穎的方式,民眾可以在非常靠近,幾乎是面對面的距離欣賞這些威風凜凜、和實物一樣大小的戰士、弓箭手、馬匹、樂師、雜技演員和駕車手等俑像。
「這次特展的重點之一就是要讓民眾近距離欣賞這些雕像,」波爾頓說。
這位抗議的環保份子跨越了膝蓋高的護欄,為兵馬俑戴上寫著「CO2(二氧化碳)」字樣的口罩。此舉觸動了館內警衛中心的無聲警報器,不過男子還是將口罩套到兩尊秦俑臉上。
綠色和平組織與其他環保人士對中國的環保政策向來批評不斷。據荷蘭環境評量局六月份的一份報告指出,中國最近已超越美國成為全世界最大的溫室氣體排放國。
這位抗議男子經確認後名叫馬丁.溫尼斯,現年四十九歲。當時他正帶著他七歲和十四歲的女兒參觀展覽。結果馬丁被終生禁止進入大英博物館參觀。
(美聯社/翻譯:袁星塵)
Publication Notes
TODAY'S WORDS 今日單字
1. terracotta n.
赤陶 (chi4 tao2)
例: I planted my new shrub in a terracotta pot.
(我把新買的灌木種在一個赤陶花盆裡。)
2. patron n.
顧客 (gu4 ke4)
例: The landlord asked the patrons to finish up their drinks.
(這家店的老闆要求客人將飲料喝完。)
3. surpass v.t.
勝過 (sheng4 guo4)
例: Your test results have surpassed all expectations.
(你的考試結果超乎大家的預期。)
4. emitter n.
散發者 (san4 fa1 zhe3)
例: I live very close to a radio frequency emitter.
(我的住所離一個射頻發射器很近。)
Publication Notes
SAY WHAT? 說說看
raked in
大賺一筆
Saying that something has raked in money means that it has been very profitable. It is also possible to say that someone has raked in money if a venture that person has organized is successful. For example: "Sam has been raking it in since he started organizing that club night. It's packed every time."
A similar expression is cleaning up. For example: "Sally has really been cleaning up since she started her online auction business."
我們說某事「rake in money」表示它非常有利可圖。我們也可以說某人因為投資事業成它茪j賺一筆。例如:「山姆自從籌畫了俱樂部之夜以後,就一直財源滾滾來。每次都是人擠人的盛況」。
另外一種類似的說法是「clean up」,例如:「莎莉自從開始做網路拍賣後就大撈了一筆」。
Publication Notes
OUT LOUD 對話練習
Pete: Did you hear about that stunt that guy pulled off at the British Museum?
Amy: Yeah. I'm in two minds about it. On the one hand there's no denying that China needs to clean up its act ...
Pete: Too right!
Amy: But on the other, people might not be allowed so close to the exhibits in the future, which seems a shame.
Pete: Yes. It's a tricky one.
彼特:你有聽說有個傢伙在大英博物館做出驚人之舉的事嗎?
艾咪:嗯,我對此事的看法猶疑不決。一方面,無可否認地中國應該要改變一下處理環保的方式…
彼特:完全同意。
艾咪:但另一方面,我又覺得以後我們大概無法那麼近距離的看展覽了,實在是可惜。
彼特:唉,凡事不能兩全。
in two minds about (something)(對某事)猶疑不決
You can say that you are in two minds about something if you haven't made up your mind about how you feel about it, especially if you hold two opposing views.
「in two minds about something」表示你還沒有決定你對某事的立場,尤其可以用在你有兩種對立的看法時。
Comments will be moderated. Keep comments relevant to the article. Remarks containing abusive and obscene language, personal attacks of any kind or promotion will be removed and the user banned. Final decision will be at the discretion of the Taipei Times.