Skunk saved and nobody got sprayed 臭鼬獲救且沒有人被臭氣噴到
A skunk got its head stuck in a salad dressing jar. But he was saved by a Michigan police officer earlier this month.
The skunk, head in jar, wandered into a police station parking lot. It was spotted by Officer James Kellett.
Kellett wanted to help, but was not interested in being sprayed by the skunk. So he grabbed a pellet gun and shot at the jar from a safe distance.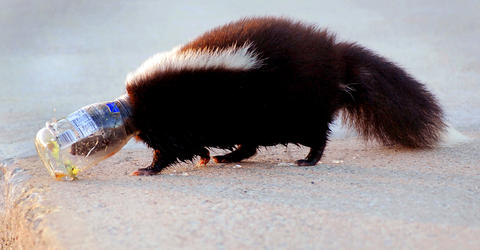 The skunk walks on a sidewalk in Carrollton, US, Oct. 4, 2007. 這隻臭鼬十月四日行走在美國卡羅頓市的人行道上
PHOTO: AP
The shots cracked and shattered the jar. The skunk was left with a glass collar around its neck. With its head free, the skunk ran off.
"I didn't want to use deadly force, and it is a residential area," Kellett said.
"The way he was when he took off, he was able to eat, breathe and spray -- and do anything else skunks like to do."(Staff Writer, with AFP)
一隻臭鼬的頭卡在一個沙拉醬瓶裡。不過這個月初,美國密西根州的一位警察救了牠一命。
這隻頭卡在瓶裡的臭鼬遊蕩到警局的停車場,警員詹姆斯.凱樂特發現了牠。
凱樂特想要幫牠,可是他並不想要被這隻臭鼬的臭氣噴到。所以,他拿了一把空氣槍並從安全的距離瞄準瓶子射擊。
幾次的射擊打碎了瓶身。臭鼬的脖子上只留下一圈玻璃瓶口。因為臭鼬的頭部重獲自由,所以牠很快就跑掉了。
凱樂特說:「我不想使用致命的武力,況且又是在住宅區內。」
他又說:「牠離開時,能吃、能呼吸,還會噴發臭氣-還能做其他臭鼬都喜歡做的事。」
(法新社/翻譯:艾利斯)
Publication Notes
TODAY'S WORDS 今日單字
1. wander v.i./v.t.
遊蕩 (you2 dang4)
例: Max wandered around the city last night.
(麥克斯昨晚在城裡遊蕩。)
2. spray v.i./v.t.
散發 (san4 fa1),噴灑 (pen1 sa3)
例: You don't want to get sprayed by a skunk.
(你不會想被臭鼬散發的臭氣噴到。)
3. pellet gun n.
空氣槍 (kong1 qi4 qiang1)
例: Dean got a pellet gun for his birthday.
(狄恩得到一把空氣槍作為他的生日禮物。)
4. shatter v.i./v.t.
粉碎 (fen3 sui4)
例: The glass shattered when Sue dropped it.
(蘇手一放,玻璃杯就摔碎了。)
Comments will be moderated. Keep comments relevant to the article. Remarks containing abusive and obscene language, personal attacks of any kind or promotion will be removed and the user banned. Final decision will be at the discretion of the Taipei Times.