Bad-boy bikers, move over 荒野大「飆」客消遙上路
Hells Angels, look out! The rapidly aging and affluent US baby boomers are wiping out the violent rebellious image of yesterday's bikers.
Owners over 50 years old now account for one-quarter of the country's estimated 25 million registered motorcycles.
Many of the aging bikers cut their teeth on Fonda's 1969 classic film, Easy Rider, where he played a biker-hippie who encounters death in an intolerant rural America.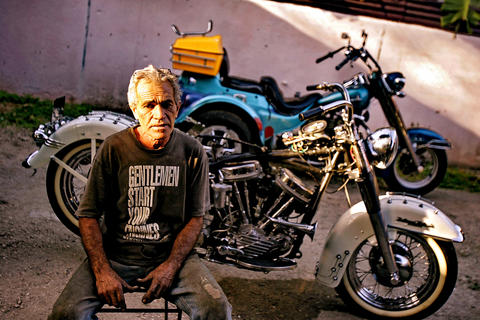 Sergio Morales takes a break at his repair shop in Havana, Cuba, Jan. 20, 2007.今年一月二十日,西吉爾.莫羅斯在他古巴哈瓦那的修車店休息
PHOTO: AFP
But now rural America is singing a different song from Easy Rider.
Nowhere is this more apparent than in South Dakota, where every year in August, the small state population nearly doubles with the roaring influx of some 600,000 bikers.
A major reason the bikers come is for the chance to hang out with other bikers. Bare-armed bikers sporting tattoos, beards and skull symbols mingle with doctors and lawyers, drinking beer and trading tips about their bikes and travels.
Tanya Bradley, 37, a real estate manager, said her idea of someone who rides a motorcycle has changed since she started going to mass rallies about six years ago.
"Once you're in a group like that, you have something in common; it crosses all those other cultural things," she said in a telephone interview after the rally. "You really get to meet a lot of people you may not otherwise."
Despite the melting-pot image, resentment simmers among old-fashioned road rebels.
"Where's your cycle?" one old-school biker from Utah said, kidding this reporter. "You takin' pictures for the FBI?"
But even this gray-bearded rebel sported a token of biking's broadening mass appeal. His son, daughter and son-in-law were riding with him, each on their own bike.
Not a bad sign for the motorcycle business.(DPA)
「地獄天使幫」注意了!快速熟齡化且富裕的美國戰後嬰兒潮世代,正努力抹去昔日重型機車騎士暴力叛逆的形象。
目前,五十歲以上的重型機車車主佔全國估計約二千五百萬輛掛牌摩托車的四分之一。
其中許多熟齡車主對摩托車的啟蒙,都來自於一九六九年彼得:方達的經典電影「消遙騎士」。彼得:方達在片中飾演一名嬉皮騎士,因不見容於美國保守的鄉村而遇害身亡。
但如今,美國鄉村卻吹起一股「消遙騎士風」。
這種情況在美國南達科他州尤其顯著。每年八月,南達科他州都會喧囂湧入約六十萬名騎士,讓這個小州的人口頓時增加將近一倍。
這些機車騎士每年固定集結在此的主因之一,是為了和其他同好齊聚一堂。裸露的手臂上刺著刺青、留著鬍鬚還帶著骷顱頭標誌的騎士們,與律師和醫生們打成一片;他們一面暢飲啤酒一面交換機車情報和旅程中的消息。
三十七歲的房地產經理人譚雅.布萊麗表示,從約六年前她開始參加大型聚會之後,她對重機騎士就改觀了。
「一旦你置身一個那樣的團體當中,大家有許多共通點,那是超越其他文化背景的,」她在一次集會結束後的電話專訪中對記者說:「你真的可以認識許多你在其他地方不會認識的朋友。」
儘管這幅大融合的景象猶在眼前,但老派的街頭叛逆騎士們可是怒火中燒。
「你的摩托車在哪?」一個來自猶他州的保守騎士開玩笑地問這名攝影記者說:「你是幫FBI拍照嗎?」
但即使是這位連鬍子都灰白了的阿伯也證明了騎乘重機已經越來越普遍了。他的兒子、女兒還有女婿都加入他的行列,各自騎著自己的重機一同上路。
對重機產業來說,這應該是一個不錯的現象吧。(德通社/翻譯:袁星塵)
Publication Notes
TODAY'S WORDS 今日單字
1. baby boomer n.
戰後嬰兒潮世代 (zhan4 hou4 ying1 er2 chao2 shi4 dai4)
例: Cary's father is a baby boomer.
(凱瑞的父親是戰後嬰兒潮世代。)
2. influx n.
湧進 (yong3 jin4)
例: There was an influx of convicts into the city last year.
(去年有大批罪犯湧入此市。)
3. melting pot n.
鎔爐 (rong2 lu2)
例: America is known as a melting pot.
(美國以其文化大鎔爐著稱。)
4. resentment n.
忿怒 (fen4 nu4)
例: Resentment boiled over following the riots.
(暴動後,民怨沸騰。)
Publication Notes
SAY WHAT? 說說看
cut one's teeth on
初步認識...
To cut one's teeth on is to learn or to do as a beginner. In the article above, people who cut their teeth on the film Easy Rider would have gotten their first taste of biking culture from the film.
People who want to be doctors might cut their teeth on cadavers before moving on to surgery, or people who want to be movie directors might cut their teeth on commercials before attempting bigger projects. For example, "Tommy cut his teeth on toothpaste ads before directing his first documentary."
「cut one's teeth on」表示此人初學或初步嘗試某事。在上述文章中,人們從《消遙騎士》這部電影中,開始對摩托車文化有了初步的了解。
夢想成為醫生的人可能在接觸手術之前,要先認識大體;想要成為電影導演的人可能會先從商業廣告開始,有機會再進一步嘗試較大型的案子。例如:「湯米在執導他的首部紀錄片之前,先從拍牙膏廣告開始累積經驗」。
Publication Notes
OUT LOUD 對話練習
Ross: Do you think you could repair my tire? I hit a pothole.
Clint: No problem.
Ross: The city needs to do a better job of maintaining the roads. Just look at my bike!
Clint: Yeah, it's tough luck. But I'll have you up and running in no time.
Ross: That's good news.
羅斯:你可以幫我修理我的輪胎嗎?我在路上撞到一個坑洞。
克林特:那有什麼問題。
羅斯:市政府真應該好好維修一下路面了,你看看我的摩托車有多慘!
克林斯:是啊,你運氣實在糟透了。但是我可以馬上幫你修好讓你上路。
羅斯:那真是太好了!
up and running 可以上路了
To be up and running means to be able to go. It can be used to describe anything from a vehicle to a person. For example, "I was stuck in my room for days with the flu. But after taking that medicine, I was up and running in no time."
我們說「up and running」來表示可以上路了,用來形容車輛或是人都可以。例如:「我因為感冒關在房裡好幾天沒出門。但吃藥之後,我立刻就能起床四處走動了」。
Comments will be moderated. Keep comments relevant to the article. Remarks containing abusive and obscene language, personal attacks of any kind or promotion will be removed and the user banned. Final decision will be at the discretion of the Taipei Times.