'Ratatouille' drives Parisian rat craze 《料理鼠王》讓巴黎人為鼠瘋狂
Ever since Ratatouille, a movie about a rat who wants to become a top Parisian chef, came out, people in Paris have been going crazy over rats.
"There is no question there is a real fashion for rats," said Gerald Moreau, 25, who runs a group near Paris promoting rats as pets.
Visits to his Web site have tripled since the movie's French release this summer.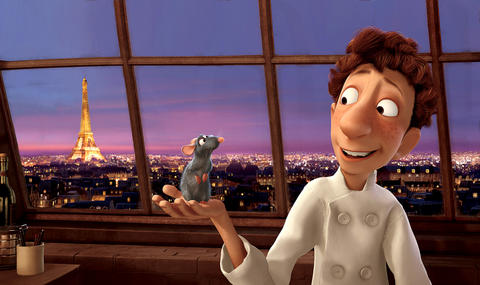 A scene from Ratatouille, a film written and directed by Brad Bird. 此為布萊德.柏德自編自導的《料理鼠王》中的一景
PHOTO: AP
Children are driving the craze -- seeking out soft-coated rats with floppy "Dumbo" ears like Remy, the hero of the Pixar comedy.
"Rats are much smarter, much more interesting than hamsters or mice," Moreau said. "They recognize their name and grow very attached to their owner; they play with you like a dog or a cat."
But Moreau, who with his girlfriend has 19 pet rats, tells parents to think twice before taking one home: "They're very sociable animals, and they need a lot of cuddles and play time."
(Staff Writer, with AFP)
自從《料理鼠王》這部描繪一隻一心要成為巴黎頂尖廚師的老鼠的電影上映以來,巴黎民眾已經為鼠瘋狂。
現年二十五歲、在巴黎附近負責一個倡導寵物田鼠團體的傑洛.莫侯說:「毫無疑問,現在真有田鼠流行風。」
自從這部電影今年暑假在法國上映以來,他的網站點閱人次已經增加了兩倍。
孩童間正掀起一股尋找和這部皮克斯動畫喜劇裡的英雄小米一樣,有著一身軟毛與一雙下垂「傻氣」耳朵 的老鼠的熱潮。
莫侯說:「田鼠比倉鼠聰明、有趣多了。」他說:「牠們知道自己的名字還很黏主人;他們會像狗與貓一樣和你玩耍。」
不過與女友合養了十九隻田鼠的莫侯提醒家長,在把寵物鼠帶回家之前要三思。他說:「牠們是社交性很強的動物,而且牠們需要很多的擁抱與玩樂時間。」
(法新社╱翻譯:艾利斯)
Publication Notes
TODAY'S WORDS 今日單字
1. Parisian adj.
巴黎的 (ba1 li2 de5)
例: Pam wants to work in a Parisian restaurant.
(潘姆要去巴黎一家餐館工作。)
2. promote v.t.
促進 (cu4 jin4)
例: They've been promoting the film for weeks.
(他們已經花了數星期宣傳這部電影。)
3. floppy adj.
下垂的 (xia4 chui2 de5)
例: Susan wants a bunny with floppy ears.
(蘇姍想要一隻耳朵下垂的兔子。)
4. sociable adj.
合群的 (he2 qun2 de5),好社交的 (hao4 she4 jiao1 de5)
例: Puppies are very sociable animals.
(小狗是社交性極強的動物。)
Comments will be moderated. Keep comments relevant to the article. Remarks containing abusive and obscene language, personal attacks of any kind or promotion will be removed and the user banned. Final decision will be at the discretion of the Taipei Times.