A strange set of turtles 奇異連體烏龜
The twin turtles in the picture are conjoined, which means they have body parts that are connected. A pet store in Pennsylvania has bought the special set of turtles. The store manager plans to keep the turtles on display.
The two-month-old turtles fit on a silver dollar. They have two heads sticking out from opposite ends of one shell. They also have a pair of front feet on each side. But there is just one set of back feet and one tail.
The turtles seem to be healthy. The species can live 15 to 20 years, said Jay Jacoby, manager of Big Al's Aquarium Supercenter in East Norriton. The turtles have not yet been named. Jacoby has not said how much they were purchased for.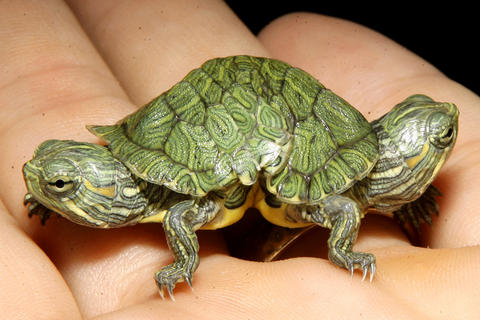 Jay Jacoby displays the conjoined-twin turtles at Big Al's Aquarium Supercenter in East Norriton, PA, US, Sep. 26, 2007. 上週三,杰.傑克比在美國賓州東諾瑞頓的「大艾爾超級水族館」中,展示這隻連體雙胎烏龜.
PHOTO: AP
The man who sold the turtles lives in Florida. He sold a different Big Al's store conjoined-twin turtles about 20 years ago. (Staff Writer, with AP)
照片中是對連體的雙胎烏龜,也就是說牠們身體某部位是連結在一起的。一家位於美國賓州的寵物店買了一對很特別的烏龜。該店經理計畫將這對烏龜作為展示之用。
這對兩個月大的烏龜,剛好是一枚美國一元銀質硬幣的大小。牠們的兩個頭分別從龜殼兩端伸出,每端長著一對前腳。但是牠們只有一雙後腳和一隻尾巴。
目前這對烏龜身體健康,賓州東諾瑞頓的「大艾爾超級水族館」經理杰.傑克比表示,這種烏龜壽命可達十五至二十年。這對烏龜尚未取名,傑克比並未透露水族館花了多少錢購買這對烏龜。
這對烏龜的賣主居目前住在佛羅里達州。二十年前,他也賣過連體雙胎烏龜給另一間「大艾爾超級水族館」。(美聯社/翻譯:楊鴻泰)
Publication Notes
TODAY'S WORDS 今日單字
1. conjoin v.i./v.t.
結合 (jie2 he2)
例: Doctors in France are trying to separate a set of conjoined twins.
(法國的醫生正試圖為一對連體嬰進行分割手術。)
2. display n.
展出 (zhan3 chu1)
例: There's a really neat display at the museum.
(博物館裡有場很棒的展覽。)
3. silver dollar n.
銀元 (yin2 yuan2)
例: Luke got a silver dollar for his birthday.
(路克生日時,收到一枚美國一元銀質硬幣。)
4. species n.
種類 (zhong3 lei4)
例: Which species of turtle is that?
(那是哪種烏龜?)
Comments will be moderated. Keep comments relevant to the article. Remarks containing abusive and obscene language, personal attacks of any kind or promotion will be removed and the user banned. Final decision will be at the discretion of the Taipei Times.