Treats over for Finnish squirrel 芬蘭小松鼠沒糖吃了
A squirrel has been making people in Finland very happy this summer. He has been turning up daily at a supermarket for chocolate eggs. But now he has been banned from the store.
The manager of the SIWA supermarket in Jyvaskyla, a city of 85,000 people in Finland, used to allow the squirrel to come into his store. Every day the squirrel ran through the front door and went to the candy section.
He loved to take a kind of chocolate egg that has a little plastic toy inside. After grabbing it, he would run outdoors to enjoy the candy.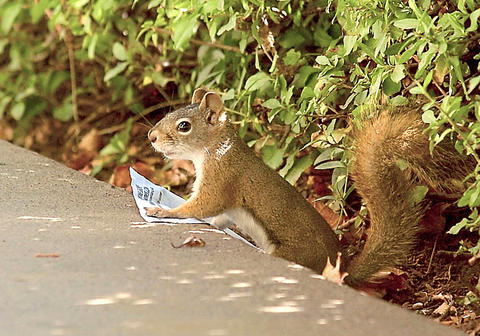 A squirrel takes a break from his studies at Utah State University in Logan, US, Oct. 6, 2006. Photo: Ap ?爛坋堎鞠?ㄛ藝?縫跦庈沮坻笣笣蕾湮?苺?孬ㄛ珨螖疑?腔侂扷芚嶨俙?﹝ 桽え:藝?扦
Now the squirrel will have to go without the tasty treats.
"It's a decision of the health authorities. The door of the store has remained open all summer, but now it will be shut," an employee at the supermarket said.
Amused customers had been paying for the goodies out of their own pockets.
(Staff Writer, with AFP)
今年夏天,在芬蘭有一隻小松鼠逗得人們很開心,牠每天出現在一家超市內,拿取巧克力蛋吃,但現在這隻小松鼠被該家超市拒於門外。
這家SIWA超市位於八萬五千人口的於韋斯屈萊市, 該超市經理過去每天都讓這隻小松鼠進入他的店裡光顧,牠從商店的前門進來,然後直接跑到糖果區。
牠鍾愛的那種巧克力蛋,裡面包著一個小塑膠玩具。牠到手之後,會跑出店外好好品嚐糖果。
現在這隻小松鼠無法再拿到可口的糖果了。
「這是衛生當局的決定。這家超市的大門今年夏天都是敞開的,但是現在不得不把門關起來,」超市一名工作人員說。
那些被松鼠逗樂的顧客,之前還自掏腰包幫牠買糖呢!(法新社/翻譯:楊鴻泰)
Publication Notes
Today's Words今日單字
1. squirrel n.
松鼠 (song1 shu3)
例: There are more squirrels than people where I grew up.
(我生長的地方,松鼠比人還多。)
2. ban v.t.
禁止 (jin4 zhi3)
例: If Cat were president, she'd ban Hello Kitty.
(如果凱特是總統,她會下令禁止凱蒂貓商品。)
3. authority n.
當局 (dang1 ju2)
例: Al is scared of the authorities.
(艾爾畏懼權勢。)
4. goody n.
糖果 (tang2 guo3)
例: The clown gave me a lot of goodies.
(小丑給了我很多糖果。)
Comments will be moderated. Keep comments relevant to the article. Remarks containing abusive and obscene language, personal attacks of any kind or promotion will be removed and the user banned. Final decision will be at the discretion of the Taipei Times.