Crikey! Wildlife reserve named for Crocodile Hunter 哇!野生保護區以「鱷魚先生」命名
The late "Crocodile Hunter" Steve Irwin, killed in a stingray attack last year, will be honored with a new wildlife reserve in Outback Australia, the government announced July 22.
A 135,000-hectare chunk of land near Weipa in the far north of Irwin's home state of Queensland will be named after the popular television host and managed by his family, Environment Minister Malcolm Turnbull said.
The area to be named the Steve Irwin Wildlife Reserve includes habitats for the endangered northern quoll, a carnivorous marsupial, and the speartooth shark as well as an important gallery of dry vine forests, Turnbull said.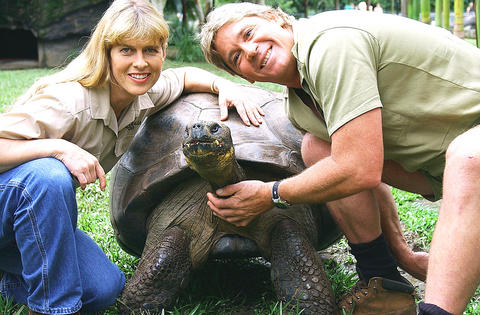 Steve Irwin is seen with his wife, Terri, at Australia Zoo in Queensland, Australia, undated. 史帝夫厄文和妻子泰莉於昆士蘭州澳洲動物園。
Photo: AP
Irwin, who spent part of the millions he earned from his television show on animal conservation projects, was killed when a poisonous stingray barb pierced his chest as he swam on the Great Barrier Reef last September.
After Irwin's death, Sir David Attenborough, a British naturalist and a pioneer of nature documentaries, praised the Crocodile Hunter for introducing the natural world and its wonders to a wide number of people, saying, "He taught them how wonderful and exciting it was. He was a born communicator."
Irwin's family have vowed to continue his conservation work, and his eight-year-old daughter Bindi has launched a television career.
"Steve was in awe of the prolific wildlife of the Wenlock and Ducie Rivers bordering the reserve, and he would have been proud to see the property protected as a wildlife reserve," Irwin's US-born wife, Terri, said.
Prime Minister John Howard said the new park was an important addition to Australia's national reserve system, "and is a fitting tribute to a passionate environmentalist and a great Australian."
「鱷魚先生」史帝夫.厄文在去年被刺魟攻擊而喪命。澳洲政府七月二十二日宣布,內地一個新的野生保護區將以他為名。
環境部長馬爾康.騰柏說,在厄文家鄉昆士蘭州北方韋帕附近,一塊十三萬五千公頃的土地將以這位受歡迎的電視主持人命名,由他的家人管理。
騰柏說,這塊「史帝夫·厄文野生保護區」,包括一種瀕臨絕種的肉食性袋鼬和露齒鯊的棲息地,同時也是藤蔓樹林的聚集地。
厄文將他從電視節目所賺來的數百萬部分花在動物保育上。他去年九月在大堡礁游泳時,被有毒的刺魟用刺鬚刺穿胸口而死。
在厄文死後,英國博物學家、大自然紀錄片的先鋒,大衛.艾坦波羅爵士稱讚「鱷魚先生」將自然之美介紹給廣大的群眾。他說:「他教導大家自然多美好、多令人興奮,而他天生就是個溝通者。」
厄文的家人則誓言要繼續推動保育工作,八歲的女兒賓蒂也展開自己的電視生涯。
「史帝夫很敬愛以溫勒和杜西這兩條河為界的保護區裡各種的野生動物,他對這塊地變成保護區一定感到很驕傲。」厄文的美籍妻子泰莉說。
總理約翰.霍華說,新園區是澳洲國家保育系統重要的一環,「也是對一位熱情的環保人士和偉大的澳洲人最適當的感謝。」
(翻譯:張愛弟)
Publication Notes
TODAY'S WORDS 今日單字
1. wildlife reserve n.
野生保護區 (ye3 sheng1 bao3 hu4 qu1)
例: I spent last summer working at a wildlife reserve.
(我去年夏天在一個野生保護區工作。)
2. conservation n.
保育 (bao3 yu4)
例: There isn't enough conservation work being done.
(保育工作做得還不夠。)
3. naturalist n.
博物學家 (bo2 wu4 xue2 jia1)
例: Lauren studied biology and then became a naturalist.
(蘿拉主修生物學,後來成了博物學家。)
4. environmentalist n.
環保人士 (huan2 bao3 ren2 shi4)
例: He claims to be an environmentalist, but I saw him litter.
(他自稱是環保人士,但我卻看到他亂丟垃圾。)
Publication Notes
SAY WHAT? 說說看
Great Barrier Reef 大堡礁
The Great Barrier Reef is located in Australia and is the world's largest coral reef system. It can be seen from outer space and is home to a number of endangered animals.
Climate change and pollution threaten the Great Barrier Reef and the animals that rely on it. A United Nations report has warned that the Great Barrier Reef could be "functionally extinct" as early as 2030.
大堡礁(Great Barrier Reef)位於澳洲,是全世界最大的珊瑚礁體系。它從外太空就看得到,而且是許多瀕臨絕種生物的家。
大堡礁和仰賴它維生的生物都深受氣候變遷和污染的威脅。一份聯合國的報告警告說它最快於二○三○年就會喪失其功能。
Publication Notes
OUT LOUD 對話練習
Craig: We've walked two hours and still haven't seen a dangerous animal.
Jamal: I for one am happy about that.
Craig: But I want to give you a true taste of the outback. Crikey! A tiger snake!
Jamal: What should I do?
Craig: Back away a few meters, and get your camera out or else nobody will believe you.
克雷格:我們走了兩小時都還沒看到危險的動物。
傑莫:我可樂得很。
克雷格:但我想讓你體驗荒野的感覺。啊!有虎蛇!
傑莫:我該怎麼辦?
克雷格:退後幾公尺,拿出照相機,不然沒人相信你。
crikey 啊、哎呀、驚訝聲
Crikey is an interjection that is used to express surprise or amazement. Most commonly used in Australia and New Zealand, it's a polite way of saying, "Christ!" Steve Irwin made the word crikey popular around the world.
「crikey」是感嘆詞,表示意外或驚訝。在澳洲和紐西蘭,它常是「Christ!」一詞的禮貌用法。史帝夫.厄文使得這個字在全球大受歡迎。
Comments will be moderated. Keep comments relevant to the article. Remarks containing abusive and obscene language, personal attacks of any kind or promotion will be removed and the user banned. Final decision will be at the discretion of the Taipei Times.