Rats! 老鼠橫行!
Two billion rats have run away from their flooded homes in central China. As they move across the land they have been destroying crops.
The rats have spread out across 20 counties in central Hunan Province, gnawing on crops and roots as they search for new homes.
Locals have tried to stop the rats. One district says that residents there had killed 2.3 million rats alone.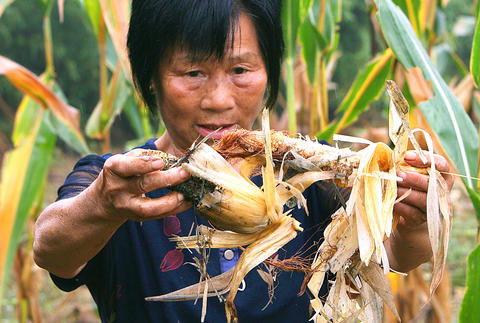 A Chinese farmer shows corn damaged by hungry rats in her. 七月十二日在湖南省濱湖村近郊,一名中國農民展示飢餓老鼠咬壞的農作物.
PHOTO: AFP
"It's like the mopping up by enemy troops in wars. We have nothing left," said Yin Xinjin, 65.
The rat plague began on June 23 when floods lifted the water level on Dongting Lake. The rat holes on the islands were below the water, and so the rats ran away.
As well as destroying crops, the government is worried that the rats could be dangerous to the locals' health.
中國中部,二十億隻老鼠從淹水的家中傾巢而出。牠們猖獗穿越農田,將農作物破壞殆盡。
這些老鼠在湖南省二十個縣流竄,尋找新家的同時,也咬壞農作物與植物根莖。
當地居民努力停止鼠患。其中一區表示,光是這區的居民就殺了兩百三十萬隻老鼠。
六十五歲的尹信金(音譯)說︰「宛如戰爭被敵軍搜括。我們一無所有了。」
鼠患肇始於六月二十三日。當時水災造成洞庭湖水位上升,島上的老鼠窩都遭大水淹沒,引發老鼠大逃亡。
除了農作物遭殃外,中國政府也擔心老鼠會危害當地人民健康。
(翻譯︰賴美君)
Publication Notes
TODAY'S WORDS 今日單字
1.destroy v.i. /v.t.
毀壞 (hui3 huai4)
例: The ants have destroyed my walls.
(螞蟻毀了我的牆壁。)
2.gnaw v.i. /v.t.
啃咬 (ken2 yao3)
例: I think a mouse has gnawed through the wire.
(我認為一隻老鼠咬壞了電線。)
3.local n.
當地居民 (dang1 di4 ju1 min2)
例: Many locals make use of the park.
(當地居民大多利用公園的好處。)
4.troop n.
軍隊 (jun1 dui4)
例: You could hear the troops marching from a mile away.
(你一英里外,就可以聽見軍隊行經的聲音。)
Comments will be moderated. Keep comments relevant to the article. Remarks containing abusive and obscene language, personal attacks of any kind or promotion will be removed and the user banned. Final decision will be at the discretion of the Taipei Times.