People boiling over power cuts in Pakistan's biggest city 巴基斯坦第一大城喀拉蚩斷電 民眾氣炸
The temperature has been going up in Karachi, Pakistan recently. The summer months mean that temperatures are now over 40oC. But even worse than the heat is the lack of power.
The private electricity company that gives power to Karachi is short on electricity, meaning they have had to cut power for over ten hours to some neighborhoods.
People could not use their air conditioners, making them even more hot. TVs and refrigerators also became useless, so restaurants, other businesses and private citizens had to throw away food.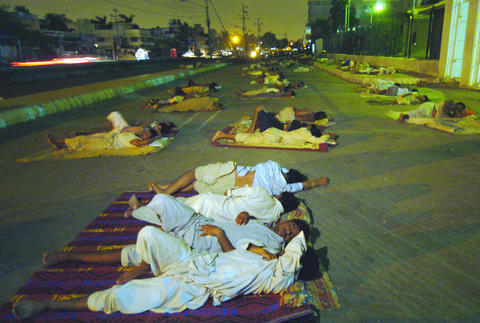 This picture taken June 14, 2007, shows Pakistani residents sleeping beside a road in Karachi due to power cuts.六月十四日,巴基斯坦喀拉蚩的民眾因為停電在路邊睡覺。
Photo: AFP
These power cuts have made many people angry, and so young people ran through the city on the night of June 25 burning police cars and setting barricades on fire.
Pakistan plans to build more power plants but they will take years to finish.
巴基斯坦喀拉蚩的氣溫最近不斷攀升。夏季的氣溫現在可高達四十多度。不過,比炎熱更糟糕的是電力短缺。
供應喀拉蚩電力的民間電力公司能源短缺,必須切斷部分區域十幾個小時的電力。
民眾不能開冷氣,因此感覺更熱。電視與冰箱也派不上用場,所以餐廳、公司行號和民眾只得把食物丟掉。
斷電讓許多民眾怒氣難消,所以六月二十五日晚間就有年輕人在城裡到處焚燒警車並對路障縱火。
巴基斯坦計畫多興建幾座發電廠,但要好幾年才會完工。
Publication Notes
TODAY'S WORDS 今日單字
1. electricity n.
電力 (dian4 li4)
例: We didn't pay our electricity bill for a few months. Now our power has been cut.
(我們幾個月沒繳電費了。現在已被強制斷電。)
2. useless adj.
無用的 (wu2 yong4 de5)
例: I know my doll collection is useless, but I still think it looks nice.
(我知道我收藏的玩偶沒用處,但我還是覺得它賞心悅目。)
3. barricade n.
路障 (lu4 zhang4)
例: The police set up a barricade to protect the president from the crowd during the parade.
(警方在遊行中設置路障,隔離群眾以保護總統。)
Comments will be moderated. Keep comments relevant to the article. Remarks containing abusive and obscene language, personal attacks of any kind or promotion will be removed and the user banned. Final decision will be at the discretion of the Taipei Times.