A future without boundaries 無界的未來
The farms of the future won't need fences because the animals will keep themselves on the farm. They will wear battery powered collars which will send electronic signals, Australian scientists have said.
"It's like an electric fence, except it's invisible," Andrew Fisher, a researcher with the government's CSIRO research organization, told The Sydney Morning Herald.
The collars will be linked to a global positioning system (GPS). Farmers will use a computer to set the boundaries of where they want their livestock to be.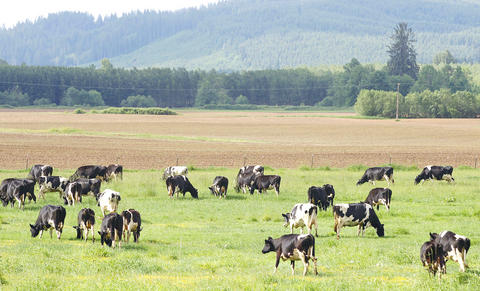 Cows graze on Jay Gordon's organic farm in western Chehalis Valley, Washington, USA , June 5, 2007.六月五日,美國華盛頓州奇哈利斯谷西部的傑.葛登有機農場裡,一群乳牛正在吃草。
PHOTO: AP
The computer-chipped collars will make a buzzing sound if a cow or sheep gets too close to the virtual fence. If the animal keeps walking, a very mild electric shock would make it go back.
Fisher said cattle that had worn the hi-tech collars in a field trial learned to obey the sensory messages in less than an hour.
澳洲科學家表示,未來的農場將不再需要圍籬,透過佩戴一種靠電池供電並可發送電子訊號的項圈,動物便會安分地待在農場內。
澳洲聯邦科學暨工業研究院研究員安德魯.費雪告訴《雪梨晨鋒報》說:「它就像個電子柵欄,只不過肉眼看不見。」
這種項圈可連接全球衛星定位系統,農民可利用電腦來設定牲畜活動的範圍。
當牛羊快闖越虛擬柵欄的範圍時,內置電腦晶片的項圈就會發出警告聲,如果牠們繼續前進,項圈便會發出微弱的電擊迫使牠們後退。
費雪表示,實地測驗中,佩戴這種高科技項圈的牛隻不到一小時就學會服從感應到的訊息。(德通社/翻譯:林倩如)
Publication Notes
TODAY'S WORDS 今日單字
1. electronic adj.
電子的 (dian4 zi3 de5)
例: Televisions are electronic devices.
(電視機是電子設備。)
2. livestock n.
家畜 (jia1 chu4)
例: Farmer Smith has a lot of livestock. He keeps geese, sheep, pigs, cows and goats.
(農夫史密斯養了一大群家畜,有鵝、綿羊、豬、乳牛和山羊。)
3. virtual adj.
虛擬的 (xu1 ni3 de5)
例: Lots of people enjoy playing computer games where they can pretend that they live in a virtual world.
(許多人愛玩電玩遊戲,因為可以假裝活在虛擬世界裡。)
Comments will be moderated. Keep comments relevant to the article. Remarks containing abusive and obscene language, personal attacks of any kind or promotion will be removed and the user banned. Final decision will be at the discretion of the Taipei Times.