Mexico opens large exhibit of Frida Kahlo's art work 墨西哥舉辦芙烈達.卡蘿大型個展
The work of painter Frida Kahlo is on display in Mexico in the largest-ever exhibit of her paintings, including unpublished documents shedding light on her militant politics and family life.
The exhibit covers eight large rooms in the Museum of the Fine Arts Palace with 354 pieces, some displayed for the first time in Mexico.
Marking the 100th birthday of the artist, the exhibit is the product of a joint effort of 69 institutions and collectors using her paintings and letters to show her artistic trajectory and episodes in her often difficult life, including the torment of 33 operations, her marriage to muralist Diego Rivera, her time in the United States and her political activism.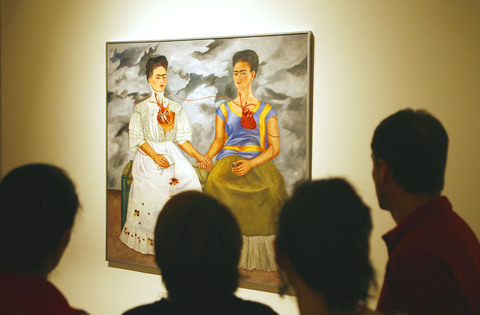 Journalists look at the famous painting "The Two Fridas" done in 1939 by Mexican artist Frida Kahlo, at the Museum of the Fine Arts Palace in Mexico City, June 12, 2007. 六月十二日,幾位媒體記者在墨西哥市的宮殿美術館欣賞墨國藝術家芙烈達.卡蘿一九三九年的知名畫作「兩個芙烈達」。
Photo: AP
Kahlo (1907-1954) twice married Rivera (1886-1957) and was a close friend of Russian communist leader Leon Trotsky.
She suffered intense emotional pain inflicted by the philandering Rivera and physical pain after being stricken by polio and from a bus crash.
Co-curator Juan Coronel Rivera said that Frida Kahlo's popularity was similar to that of Pablo Picasso. "She is of the people. She is a universal icon," he said.
Apart from Kahlo's distinctive self-portraits, one room in the exhibit is devoted to her political life, and details her support for the communist party, her friendship with Trotsky and other figures from the era.
There is also an "intimate" space with images from her family life and the little known period as a teacher and photography model in her youth. Organizers said there is a special section devoted to her father, Guillermo Kahlo, considered to be a crucial creative influence that helped shape the artist.(AFP)
畫家芙烈達.卡蘿有史以來最大個展在墨西哥登場,展出內容除了畫作外,還包括清楚透露其激進政治立場及家庭生活的未公開文件。
宮殿美術館的八個大型展廳分別陳列卡蘿的三百五十四件作品,其中一部份還是首度在墨西哥亮相。
為紀念芙烈達.卡蘿百歲冥誕,六十九個社團機構與收藏家們聯合舉辦這項個展,展出透露她從「藝」心路歷程和坎坷人生插曲(包括三十三次手術的痛苦折磨、與壁畫家狄亞哥.里維拉的婚姻、在美時光及激進的政治立場)的個人畫作及書信。
卡蘿(1907-1954)和里維拉(1886-1957)有過兩次婚姻,與蘇聯共黨領袖托洛斯基也是密友。
里維拉的花心讓她情感上深受打擊,生理上則必須承受小兒麻痺症及巴士車禍帶來的痛苦折磨。
共同策展人胡安.科洛奈爾.里維拉表示,芙烈達.卡蘿受歡迎的程度不亞於畢卡索。他說:「平民出身的她是全球偶像。」
除了別具特色的自畫像外,其中一間展廳還專門介紹她的政治理念,詳述她對共產黨的支持,以及與托洛斯基和其他當代名人間的友誼。
此外,展覽也特闢一個「私密」展區,展出她家庭生活及擔任老師和攝影模特兒那段鮮為人知的年少歲月的影像。策展單位表示,個展中還為她父親奎拉莫.卡蘿規劃了一個專區。一般認為,芙烈達.卡蘿深受父親的啟發與影響。
(法新社/翻譯:林倩如)
Publication Notes
TODAY'S WORDS 今日單字
1. exhibit n.
展覽 (zhan2 lan3),展示會 (zhan3 shi4 hui4)
例: The exhibit features works from more than a dozen artists.
(這項展覽的特色是集結了超過十二位藝術家的作品。)
2. trajectory n.
發展歷程 (fa1 zhan3 li4 cheng2),軌跡 (gui3 ji1)
例: Our physics test asked us to calculate the trajectory of a ball.
(物理科考試考我們計算球的軌跡。)
3. philandering adj.
玩弄女性的 (wan2 nong4 nu3 xing4 de5)
例: When she learned her husband was philandering with another woman, she got a divorce.
(她知道老公在外拈花惹草後,決定離婚。)
4. distinctive adj.
有特色的 (you3 te4 ce4 de5)
例: The distinctive thing about her sculpture is the color.
(色彩是她雕塑的特點。)
Publication Notes
SAY WHAT? 說說看
shed light
解釋,讓事情清楚顯現
If you shed light on a problem, then you reveal more about it or how to solve it. This metaphor implies the problem or situation used to be in the dark, and therefore hard to see or understand. For example: "The investigation shed light onto the motives of the thieves." To cast light has the same meaning.
Also, to lose the dead hair on your body (as a cat or dog does), is to shed. "The cat sheds so much, I have to sweep twice a day!"
「shed light on a problem」就是進一步點出問題或解決之法。這片語暗喻問題或情況不明,因此難以察覺或了解,例如:「調查讓大家進一步了解竊賊的動機」。同義的片語還有「cast light」。
此外,「shed」意指身體毛髮掉落(如同貓、狗),例如:「那隻貓掉毛掉得好嚴重,害我一天得掃兩次地」!
Publication Notes
OUT LOUD 對話練習
Greg: Hey, what have you been up to?
Mia: I went to the fine arts museum this weekend. I had a really great time.
Greg: What did you look at while you were there?
Mia: I spent most of my time in the Medieval paintings section.
Greg: I haven't seen any of those in a blue moon.
葛瑞格:嘿,最近在做什麼啊?
米亞:我上週末去了趟美術館,感覺好極了。
葛瑞格:妳在那裡都欣賞了些什麼?
米亞:我大部分時間都待在中世紀畫作區。
葛瑞格:我好久沒去看畫了說。
blue moon 很久
A blue moon is technically a calendar month when two full moons occur. It is a metaphor for a long time.
「blue moon」是指有兩次滿月的月份,隱含許久之意。
Comments will be moderated. Keep comments relevant to the article. Remarks containing abusive and obscene language, personal attacks of any kind or promotion will be removed and the user banned. Final decision will be at the discretion of the Taipei Times.