Toilet humor?????
Police blame a woman named Butts for stealing toilet paper from an Iowa courthouse, and while they are chuckling, the theft charge could land her in jail.
"She's facing potentially three years of incarceration for three rolls of toilet paper,'' Chief Lon Walker said, stifling a laugh as he talked to KCCI-TV about Suzanne Marie Butts. (The word "butt'' is American slang for buttocks.)
Workers at the Marshall County Courthouse had noticed toilet paper rolls were disappearing much faster than usual, Walker said.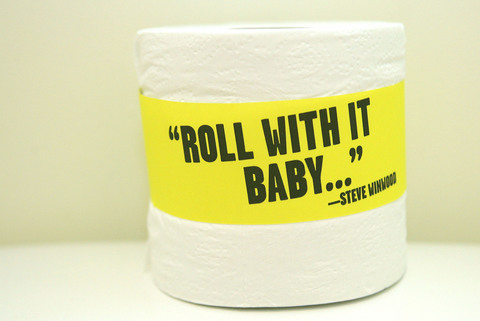 A roll of toilet paper sports a line by musician Steve Winwood "Roll with it Baby" at the Seminole Hard Rock Hotel and Casino in Hollywood, Florida, USA, Feb. 11, 2007.二月十一日在美國佛羅里達州的好萊塢硬石賭場旅館,一紙捲筒衛生紙上寫著歌手史提夫.溫伍德的一句歌詞:「寶貝,跟著搖擺吧」。
PHOTO: AP
Butts, 38, was caught last week after an employee saw her taking three rolls of two-ply tissue from a storage closet, Walker said.
Butts insisted it was the first time she had pilfered toilet paper, but she declined to answer further questions on her attorney's advice.
The fifth-degree theft charge, a misdemeanor, normally carries a sentence of less than a year in jail. But Butts could face more time if convicted under the state's habitual offender law because she has prior theft convictions.
Walker said Butts did not work at the courthouse and it was unclear why she was there.
警方指責一位名叫「霸絲」的女子從愛荷華州一棟法院偷走洗手間衛生紙,當他們咯咯笑的同時,女子也可能因竊盜罪鋃鐺入獄。
警察局長隆恩.沃克接受KCCI電視台訪問,談到蘇珊瑪莉.霸絲時忍住笑意說︰「她可能因三捲衛生紙而坐牢三年。」(美國俚語中的「butt」有屁股之意。)
沃克說,馬紹爾郡法院的員工過去常發現捲筒式衛生紙不翼而飛。
沃克表示,三十八歲的霸絲上週被法院一名員工逮到她從貯藏櫃拿走三捲雙層衛生紙。
霸絲堅持這是她首次竊取衛生紙,但在律師建議下拒絕進一步回應。
五級竊盜罪的輕罪通常只判一年以下的有期徒刑。但霸絲有竊盜前科,假如依法確認屬累犯,可能要多坐幾年牢。
沃克表示,霸絲並非法院員工,不清楚她為何到法院來。
(美聯社/翻譯︰賴美君)
Publication Notes
TODAY'S WORDS 今日單字
1. incarceration n.
監禁 (jian1 jin4) ,坐牢 (zuo4 lao2)
例: Convicted criminals often face incarceration.
(被判刑的罪犯通常得面臨牢獄之災。)
2. pilfer v.t.
偷竊 (tou1 qie4)
例: Someone has been pilfering stationery supplies from the office cupboard.
(有人一直從辦公室櫃子偷走文具用品。)
3. misdemeanor n.
輕罪 (qing1 zui4)
例: Simone got a suspended sentence since it was her first misdemeanor.
(這是西蒙首次犯下輕罪,故獲緩刑。)
4. habitual adj.
習慣性的 (xi2 guan4 xing4 de5)
例: Cynthia is a habitual sleepwalker.
(辛西亞會習慣性地夢遊。)
Publication Notes
SAY WHAT? 說說看
buttocks 臀部,屁股
The term buttocks refers to a person or animal's bottom. There are a multitude of words used for this part of the body. Expressions which are acceptable in polite company include: bottom, behind, derriere, posterior, rear and seat. Informal words which are acceptable for use with friends and peers are: bum (UK), butt (US), and backside. Particular care should be taken when using fanny. In the US it is a mild term referring to the bottom, but in the UK it is a slang word for vagina.
「buttock」這個字指的是人或動物的臀部,有許多字都可用來指身體的這個部位。可為人接受的禮貌性說法包括「bottom」、「behind」、「derriere」、「posterior」、「rear」和「seat」。朋友或同儕間較不正式的用法有「bum」(英式)、「butt」(美式)與「backside」。用「fanny」這個字時要多加留意,因為美語中意指臀部,但英式用法則指陰道。
Publication Notes
OUT LOUD 對話練習
Simon: Did you hear about that woman who was caught nicking toilet rolls from a courthouse in America?
Sam: No, but then I'm not surprised. Why on earth would that be newsworthy?
Simon: Well, it turns out her name was Butts!
Sam: Oh, that is kinda funny. Bet she didn't like being the butt of the joke though! Boom-boom!
賽門︰你聽說了從美國法院偷走衛生紙被逮到的那名女子嗎?
山姆︰沒有耶,但我一點也不吃驚。這有什麼值得報導的嗎?
賽門︰結果那個女子姓「Butts」!
山姆︰噢,那就有點好笑了。我敢打賭她不喜歡成為笑柄!真冷!
butt of the joke 笑柄
You can say that someone is the butt of a joke if they are the victim of the joke. The expression boom-boom! is used to signal a joke — usually not a very funny one.
「the butt of a joke」就是笑話的主角。「boom-boom!」則用來回應通常不怎麼好笑的笑話。
Comments will be moderated. Keep comments relevant to the article. Remarks containing abusive and obscene language, personal attacks of any kind or promotion will be removed and the user banned. Final decision will be at the discretion of the Taipei Times.