Space walking 太空漫步
Two astronauts on the US shuttle Atlantis started the first of three planned space walks on June 11 to continue building the International Space Station, NASA television reported.
The two astronauts, Jim Reilly and John Olivas, came out from the orbiting space station's airlock at around 9pm British time to start their work.
Their job is to make power and cooling connections between the station and a new 16-tonne truss segment containing solar panels.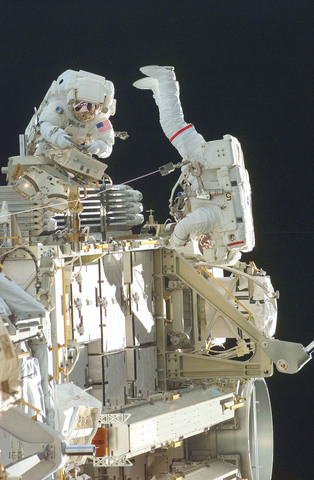 Right: Jim Reilly and John Olivas work on the international space station, June 11, 2007.六月十一日,吉姆.瑞利與約翰.奧立華斯國際太空站上工作。
PHOTO: AP/NASA
Before the astronauts left for their space walk, the S3/S4 truss segment was put on the station with the help of the station's giant robotic arm.
The truss's solar panels will mean the station can generate more power.
The space walk was scheduled to last about six and a half hours, NASA said.
Even though it is called space walking, the astronauts don't really walk — they float. They are attached to the base by a special rope.
美國航太總署電視台報導說,美國亞特蘭提斯號太空梭的兩名太空人已於六月十一日展開三個太空漫步計畫的首宗計畫,繼續國際太空站的建造工作。
吉姆.瑞利與約翰.奧立華斯兩名太空人,在英國時間晚間九點走出在軌道上運行的太空站氣閘艙,展開兩人工作。
他們的任務是在太空站與備有太陽能板的十六噸新衍架組件之間連接電能與冷卻管線。
在兩名太空人太空漫步之前,S3/S4連接構架組件已在太空站的巨型機器人手臂協助下,放上太空站。
衍架的太陽能板可以讓太空站產生更多電力。
美國航太總署說,這次太空漫步預計將持續六個半小時。
雖然稱為「太空漫步」,但太空人並非真的在走路,而是飄浮移動。他們繫著特殊繩子與基地連結。 (法新社/翻譯︰賴美君)
Publication Notes
TODAY'S WORDS 今日單字
1. orbit v.i. /v.t.
環繞軌道運行 (huan2 rao4 gui3 dao4 yun4 xing2)
例: Earth orbits the sun.
(地球環繞太陽運行。)
2. airlock n.
氣閘 (qi4 zha2)
例: The astronaut waited in the airlock until it was safe to enter the space station.
(太空人在氣閘艙內等候,直到能安全進入太空站。)
3. truss n.
桁架 (heng2 jia4)
例: The lighting engineer climbed the truss to hang a light.
(那名燈光師攀上桁架,懸掛燈具。)
4. segment n.
部分 (bu4 fen4),切片 (qie1 pian4)
例: A Jaffa orange has ten segments.
(以色列的雅法橙有十瓣。)
Comments will be moderated. Keep comments relevant to the article. Remarks containing abusive and obscene language, personal attacks of any kind or promotion will be removed and the user banned. Final decision will be at the discretion of the Taipei Times.