Star Trekking for the last time 「星艦奇航」之最後巡航
The ashes of Star Trek star James Doohan were blasted into space late last month when a rocket carrying a symbolic portion of the late actor's cremated remains was launched in New Mexico.
Doohan, beloved for his role as the USS Enterprise's chief engineer Montgomery "Scotty" Scott, died aged 85 in 2005, however plans for his posthumous rendezvous with the stars have been repeatedly delayed.
The launch, organized by Space Services Inc, saw a SpaceLoft XL rocket blast off from the Spaceport America private launchpad near Las Cruces, in New Mexico, USA.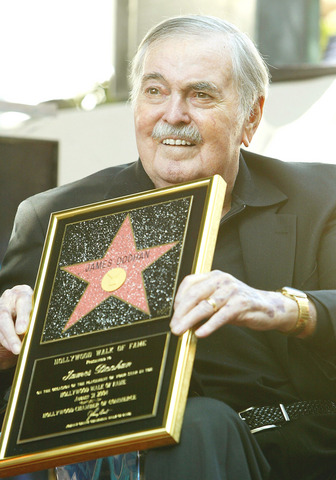 James Doohan recieving his star on the Hollywood Walk of Fame. Aug. 31 2004. 二00四年八月三十一日,詹姆士•督漢在好萊塢星光大道上接受星印。照片︰法新社
PHOTO: AFP
"While 'Scotty' lived this, Jimmy lived for this," Doohan's widow Wende said in a press release. "I will be there to see the launch, knowing that Jimmy is participating in an industry which he loved so very much."
A public memorial service took place at the New Mexico Museum of Space History the day before the launch.
Ashes belonging to 201 other people were also catapulted into the heavens along with Doohan, including those of Gordon Cooper, a US astronaut who was part of the Mercury manned spaceflight program in the early 1960s.
Doohan's posthumous spaceflight saw him follow in the footsteps of Star Trek creator Gene Roddenberry, whose remains were fired into space by SSI in 1997, six years after his death.
SSI offers a variety of services for families wishing to shoot the remains of loved ones into space.
Launching a single gram of ashes comes with a US$495 (NT$16,471) price tag, while sending remains into deep space, a service which comes into effect from 2009, will cost up to US$12,500 (NT$415,938).(AFP)
上個月底一枚從新墨西哥州發射升空的火箭,象徵性地載運影集「星艦奇航記」已故影星詹姆士督漢的部分骨灰上太空。
以「企業號」輪機長蒙哥馬利.史考特(暱稱「史考提」)一角深獲民眾喜愛的督漢,二00五年以八十五歲高齡辭世,但他身後與眾「星」相伴的計畫,卻因故一再延誤。
負責籌畫發射行動的「太空服務公司」表示,SpaceLoft XL火箭從新墨西哥州拉斯庫魯賽斯附近的「美國太空港」私人發射台發射。
督漢的遺孀溫蒂在一份聲明稿中表示:「太空是『史考提』的舞台,吉米也為太空而活。我會在那裡觀看火箭發射,我知道吉米參與的是他熱愛至極的行業。」
發射前夕,新墨西哥州太空史博物館舉辦了一場公開追悼儀式。
其他二0一人的骨灰也和督漢一起送上太空。一九六0年代初期曾參與水星載人太空船計畫的美國太空人戈登?古柏的骨灰也在其中。
「星艦奇航記」創作者吉恩?羅登貝瑞的骨灰在他去世六年後,一九九七年由「太空服務公司」送上太空。如今督漢也步上他的後塵。
「太空服務公司」為希望將心愛家人骨灰送上太空的家庭,提供各式服務。
每公克骨灰的發射費為四百九十五美元(新台幣一萬六千四百七十一元),不過自二00九年起,載運骨灰到外太空的代價將高達一萬兩千五百美元(新台幣四十一萬五千九百三十八元)。(法新社/翻譯:林倩如)
Publication Notes
Today's Words 今日單字
1. symbolic adj.
象徵性的 (xiang4 zheng1 xing4 de5)
例: The Queen is the symbolic head of state.
(女王是象徵性的國家元首。)
2. posthumous adj.
死後的 (si3 hou4 de5)
例:He was awarded a posthumous medal for bravery.
(他去世後獲頒大勇獎章。)
3. participate v.t. / v.i
參加 (can1 jia1)
例: Will you be participating in the marathon next month.
(你會參加下個月那場馬拉松賽嗎?)
4. catapult v.t. / v.i
猛投 (meng3 tou2),彈射 (tan2 she4)
例: The force of the collision catpulted him through the windshield.
(碰撞的力道讓他整個人彈撞到擋風玻璃。)
Publication Notes
Say What? 說說看
rendezvous 約會,會面
A rendezvous is a prearranged meeting. The word comes from French and the literal meaning is to present (rendez) yourself (vous). Other notable loan words from French are blond and blonde, which describes people with fair colored hair. Note this is the only adjective in English which agrees in gender with the person it modifies: blond is for a man and blonde for a woman. For example "He has blond hair," and "She has blonde hair." Both are also nouns.
「rendezvous」意指預先安排的會面,這個字源自法文,字面上的意思是present (rendez) yourself (vous)。其他最為人知的法文外來語詞就是形容金髮者的「blond」和「blonde」。注意!這是英文中唯一與所修飾主語性別呼應的形容詞:「blond」用於男性,「blonde」用於女性。例如:「He has blond hair」、「She has blonde hair」。兩者亦可當名詞用。
Publication Notes
Out Loud 對話練習
Claire: Did you hear about Scotty from Star Trek's ashes being blasted into space?
Matt: No, I've been a bit caught up in Battlestar Galactica recently.
Claire: No I mean, really, the actor that played him, James Doohan.
Matt: Oh! I see! That's a fitting ending for him, hey?
Claire: Yes. I think so too.
克萊兒:你聽說「星艦奇航記」裡的史考提,骨灰被送上太空的事了嗎?
麥特:沒有耶,我最近在迷「星際大爭霸」。
克萊兒:不是啦,我說的其實是飾演史考提的影星詹姆士•督漢。
麥特:喔!了解!對他而言,那結局再適合不過了,對吧?
克萊兒:是啊,我也這麼認為。
caught up in 纏住,迷住
You can say that you are caught up in or with (something) if it is taking up most of your attention. For example, "I'm sorry I can't make it to the party tonight, I'm a bit caught up with work."
「you are caught up in/with something」表示某事佔去你大部份的注意,例如:「不好意思,因為工作纏身,所以我今晚沒辦法參加你的派對」。
Comments will be moderated. Keep comments relevant to the article. Remarks containing abusive and obscene language, personal attacks of any kind or promotion will be removed and the user banned. Final decision will be at the discretion of the Taipei Times.