Prisoners feel endangered -- by mosquitos 蚊子威脅囚犯性命
Three prisoners in Colorado say their lives are in danger — thanks to mosquitoes.
The prisoners at Walsenburg and Limon prisons sued, saying they could be infected with West Nile virus or other diseases after being bitten many times by mosquitoes.
They also were always scared that each mosquito bite could be the one that would make them either very sick or even kill them.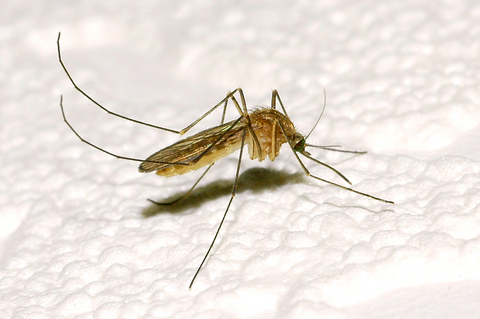 This file photo taken Nov. 15, 2006 shows a mosquito like the ones biting prisoners in Colorado, USA. 這張檔案照片攝於二OO六年十一月十五日,在美國科羅拉多州的監獄叮囚犯的蚊子就像照片這種。
PHOTO: AFP
Stephen G. Glover, Alan Smith and Michael Freeman said the bites caused high fever, headache, neck stiffness and muscle weakness.
"Each attack constituted bodily injury, which the [prisons] had the power to prevent" but decided not to, the prisoners said. The three men are acting as their own lawyers.
But two courts have already decided to throw out their case.
Prison officials said no positive cases of West Nile virus have ever been found among the prisoners, and everyone is given mosquito repellant.
(Jason Cox, Staff Writer with AP)
科羅拉多州三名囚犯表示,他們的性命受到蚊子的威脅。
渥爾森堡和利蒙監獄的囚犯控告獄方,他們常被蚊子叮,可能會感染西尼羅病毒或其他疾病。
他們也總是害怕每次蚊子叮咬,都可能讓他們生重病或甚至死亡。
史蒂芬.葛羅夫、艾倫.史密斯和麥克.費里曼表示,蚊子叮咬會引起高燒、頭痛、頸部僵硬和肌肉無力。
這些囚犯表示︰「每次叮咬都算是一種身體傷害,監獄有能力預防,卻決定不阻止。」這三名男子都自任控方律師。
不過,兩個法庭已決定不審理此案。
監獄官員表示,從未在囚犯身上發現過西尼羅病毒,而且每個人都發配了防蚊液。
(美聯社╱翻譯︰鄭湘儀)
Publication Notes
TODAY'S WORDS 今日單字
1. prisoner n.
囚犯 (qiu2 fan4)
例: When the police put me in jail, I knew I had to get used to life as a prisoner.
(當我被警察關進監獄,我就知道自己得習慣囚犯的生活。)
2. infect v.t.
感染 (gan2 ran3)
例: When you are sick, don't go to school to avoid infecting your classmates.
(若生病就不要上學,才不會傳染給你的同學。)
3. lawyer n.
律師 (lu4 shi1)
例: If someone sues you, you should hire a lawyer. (若有人告你,你就該請律師。)
4. repellent n.
驅蟲劑 (qu1 chong2 ji4)
例: Put on mosquito repellent so they don't bite you.
(擦防蚊液蚊子就不會咬你。)
Comments will be moderated. Keep comments relevant to the article. Remarks containing abusive and obscene language, personal attacks of any kind or promotion will be removed and the user banned. Final decision will be at the discretion of the Taipei Times.