Bicycles losing ground in China 腳踏車在中國失寵
In Maoist China, the famed Flying Pigeon bicycle was a symbol of the egalitarian nation's "iron rice bowl," the social system that promised little comfort but a reliable ride through life.
But today the once-thriving bicycle company is struggling to survive.
"People used to have to save up for a least a year to be able to buy a bicycle," said Zhao Xuejie, vice director of the company's import and export department.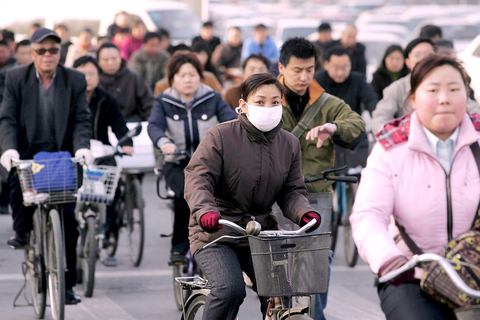 Chinese people on bicycles commute at a bustling street in Beijing, Mar. 28, 2007. 去年三月二十八日,在中國北京繁忙的街頭,民眾以腳踏車通勤。
PHOTO: EPA
But things have changed. "Although profits are low and the costs of salaries and materials are rising, we cannot raise the price of our bikes," said Zhao.
At its peak in 1986, Flying Pigeon sold 3 million bikes. Now the company sells about half that number annually.
The factory employed as many as 10,000 employees at the end of the 1980s, but that number has now been reduced to 700, most of whom earn about 1,500 yuan (NT$6,428) a month.
The cheapest models, most often bought by students, cost between 200 and 300 yuan (NT$857 and NT$1,285), while the most expensive bike costs 2,000 yuan (NT$8570).
"We must keep an open attitude," said Zhao, as he unveiled the "pet bike" that can carry a dog or a cat.
As well as stiff competition, bicycles are losing ground to public transport and cars. But Zhao remains optimistic because the government has placed a priority on fighting pollution.
"Bikes can help protect the environment .... If there are too many cars, then this will lead to serious problems for the people," he said.
"Young people also need to exercise. So in a number of ways, the bicycle is still irreplaceable."
(AFP)
毛澤東時代的中國,著名的飛鴿牌自行車象徵著平等社會的鐵飯碗,這種社會制度雖不能讓人民過舒適的生活,卻能提供穩定的生計。
但是如今,曾經生意興隆的自行車公司卻如風中殘燭。
飛鴿牌自行車進出口部門的副總監趙學杰(音譯)表示︰「以前大家最少要省一年的錢才能買一台腳踏車。」
但是現在情況不同了,趙學杰表示︰「雖然利潤低,薪水跟材料費都提高,我們還是不能提高自行車的價格。」
飛鴿牌自行車在一九八六年的高峰期曾有過三百萬台的銷售量,如今卻掉到每年只有一百五十萬台。
工廠在一九八○年代末期曾雇用多達一萬名員工,如今驟減至七百人,多數人的月薪約一千五百元人民幣(新台幣六千四百二十八元)。
學生最常買的最便宜車款,價格介於兩
百到三百人民幣(新台幣八百五十七元和新台幣一千兩百八十五元),而最貴的要
兩千人民幣(新台幣八千五百七十元)。
趙學杰在發表可載狗或貓的「寵物自行車」時表示︰「我們必須保持開放的態度。」
不僅自行車製造商間競爭激烈,自行車也因為大眾運輸和汽車而失寵,不過趙學杰仍保持樂觀,因為政府將防治污染視為首要之務。
他表示︰「腳踏車有助環保,若有太多車子,將會對民眾造成嚴重問題。」
他說︰「年輕人也需要運動,所以從許多方面看來,腳踏車仍是無可取代。」
(法新社╱翻譯︰鄭湘儀)
Publication Notes
TODAY'S WORDS 今日單字
1. egalitarian adj.
平等主義的 (ping2 deng3 zhu3 yi4 de5)
例: We want an egalitarian society where everyone is treated equally.
(我們要一個每個人都受到公平對待的平等社會。)
2. salary n.
薪水 (xin1 shui3)
例: Some workers are paid by the hour, while others have a set salary.
(有些員工是按時給薪,有些員工則領固定薪資。)
3. factory n.
工廠 (gong1 chang3)
例: Nearby factories create pollution along with their goods.
(鄰近的工廠在生產貨物的同時也製造了污染。)
4. priority n.
優先 (you1 xian1)
例: We'd like you to make this project a top priority and finish it quickly.
(我們希望你能優先處理這項專案,並且儘快完成。)
Comments will be moderated. Keep comments relevant to the article. Remarks containing abusive and obscene language, personal attacks of any kind or promotion will be removed and the user banned. Final decision will be at the discretion of the Taipei Times.