Watch your step - there's dog poop around 狗屎滿地 走路小心
Reporter Alison Stewart of the Powell Tribune recently made a survey of 1.5 hectare Washington Park and revealed "at least 108 dog poop piles."
The city passed an ordinance in 1991 requiring owners to pick up after their dogs, but Stewart's on-the-ground reporting proves that some owners aren't paying attention.
Bill Fields, superintendent of the Powell Parks Department told Stewart he's frustrated by the situation. City officials are considering baggie dispensers, banning dogs from city parks, or possibly encouraging residents to turn in scofflaws.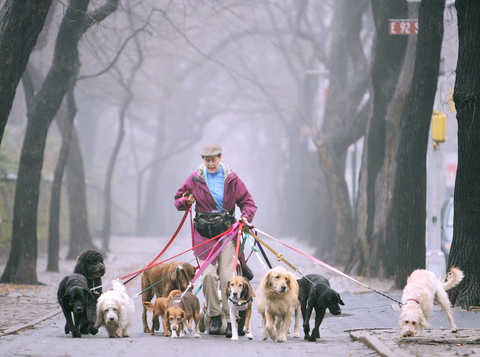 A dog walker on Fifth Avenue walks near New York's Central Park. 一名男子在紐約中央公園附近的第五大道散步溜狗。 (照片:法新社)
PHOTO: AFP
Stewart said she lives a block from Washington Park and has been following the situation there for some time.
"I wrote an article a couple of years ago, so this was just following up," Stewart said. "It seems like it's about the same. I don't think Powell is any worse than any other place I've lived."
Stewart said she enlisted a friend to help with the survey, dividing the park in half and then dividing it into squares. "I would just take like a 10-yard (9.1m) section, and then count everything in just like a 5-yard (4.5m) section. It's rough, though," Stewart said.
Stewart reports that Powell law enforcement is taking the situation seriously but has found it hard to collar any offenders.
The law is difficult to enforce unless you have a witness who will testify, Powell Police Chief Tim Feathers told Stewart.
City Attorney Sandee Kitchen said in order for the city to prosecute, it would have to identify the person and dog and know the time and date of the offense.
Until then, Powell residents will just have to watch their step.(AP)
《包爾論壇報》記者愛莉森?史都華日前對佔地一點五公頃的華盛頓公園進行一項調查,結果發現那裡「至少有一百零八堆狗屎」。
包爾市一九九一年就通過要求飼主隨手清理狗屎的法令,但史都華的實地報導證明,部份飼主根本不理會這項規定。
包爾市公園局局長比爾?菲爾茲向史都華表示,他對此感到沮喪。市府官員正在研擬設置小提袋供應機、狗兒禁入市立公園,及盡可能鼓勵民眾檢舉違規等方案。
史都華表示,她就住在和華盛頓公園一街之隔的地方,而且她一直持續關注這個情況。
史都華說:「幾年前我就寫過一篇文章,所以這次調查只是後續報導,但結果似乎沒什麼兩樣,不過我不認為包爾市比我待過的其他城市還糟。」
史都華表示,她請了一位朋友來幫忙做這項調查,先把公園劃分成兩個區塊,再各自分成幾個小方塊。史都華說:「我先選取長e約各十碼(九點一公尺)的區塊,接著再細數每個長寬約各五碼(四點五公尺)的區塊內有多少狗屎。不過,這只是約略計算的數據。」
史都華在報導中說,包爾市執法單位慎重看待此事,但要逮捕違規者卻不容易。
包爾市警局局長提姆?費德爾斯向史都華表示,這項法令執行上有困難,除非有目擊者願意作證。
市政律師珊蒂?基辰表示,為了方便市府告發,飼主和狗兒身份及違規的時間、日期都必須清楚確認。
在那之前,包爾市居民只好「步步為營」。(美聯社/翻譯:林倩如)
Publication Notes
Today's Words 今天單字
1. ordinance n.
法令 (fa3 ling4),條例 (tiao2 li4)
例: The city passed an ordinance to limit noise pollution.
(該市通過了噪音污染管制條例。)
2. section n.
區域 (qu1 yu4)
例: The report about Wang Chien-min is in the sports section of the newspaper.
(有關王建民的報導在報紙體育版。)
3. collar v.t.
逮捕 (dai4 bu3)
例: The police haven't had any luck in collaring the thief yet.
(警方尚未成功逮捕那名竊賊。)
4. witness n.
目擊者 (mu4 ji2 zhe3)
例: The prosecutor protected the witnesses during the Mafia leader's trial.
(黑手黨頭目審判期間,檢察官對目擊證人採取保護措施。)
Comments will be moderated. Keep comments relevant to the article. Remarks containing abusive and obscene language, personal attacks of any kind or promotion will be removed and the user banned. Final decision will be at the discretion of the Taipei Times.