A gem of a find! 尋獲至寶
A couple of eight-year-old twin boys have found a 2.50 carat raw diamond that could be worth thousands of dollars, according to the director of a state park in the southern US state of Arkansas.
"They thought it was a piece of mica. When they learned it was a diamond, there were many 'woo hoos' and high-fives exchanged," said Rachel Engrecht of the Crater of Diamonds State park.
When you search for diamonds or gold, it is called prospecting.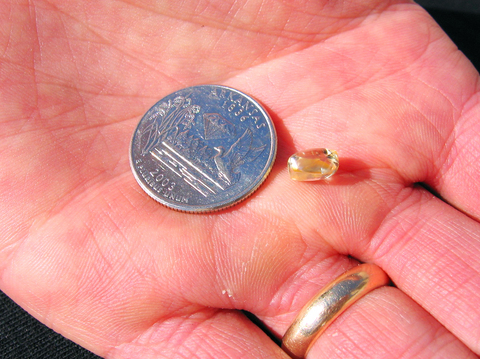 Jim Gatliff holds the diamond he found next to a quarter, Feb. 6, 2007. The diamond weighs 2.67 carats. 今年2月6日,吉姆•加特里夫手拿找到的鑽石和一枚二十五分硬幣。這枚鑽石重達2.67克拉。 (照片:美聯社)
PHOTO: AP
She said the children found the 2.50 carat diamond during a weekend in the park, where visitors are encouraged to prospect for the precious stones.
Another park official, Bill Henderson said that the gem could be worth several thousands of dollars.
Henderson said the stone, which is named the "Duncan Twins Diamond" after the young boys who found it, has a sparkling metallic look and is "almost heart shaped."
People quite often find diamonds in the Crater of Diamonds State park. The one in the photo was found on Feb. 5 2007 and was the 40th to be found in 2007. It weighs a little more than the Duncan twins diamond.
(Catherine Thomas, staff writer with AFP)
根據美國南部阿肯薩斯州某州立公園處長指出,一對八歲大的雙胞胎男孩找到了一顆可能價值數千美元的二點五克拉裸鑽。
鑽石坑州立公園的瑞秋.英格雷齊表示︰「他們原本以為那是一塊雲母,當他們發現是鑽石後,忍不住連聲歡呼相互擊掌。」
找尋鑽石或黃金就叫「探勘」。
她表示,這兩名男孩在公園度週末時找到這顆二點五克拉的鑽石。公園鼓勵遊客探採鑽石。
另一名公園管理員比爾.韓德森表示,這顆鑽石的價值可能高達數千美元。
韓德森表示,以拾獲這顆鑽石的小男孩所命名的「鄧肯雙子鑽」,有閃亮的金屬光澤,而且形狀近乎心形。
鑽石坑州立公園的民眾經常找到鑽石,照片中的鑽石在今年二月五日被拾獲,是二○○七年找到的第四十顆鑽石,重量比鄧肯雙子鑽重一點。
(法新社╱翻譯︰鄭湘儀)
Publication Notes
Today's Words 今天單字
1. carat adj.
克拉 (ke4 la1)
例: A one carat diamond usually costs less than a two carat diamond .
(一克拉鑽石通常比兩克拉鑽石便宜。)
2. mica n.
雲母 (yun2 mu3)
例: My sister's ring doesn't have a real diamond. It's mica, but still very pretty!
(我姐的戒指上不是真的鑽石,而是雲母,不過還是很漂亮。)
3. crater n.
坑洞 (keng1 dong4)
例: There was a big crater where the comet landed.
(彗星落地時形成巨大坑洞。)
Comments will be moderated. Keep comments relevant to the article. Remarks containing abusive and obscene language, personal attacks of any kind or promotion will be removed and the user banned. Final decision will be at the discretion of the Taipei Times.