Time to bark up the right tree 不再雞同鴨講
Several dog species have learned to communicate with humans via an increasing spectrum of barking sounds, according to a leading German animal researcher.
"Some of the more modern dog species like the terrier and sheep dog have a wide barking spectrum which is intended as a means of communication with man," says Dr Dorit Feddersen-Petersen from the Zoological Institute at the University of Kiel.
Quoted in the latest issue of the German magazine Dogs, the researcher said that canines have learned many nuances of communication during the 14,000 years they have lived with humans.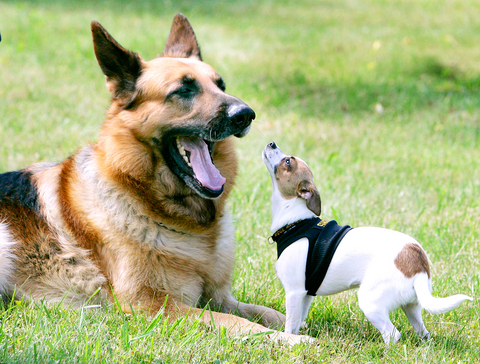 Seven-month-old, 2.7kg Midge, a police dog, plays with 7-year-old, 56.7kg Brutus outside the Sheriff's offices in Chardon, Ohio, USA on June 13, 2006. 去年6月13日,七個月大、2.7公斤的警犬米吉,跟七歲大、56.7公斤的布魯特斯在美國俄亥俄州察頓市的警長辦公室外玩耍。 (照片:美聯社)
PHOTO: AP
The wolf, a close relative of the dog, hardly ever barks and older dog species like the Alaskan Malamute and Samoyed Dog share this behavior, according to Feddersen-Petersen.
"Vocal sounds are more impressive than the body signals used by the wolf," the researcher says. "'Give me food!,' expressed in barking language is clearer than just pointing the nose. But both signals really work."
A high-pitched barking coupled with tail wagging and the paws pressed to the ground mean, "Play with me!" On the other hand a deep bark with an upright tail and hair on end says, "Stay away from me or else!"
It can therefore be very useful for dog owners and people in general to understand some of the nuances of dog language, the researcher says.
(DPA)
一名優秀的德國動物研究員表示,若干品種的狗已經學會透過愈來愈多樣的狗叫聲和人類溝通。
任職於德國基爾大學動物研究機構的杜立.費德森彼得森表示︰「部分現代狗種,如梗犬和牧羊犬會以各種不同的吠聲來與人類溝通。」
最新一期德國雜誌「狗」引述這名研究員的發言表示,犬科動物在和人類居住的一萬四千年中學到了許多微妙的溝通。
根據費德森彼得森的說法,狗的近親—
狼,幾乎從來不叫,而其他較老的狗品種如阿拉斯加雪橇犬和薩摩耶犬也是這種行為模式。
「狗叫聲比狼所使用的肢體語言更令人印象深刻,」他說︰「用吠聲表達『給我食物
!』比只用鼻子示意更清楚。但兩者都行得通。」
高尖的叫聲搭配尾巴搖晃和爪子撐向地
面表示,「跟我玩!」,另一方面,低沉的吠叫,尾巴向上立起,毛髮直豎則表示「離我遠一點,否則要你好看!」
因此研究人員表示,對狗主人和一般大
眾,了解部分狗語言的微妙之處非常有用。
(德通社╱翻譯︰鄭湘儀)
Publication Notes
Today's Words 今天單字
1. spectrum n.
光譜 (guang1 pu3)
例: If you refract light you can see the seven colors of the spectrum.
(你如果折射光,就可以看見七色光譜。)
2. canine n.
犬科動物 (quan3 ke1 dong4 wu4)
例: A dog is a canine and a cat is a feline.
(狗是犬科動物,貓是貓科動物。)
3. nuance n.
細膩之處 (xi4 ni4 zhi1 chu4)
例: Non-native speakers may miss some of the nuances of the movie.
(非母語人士可能會錯過這部電影某些細膩之處。)
4. upright adj.
筆直的 (bi3 zhi2 de5)
例: Sally helped Jake pull the chair into an upright position.
(莎莉幫傑克把椅子扶正。)
Comments will be moderated. Keep comments relevant to the article. Remarks containing abusive and obscene language, personal attacks of any kind or promotion will be removed and the user banned. Final decision will be at the discretion of the Taipei Times.