Italians make new rules for soccer fans 義大利足球迷 有新規範
Soccer fans tend to be crazy about their team. But some of those fans cross a line and act violently.
On Feb. 2, a huge fight broke out during an Italian soccer match in Sicily. One police officer was killed in the fighting.
The Italian government has decided to take steps to keep violent fans out of Italian stadiums.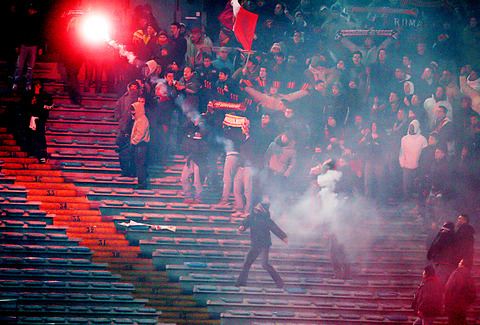 An Italian hooligan throws a flare during a fight at Rome's Olympic stadium, Jan. 15, 2006.去年一月十五日義大利羅馬的奧林匹克體育場發生暴動,一名足球流氓投擲火把。(照片:美聯社)
PHOTO: AP
Teams will only be able to sell tickets to individuals, not groups, and suspected hooligans may be held by police even if they haven't done anything wrong yet.
Teams that do not follow the new rules will not be able to allow fans into the stadium. That means they would play games with nobody in the stadium.
That would hurt a team's morale and finances, so all teams are likely to accept the new rule quickly.
Sports Minister Giovanna Melandri also said the fan mentality must change, and opponents should not be enemies.
(Jason Cox, Staff Writer with AP)
足球迷很容易對支持的球隊瘋狂不已。不過,有些球迷太過火了,還產生暴力行為。
二月二日,一場在義大利西西里島舉行的足球賽爆發大規模衝突,造成一名警員喪生。
義大利政府已決定採取措施,把暴力球迷擋在球場外。
球隊將只能售票給個人,不能賣給團體,警方可以扣留疑似足球流氓的人,即便他們並未犯錯。
未遵守新規定的球隊將禁止讓球迷進場。這意味他們會踢一場無人觀賞的比賽。
這會對球隊的士氣與收益造成巨大傷害,因此所有球隊大概很快就會接受新規定了。
義大利體育部長喬凡娜.梅蘭德里也說,球迷的心態必須改變,不應該把對手當敵人。
(翻譯:賴美君)
Publication Notes
Today's Words 今日單字
1. violently adj.
暴力,地 (bao4 li4 di5)
例: My brother is so sweet. He would not behave violently in class.
(我的弟弟很體貼。他不會在課堂上做出暴力行為。)
2. hooligan n.
流氓 (liu2 mang2),暴民 (bao4 min2)
例: A bunch of scary hooligans hang out near that park.
(一群可怕的流氓在公園附近閒晃。)
3. morale n.
士氣 (shi4 qi4)
例: We are having a big dinner for the army today to keep morale high.
(我們今天要為士兵準備豐盛晚餐,提振士氣。)
Comments will be moderated. Keep comments relevant to the article. Remarks containing abusive and obscene language, personal attacks of any kind or promotion will be removed and the user banned. Final decision will be at the discretion of the Taipei Times.