A danger to dog and man 狗狗危險,民眾小心
Thieves poisoned more than 100 pet dogs in a southern Chinese village over the past few months and likely sold them to restaurants, a village official said on Jan. 30.
The thieves fed the dogs poisoned noodles and later collected their bodies in the southern Guangdong province village of Taian.
"The thieves come around midnight on bicycles," the official said. "They roam around the village and feed the dogs with poisonous rice noodles," he added.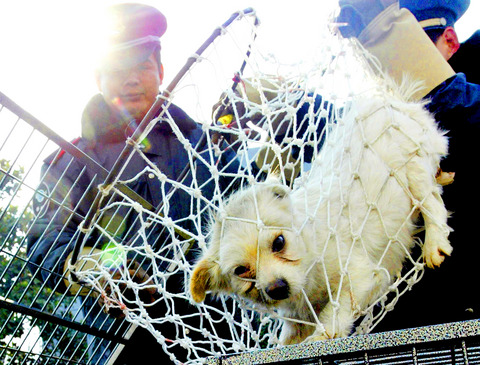 Police catch stray dogs in Nanjing, China. The dogs are considered dangerous because some carry rabies and may bite people. 中國南京的警察捕捉流浪狗。這些狗很危險,因為有些感染狂犬病,可能會咬人。 (照片:美聯社)
PHOTO: AP
It was not clear what kind of poison was used.
"They only steal the bigger dogs, so the next morning we can see the smaller dead dogs on the streets," he said.
"A live dog can be sold for about 300 Chinese yuan (NT$1,200), but some cheap restaurants would also buy dead dogs," the Yangcheng Evening News quoted one dog owner as saying.
A health official, whose surname is Shi, said no one has been arrested for the poisoning.(AP)
中國一名村莊官員於一月三十日表示,過去幾個月來,一群小偷在南方一個小村莊對超過一百多隻寵物狗下毒,還可能把牠們轉賣給餐廳。
這群小偷在中國南方廣東省泰安村餵狗吃毒麵,再蒐集牠們的屍體。
官員表示︰「小偷趁半夜騎腳踏車來。」他補充︰「他們在村裡四處閒晃,餵狗吃下了毒的米粉。」
尚未確認小偷使用何種毒藥。
他說︰「他們只偷體型較大的狗,所以隔天我們就會看到體型較的小狗暴斃在街上。」
「羊城晚報」引述一位狗主人的說法︰「一隻活狗可以賣到三百人民幣(新台幣一千兩百元),不過有些廉價的餐廳會買進死狗。」
一名施姓衛生官員表示從來沒有人因下毒遭到逮捕。
(美聯社╱翻譯︰鄭湘儀)
Publication Notes
Today's Words 今天單字
1. poison v.t.
下毒 (xia4 du2)
例: The farmer poisoned the coyotes.
(農夫毒殺土狼。)
2. collect v.i. /v.t.
領取 (ling2 qu3)
例: Please collect your jackets on your way out.
(出去時請領回你的夾克。)
3. roam v.t.
漫步 (man4 bu4)
例: I roamed all around town and still couldn't find a good dress.
(我在鎮上四處逛,還是找不到一件好看的洋裝。)
4. surname n.
姓氏 (xing4 shi4)
例: My surname is Smith, and my first name is Will.
(我姓史密斯,名叫威爾。)
Comments will be moderated. Keep comments relevant to the article. Remarks containing abusive and obscene language, personal attacks of any kind or promotion will be removed and the user banned. Final decision will be at the discretion of the Taipei Times.