Global trotting: Egypt 世界走透透 - 埃及
An ancient culture, vast deserts, the Nile River and tremendous pyramids make Egypt a unique place. Come take a closer look at the Arab Republic of Egypt.
古老的文化、浩瀚的沙漠、尼羅河以及壯觀的金字塔,造就了埃及的獨特性。一起深入了解埃及阿拉伯共和國。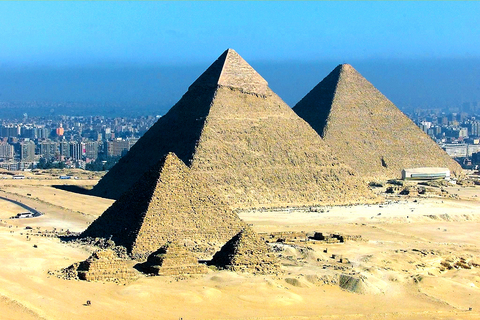 An aerial view of the Great Pyramids of Giza, south of the Egyptian capital Cairo. 位於埃及首都開羅南方的吉薩金字塔空照圖。 (照片:法新社)
PHOTO: AFP
A closer look 說古論今
Egypt has one of the most long-standing histories of any country. People have lived in Egypt for at least ten thousand years and began settling around the Nile River to farm. By 6000BC well-organized agriculture and large-scale construction appeared. The first evidence of Egyptian writing, called hieroglyphics, dates from around 3200BC. Nearly 99 percent of Egyptians live on just 5.5 percent of the land, mostly along the Nile River. Egypt is very dry, getting just 20cm of rain every year. The most famous landmarks in Egypt are the three pyramids and Great Sphinx of Giza. For thousands of years, tourists have gone to see these marvels in the desert.
At the juncture of Africa, the Middle East, and Europe, Egypt is in a strategic position and has both influenced and been influenced by all three areas. Egypt is a major center of Islamic scholar-ship. Cairo, the capital of Egypt, is the largest city in Africa and the Middle East. The Egyptian economy depends heavily on the Nile River for farming and the Suez Canal for shipping. Tourism is also a major source of revenue.
Culturally, Egypt has had a big impact on the world. Egypt produces over a hundred movies a year, and it is often called the "Hollywood of the Middle East." Egyptian literature has had a major effect on Arabic literature throughout the Middle East. The most popular sport is soccer, though squash and tennis are also well liked.
(Jason Cox, staff writer)
埃及是歷史最悠久的古國之一,至少在一萬年前就有人開始定居且在尼羅河附近從事農耕。西元前六千年出現良好組織的農業和大規模建築物。約在西元三千兩百年前出現首例書寫文字,稱做象形文字。近99%的埃及人口僅居住在5.5%的土地上,主要沿著尼羅河畔。埃及非常乾燥,年降雨量只有二十公分。埃及最出名的地標是吉薩的三座金字塔和人面獅身像,數千年來不斷有觀光客前往觀看這沙漠奇景。
埃及擁有位於非洲、中東和歐洲交界處的戰略位置,並且與三地相互影響。埃及是伊斯蘭學術重
鎮,首都開羅更是非洲和中東的最大都市。埃及的經濟極為仰賴尼羅河的農業和蘇黎士運河的運輸業
,觀光也是一項主要收入。
埃及對全球文化有重大影響,每年出產百部以上的電影,常被稱為「中東的好萊塢」。埃及文學對中東地區的阿拉伯文學影響至深。最受歡迎的運動是足球,不過回力球和網球也廣受喜愛。
(翻譯:鄭湘儀)
Publication Notes
About Egypt 國家概況
Size: 1 million km2, or about 28 times larger than Taiwan
Location: Africa
Border countries: Sudan, Israel, Libya
Capital: Cairo
Population: 78.8 million
Languages: Arabic
Government: Republic
Currency: 1 Egyptian pound = NT$5.7
面積:一百萬平方公里,約比台灣大二十八倍。
位置:非洲
鄰國:蘇丹、以色列、利比亞
首都:開羅
人口:七千八百八十萬人
語言:阿拉伯語
政府:共和
貨幣:一埃鎊等於新台幣五點七元
Comments will be moderated. Keep comments relevant to the article. Remarks containing abusive and obscene language, personal attacks of any kind or promotion will be removed and the user banned. Final decision will be at the discretion of the Taipei Times.