Dinosaurs come to life 活靈活現的恐龍
What does it take to bring a dinosaur to life — or at least a life-sized recreation?
Start with 296m of fabric stretched over 132m of foam. Stuff it with a kilometer of cabling, six motors and a dozen truck batteries. Program 24 computers to control the reptile's every move and cover it with 200 liters of paint.
Result: A 2-tonne Torosaurus that stomps, snorts and roars on remote-controlled demand.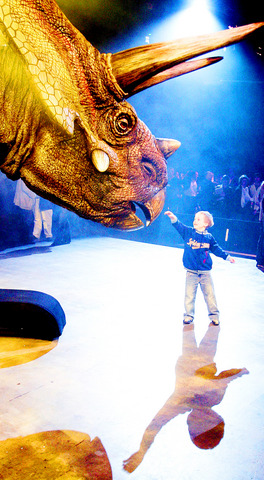 David Moore touches the animated Torosaurus in Sydney, Aug. 1, 2006. 去年8月1日在雪梨,大衛•摩爾碰觸機器牛角龍。 (照片:美聯社)
PHOTO: AP
The horned herbivore is one of 15 animatronic dinosaurs making their world debut in Sydney in a January stage production of the popular British Broadcasting Corp. (BBC) documentary Walking with Dinosaurs.
A team of 60 designers and engineers have been working to recreate the ancient creatures, which came in two sizes — big and bigger.
Weighing more than a family car, the Torosaurus is among the smallest dinosaurs in the show.
The largest, a long-necked Brachiosaurus, measures the length of two city buses and stands more than 11m tall. And no dinosaur show would be complete without the terrifying Tyrannosaurus Rex.
Behind the scenes, it takes three people to operate each reptile.
For chief creature designer Sonny Tilders, the show was his childhood dream come true.
"I certainly was a dinosaur nerd, and this is a great combination of technology and performance and creativity," said Tilders.
"Animatronics is a combination of those renaissance skills — the aesthetics and the science. That's why I love it," he said.
The 12 million Australian dollar (NT$300 million) production will tour Australia before opening in the US in July. Promoters hope to take the show to Europe and Asia later this year. (AP)
讓恐龍復活需何價?至少重現實體大小的恐龍?
就從兩百九十六公尺的布料裹著一百三十二公尺的泡棉開始算起吧。裡頭塞著一公里的配線、六部馬達與一打卡車電池。裡頭裝配了二十四部電腦來控制這個爬蟲類每一動作,並漆上兩百公升的油漆。
結果是︰這隻兩噸重的遙控牛角龍能跺足、噴息,並大聲咆哮。
這個長角的草食動物是一月在雪梨首次展演、改編自BBC廣受歡迎的紀錄片《Walking with Dinosaurs》的秀展中十五個機器恐龍之一。 
六十位設計師與工程師小組竭力使古代恐龍重現,製作了大型與超大兩種尺寸的恐龍。比房車還重的這頭牛角龍是劇中最小號的恐龍之一。 
體型最大的長頸腕龍比兩輛市公車還長,身高逾十一公尺。若少了駭人的雷克斯暴龍,恐龍秀就做不起來了。
在後台,每隻恐龍需要三個人來發動。
對首席生物設計師桑尼.泰德勒斯來說,恐龍秀實現了他的童年夢想。
泰德勒斯說︰「我當然是恐龍痴。這是科技、表演與創意的美妙結合。」
他說︰「動物機器人結合了美學與科學的文藝復興技巧。這就是我熱愛的原因。」
這部斥資一千兩百萬澳幣(約三億台幣)的恐龍秀即將巡迴澳洲演出,七月再轉往美國。主辦單位希望今年稍晚再巡迴歐亞洲。 (美聯社╱翻譯︰賴美君)
Publication Notes
Today's Words 今天單字
1. recreation n.
重現 (chong2 xian4)
例: We are going to attend a recreation of the Battle of Gettysburg.
(我們要參加蓋茨堡戰役的重現。)
2. animatronic adj.
擬真機械人的 (ni3 zhen1 ji1 qi4 ren2 de5)
例: I would love to build animatronic characters for a living.
(我想以打造擬真機器人維生。)
3. ancient adj.
古老的 (gu3 lao3 de5)
例: The ruins of ancient temples are a popular tourist attraction in Cambodia.
(柬埔寨的古寺廟遺跡是熱門觀光景點。)
4. nerd n.
呆瓜 (dai1 gua1)
例: Willy looks like such a nerd walking around with a pocket protector and wearing those tube socks.
(威利拿著口袋保護套走來走去,還穿著長筒襪,看起來就像個呆瓜。)
Comments will be moderated. Keep comments relevant to the article. Remarks containing abusive and obscene language, personal attacks of any kind or promotion will be removed and the user banned. Final decision will be at the discretion of the Taipei Times.