Warming up after a frost 冰釋前嫌
South Korea's new foreign minister and Japan's prime minister agreed on last Dec. 27 2006 that the two countries must cooperate closely to resolve the lingering issue of North Korea's nuclear weapons, Japan's Foreign Ministry said.
Song Min-soon, who arrived in Japan on Dec. 26, also met separately with Japanese Foreign Minister Taro Aso and exchanged documents ratifying a treaty on legal assistance, the ministry said in a statement.
Earlier on Dec. 27, Prime Minister Shinzo Abe told Song during an exchange of greetings before reporters that he was "delighted'' Song had chosen Japan for his first overseas trip since becoming Seoul's top diplomat in early December.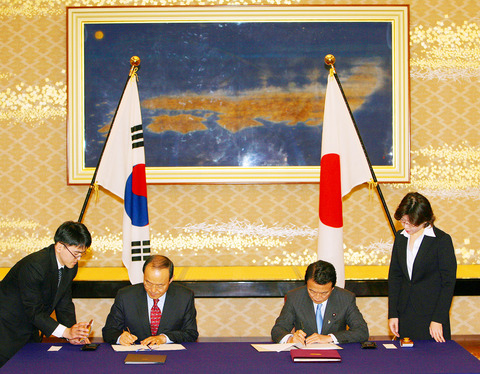 Foreign Ministers Song Min-soon and Taro Aso sign a treaty on cooperation between South Korea and Japan in cross-border criminal investigations. 韓日外長宋旻淳和麻生太郎簽署韓日跨國犯罪調查合作協定。 (照片:法新社)
PHOTO: AFP
"I hope both countries will work together so that these meetings will be accepted naturally,'' Song said in response.
Song's trip comes after six-nation talks on resolving North Korea's nuclear ambitions failed recently in Beijing.
Abe and Song agreed their countries should work closely and with the United States to resolve the Korean nuclear problem, the Foreign Ministry said in a statement.
Song and Aso agreed to a mutual assistance pact to improve cooperation between both countries in cross-border criminal investigations, the ministry said. The treaty will go into effect Jan. 26, it said.
During Song's trip to Japan, the two sides are also expected to discuss steps to mend strained ties, including a possible visit to Japan by South Korean President Roh Moo-hyun — his first since June 2003, according to South Korea's Foreign Ministry.
Bilateral ties have been hurt by territorial and historical disputes, including a row over former Prime Minister Junichiro Koizumi's repeated visits to a war shrine that honors Japan's war dead, including convicted war criminals. (AP)
日本外務省表示,南韓新任外交通商部長和日本首相於二○○六年十二月二十七日同意兩國必須緊密合作,以解決延宕的北韓核武問題。
外務省在一份聲明中表示,十二月二十六日訪日的宋旻淳,在單獨與日本外相麻生太郎會晤時,簽署換文司法互助協定。
稍早在十二月二十七日,日本首相安倍晉三在記者面前和宋旻淳寒喧時對宋表示,他對於宋旻淳於十二月初接任南韓外長後,能將日本選為海外參訪的首站表示高興。
宋旻淳回應︰「我希望兩國能攜手合作,讓此類會談常態化。」
近來為解決北韓核武發展而在北京舉行的六邊會談破裂後,宋旻淳開始這趟海外參訪之旅。
外務省在一份文件中表示,安倍晉三和宋旻淳同意兩國應緊密合作,與美國共同解決北韓核武問題。
外務省表示,宋旻淳和麻生太郎同意一項互助協定,促進雙方跨國犯罪的調查合作。這份協定將於一月二十六日生效。
宋旻淳訪日的行程中,兩國也將預期討論如何修補雙方緊張的關係,包括南韓總理盧武鉉訪日的可能性,南韓外交部表示,這將會是盧武鉉自二○○三年六月來的首度造訪。
日韓雙邊關係因領土歷史紛爭,以及 前日本首相小泉純一郎多次參拜靖國神社所引起的爭議而產生裂縫。靖國神社供奉日本戰時陣亡者和遭判刑的戰犯。
(美聯社╱翻譯︰鄭湘儀)
Publication Notes
Today's Words 今天單字
1. resolve v.i. /v.t.
解決 (jie3 jue2)
例: You should try to resolve any disagreements without fighting.
(你應該試圖不以打架解決歧見。)
2. lingering v.i. /v.t.
拖延的 (tuo1 yan2 de5)
例: I have a lingering suspicion John will steal this book.
(我仍然懷疑約翰會偷這本書。)
3. ratify v.t.
認可 (ren4 ke3)
例: The Legislative Yuan must ratify all treaties Taiwan signs.
(立法院必須認可所有台灣簽署的協議。)
4. diplomat n.
外交官 (wai4 jiao1 guan1)
例: Diplomats are immune to prosecution in foreign countries.
(外交官對所駐該國有刑事豁免權。)
Comments will be moderated. Keep comments relevant to the article. Remarks containing abusive and obscene language, personal attacks of any kind or promotion will be removed and the user banned. Final decision will be at the discretion of the Taipei Times.