Globe trotting - Scotland 世界走透透:蘇格蘭
Scotland has a breathtaking landscape of rolling highlands and glens, vast lochs, legendary monsters, heather and castles, whiskey and golf ... Read on to find out more about one of the most famous areas of the world.
坐擁絕色美景,綿延起伏的高地與幽谷,寬廣的湖泊與傳說怪獸,石南花與城堡,威士忌與高爾夫‥‥‥跟我們一同來探索世界知名的蘇格蘭。
Scotland has a remarkable sporting heritage. The golf course at St Andrews, affectionately known the world over as the "home of golf," is one of the oldest in the world. The oldest national trophy in the world, The Scottish Cup, is awarded to the winning team in Association Football (soccer).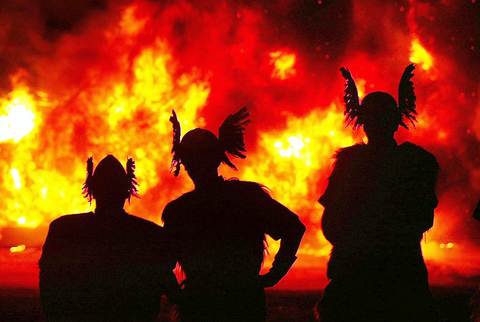 The celebration of Up Helly Aa, Jan. 31, 2006. 今年1月31日的蘇格蘭火祭慶典。 (照片:美聯社)
PHOTO: AP
Scottish literature is also well known. The writer of Peter Pan, JM Barrie hails from Angus, Scotland. Irvine Welsh, a modern day Scottish writer, wrote Trainspotting, which was made into a highly successful movie. Robert Burns is Scotland's best loved poet, world-renowned for Auld Lang Syne.
Scotland is a land which enjoys its traditions, festivities (see tomorrows paper for a full description of their New Year celebrations) and legends. One legend is the Loch Ness Monster — a mysterious creature said to lurk in the bottom of Loch Ness (Scotland's largest freshwater lake).
Scotland has 790 islands, but only 90 are inhabited. One set, called the Shetlands, are described as the meeting place between Scotland and Norway. During their fire festival — the Up Helly Aa — a Viking ship is paraded through the streets and then set on fire, emulating the old funeral traditions of the Vikings.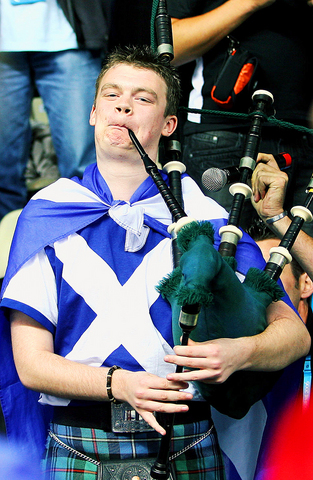 Above: A Scotland supporter plays the bagpipes at the Commonwealth Games, March 2006. 今年3月的大英國協運動會上,一名支持蘇格蘭的男子吹奏風笛。 (照片:法新社)
PHOTO: AFP
Scotland's national dish is Haggis — sheep stomach stuffed with minced offal, spices, suet, and oatmeal and boiled for several hours. The haggis was an excellent way of preserving food naturally well before modern conveniences. The haggis is still well-loved today — Burns even wrote a poem about it!
(Catherine Thomas, staff writer)
蘇格蘭擁有非凡的體育遺產。聖安德魯斯的高爾夫場素以「高爾夫的家鄉」享譽全球,是全球最古老的高爾夫球場之一。全世界最古老的國家盃「蘇格蘭盃」即為頒給足球冠軍隊伍的獎盃。
蘇格蘭文學也相當知名。《彼得潘》的作者 JM Barrie 就出生於蘇格蘭的安格斯。蘇格蘭現代作家Irvine Welsh 所著的《猜火車》,就被改拍為成功的賣座電影。Robert Burns 是蘇格蘭最備受愛戴的詩人,以詩作《懷念的往昔》享譽全球。
蘇格蘭人相當喜愛自己的傳統、節慶(請看明日蘇格蘭新年傳統的詳細報導)與傳說。傳說中,神秘的尼斯湖水怪就潛藏在蘇格蘭最大的淡水湖「尼斯湖」底下。
蘇格蘭有七百九十個島,但僅九十個島有人居住。雪特蘭列島就被視為是蘇格蘭與挪威的交會處。蘇格蘭火祭期間,一艘維京船會沿街遊行,再點燃火苗,仿效維京人古老的葬禮習俗。
蘇格蘭一道傳統料理是羊肉雜碎布丁,也就是填滿碎內臟、香料、羊油、燕麥粥後蒸煮數小時的羊肚。在便利的現代生活之前,羊肉雜碎布丁是自然保存食物的極佳方式。羊肉雜碎布丁今日仍相當受到喜愛,詩人Burns甚至還寫了一首相關詩作! (翻譯:賴美君)
Publication Notes
About Scotland 國家概況
Size: 78,772 km2; about twice the size of Taiwan
Location: North of England, off the coast of Northwestern Europe.
Border: England
Capital: Edinburgh
Population: Around 5 million
Language: Scottish Gaelic (spoken by 1 percent of the population), Scots (spoken by 30 percent) and Scottish Standard English (spoken by nearly everyone)
Government: A constituent country of the United Kingdom, but with a devolved parliment
Currency: The British pound (GBP). £1 = NT$63. Three Scottish banks still issue their own notes, which are only officially valid within Scotland.
面積:七萬八千七百七十二平方公里,約為台灣的兩倍
位置︰英國北部,西北歐海岸外緣
鄰地:英格蘭
首府︰愛丁堡
人口︰約五百萬人
語言:蘇格蘭蓋爾語(約人口百分之一),蘇格蘭語(約三成人口)與蘇格蘭標準英語(普及)
政府︰隸屬英國,擁有自己的議會
貨幣︰英鎊(GBP),一英鎊約等於新台幣六十三元。蘇格蘭三家銀行仍發行自己的紙鈔,只在蘇格蘭境內有效。
Comments will be moderated. Keep comments relevant to the article. Remarks containing abusive and obscene language, personal attacks of any kind or promotion will be removed and the user banned. Final decision will be at the discretion of the Taipei Times.