I've got a 'gut' feeling 腸菌與肥胖
Certain gut bacteria may encourage obesity, according to a study that appears on Thursday in Nature, the weekly British science journal.
The intestine has two groups of bacteria — the Firmicutes and the Bacteroidetes — that help to break down food. They account for more than 90 percent of intestinal bacteria types.
Washington University researcher Jeffrey Gordon led a team that found the amount of Bacteroidetes is lower among obese people than among lean people.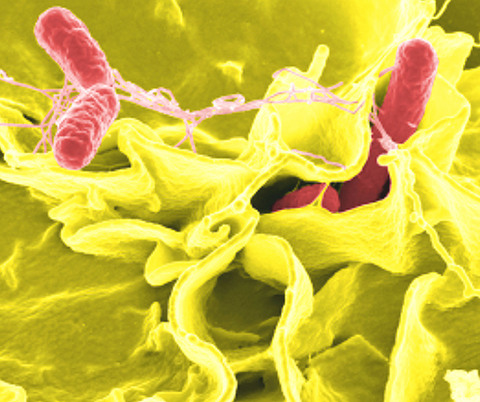 Bacteria can help you digest food, but some kinds like the salmonella in this picture, can make you sick. Photo courtesy of us National Institute of Allergy and Infectious Diseases 細菌有助於消化食物,但如照片中的沙門桿菌等細菌卻會讓人生病。 (照片由美國國家過敏與傳染疾病研究所提供)
They did further experiments in mice, finding that the gut bacteria of obese mice not only had fewer Bacteroidetes than their skinny counterparts, but also was rich in genes that broke down hard-to-digest foods more easily.
Fewer calories remained in the feces of the obese mice than in those of the lean ones, which suggests the chubby rodents were able to extract more energy from their food thanks to their stomach bacteria.
In another test, 12 obese people went on a diet for a year, eating either food that was low in fat or low in carbohydrates, and their gut germs were monitored during this time.
Before the diet, the intestines of the obese group were higher in Firmicutes and lower in Bacteriodetes than the control group.
After the diet, the Firmicutes fell back and the Bacteriodetes increased.
The human intestine has around 100,000 billion bacteria.
The rise in obesity is blamed almost universally on a shift to high-fat, high-sugar diets and an inactive lifestyle over the past few decades.
But scientists are also interested in additional factors that could explain why the obesity crisis has emerged so quickly and why some individuals are more likely to gain weight than others. (AFP)
根據英國科學週刊《自然》週四的報導,某些腸細可能會引發肥胖。腸內有兩組有助於分解食物的菌叢︰F菌叢與B菌叢。腸內有九成以上的細菌是由它們組成。
華盛頓大學研究員傑夫瑞.高登領導的小組發現,胖子的B菌叢數比瘦子的少。
他們進一步以老鼠實驗發現,胖鼠的腸菌不只比瘦鼠少,也富含更易分解難消化食物的基因。
殘留在胖鼠排泄物的卡路里比留在瘦鼠的少,意指胖齧齒動物的胃菌可以幫牠們從食物吸取較多能量。
另一項實驗中,十二位過重者節食一整年,只吃低脂或低碳水化合物的食物,並觀察這段期間的腸菌。
節食之前,相較於體重節制者,過重者腸內的F菌叢較高,B菌叢也較低。
節食後,人體的F菌叢減少,B菌叢增加。人類腸內約有一百兆個細菌。
數十年以來,一般都把變胖歸咎於高脂高糖飲食的轉變,以及缺乏活力的生活方式。
不過科學家也對其他成因,如肥胖危機為何如此快速浮現,以及有些人為何較容易變胖,相當感興趣。
(法新社/翻譯:賴美君)
Publication Notes
Today's Words 今天單字
1. gut bacteria n.
腸菌 (chang2 jun4)
例: We don't like to think about gut bacteria, but they break down our food for us!
(我們不喜歡想到腸菌,但它們可以為我們分解食物!)
2. counterpart n.
同等地位的人 (tong2 deng2 di4 wei4 de5 ren2)
例: The French President called his American counterpart, Bush.
(法國總統致電美國總統布希。)
3. extract v.t.
提煉 (ti2 lian4),取出 (qu3 chu1)
例: Its not easy to extract iron ore from the ground.
(從地底取出鐵礦相當不易。)
4. intestine n.
腸 (chang2)
例: I like pig intestines in my soup, but not with rice.
(我喜歡豬腸在湯裡,而不是在飯裡。)
Comments will be moderated. Keep comments relevant to the article. Remarks containing abusive and obscene language, personal attacks of any kind or promotion will be removed and the user banned. Final decision will be at the discretion of the Taipei Times.