Do sperm donors have parental rights? 精子捐贈人是否具有親權?
Kansas' highest court will consider the constitutionality of a 1994 Kansas law that says a sperm donor has no parental rights unless he has a written agreement with the mother.
The case involves an unmarried woman who asked a friend to donate his sperm so she could have a child. He agreed, intending to act as the father for the twins conceived in September 2004.
But the two did not put anything in writing as required by law, and when the twins were born, she went to court to make sure she would be their sole parent.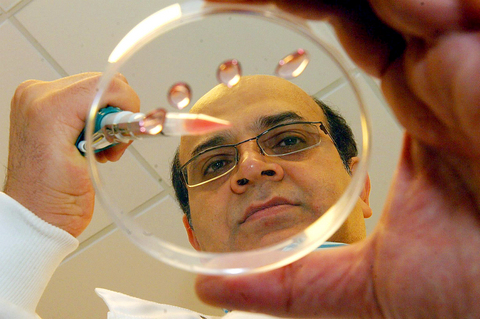 Scientist Karim Nayernia's team successfully created mice from artificial sperm.科學家卡里姆•那爾尼亞的團隊成功地以人造精子孕育出老鼠。 (照片:歐新社)
PHOTO: EPA
Court records provide few details, listing the man only as DH, the woman as SH and the children as KCH and KMH.
The twins were born in May 2005. The woman went to court the next day, and a Shawnee County district judge concluded in December that DH had no parental rights, prompting the appeal.
"It's caused a great deal of anxiety," said Kurt James, a Topeka attorney representing the man. "He feels betrayed by her failure to live up to her bargain and betrayed by the loss of his children from the time of their birth."
SH contends she intended to be a single mother. She also wanted to know who was donating the sperm so that she would have information about the man's health history, should the babies have future medical problems, Susan Barker Andrews, a Topeka attorney representing her, wrote in her court brief.
Kansas and at least 15 other states, including California and Texas, say sperm donors do not have parental rights without a written agreement. (AP)
一九九四年,堪薩斯州法律規定,除非精子捐贈人與母親簽署書面協定,否則不具有法定親權,堪薩斯州最高法院將首次審視此法是否符合憲法。
此案涉及一名未婚女子為懷孕生子,央求好友捐贈精子,好友同意,雙胞胎在二○○四年九月受孕後,他也試圖扮演父親的角色。
不過兩名當事人並未依法律規定簽署書面協議,雙胞胎出生後,女子向法院申請單獨行使親權。
法院紀錄能提供的細節不多,僅將這名男子列為「D.H.」;女子為「S.H.」;兩名孩童為「K.C.H」和「K.M.H.」。
這對雙胞胎於二○○五年五月出生,隔天女子便向蕭尼郡地方法官申請辦理,法官於十二月裁定「D.H」不得行使親權,「D.H」於是申請上訴。
「這讓他感到很焦慮」代表男子的托皮卡市律師寇特.詹姆斯表示︰「她沒有做到當初兩人所協議的內容,小孩出生後他就失去他們,他覺得被欺騙了。」
托皮卡代表「S.H.」的律師柏克.安德魯,在法院起訴書中寫到,「S.H.」聲稱她想當單親媽媽,並且想知道誰捐贈精子,這樣未來若小孩有醫療問題才能取得當初捐贈者健康狀況。
堪薩斯以及其他包括加州和德州等至少十五州,規定精子捐贈人未經書面協議不具有親權。(美聯社╱翻譯︰鄭湘儀)
Publication Notes
Today's Words 今天單字
1. constitutionality adj.
符合憲法 (fu2 he2 xian4 fa3)
例: The Court judged the constitutionality of the law on police searches.
(法官裁定警方的搜索合憲。)
2. sperm donor n.
精子捐贈人 (jing1 zi3 juan1 zeng4 ren2)
例: The rights and responsibilities of sperm donors are subject to debate.
(精子捐贈者的權利和義務有待爭議。)
3. conclude v.t.
斷定 (duan4 ding4)
例: I concluded that no cockroaches were in the room.
(我確定房間內沒有蟑螂。)
4. anxiety n.
焦慮 (jiao1 lV4)
例: Lots of extra homework can cause anxiety among students.
(大量家庭作業會讓學生感到焦慮。)
Comments will be moderated. Keep comments relevant to the article. Remarks containing abusive and obscene language, personal attacks of any kind or promotion will be removed and the user banned. Final decision will be at the discretion of the Taipei Times.