Globe trotting: Benin 世界走透透 - 貝南共和國
Situated in Western Africa, the Republic of Benin is famed for its welcoming people, arts and crafts — especially masks, and its delicious foods. It is also the homeland of R&B singer Angelique Kidjo and the Voodoo religion.
坐落在西非的貝南共和國以好客的人民、藝術及手工藝聞名,尤其是面具與美食。它也是R&B歌手安潔莉克.琪蒂歐與巫毒教的家鄉。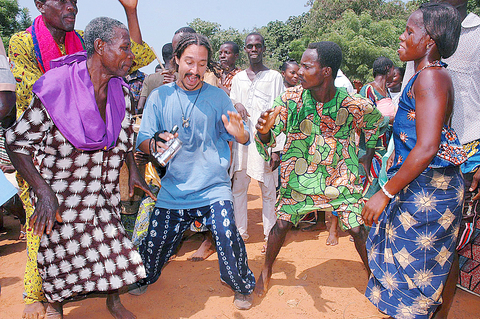 Voodoun dancing. 巫毒教的舞蹈。 (照片:歐新社)
PHOTO: EPA
A closer look 說古論今
The now democratic Benin was originally made-up of several kingdoms and states — the most well-known of these being the Kingdom of Dahomey which was dominant until the nineteenth century. Each Dahomey king built his own palace in the capital, Abomey, and after he died his palace was turned into his funeral temple. Unfortunately, many of the palaces were burnt down by the Dahomey in 1892 during a war with the French. The palaces that remain within the walled complex are being lovingly restored and are listed as world heritage sites by UNESCO.
Benin's most famous export is the Voodoun religion — the foundation of modern day Voodoo. Voodoun is a complex system of multiple deities which forms the basis of society. Even though other religions have been introduced to the country, most people still practice Voodoun alongside the newly introduced religions. A public holiday on Jan. 10 celebrates Voodoun and people from all over the world to attend. Some of the activities include dancing, offerings to ancestors and the inviting of spirits into the home. Many people also have their fortune told by the Voodoun chiefs.
Benin used to be the main supplier in the slave trade and was known as the Slave Coast. The local rulers sold off their prisoners of war as slaves to American and European countries in exchange for cannons and other military equipment. Ouidah city houses a huge monument to these people along the beach, which for them was their last glimpse of their homeland.
新興的民主國家貝南原本由幾個王國與國家成立,其中最著名的為統治直到十九世紀的達荷美王國。每一位達荷美國王都在首都阿波美建造自己的皇宮,駕崩後皇宮就成為陵墓。可惜的是,許多皇宮都在一八九二年對法軍之戰時付之一炬。殘存下來的皇宮都受到細心維護,並被列為聯合國教科文組織的世界遺產。
貝南最著名的輸出物是「Voodoun」教,也就是現今的巫毒教。Voodoun教是一套有著多重神明的複雜系統。即使其他宗教已被引進這個國家,多數人民仍信奉巫毒教,與新引入的宗教併行。一月十日是國定假日之一,歡慶Voodoun教與來自世界各地的參加者。活動包括舞蹈、祭奉祖先及邀請亡靈來家中。許多人也會讓Voodoun長老算命。
貝南過去一向是奴隸交易的主要供應地,以「奴隸海岸」著稱。當地統治者將戰俘當奴隸賣到美國與歐洲國家,以交換大砲與其他軍事設備。維達市沿著沙灘立了一座巨大的奴隸紀念碑,這座沙灘就宛如他們瞥見家鄉的最後一眼。(翻譯:賴美君)
Publication Notes
About Benin 國家概況
Size: 112,620km2, about three times the size of Taiwan
Language: French (official), Fon, Yoruba, plus several major tribal languages
Border countries: Nigeria, Togo, Niger, Burkina Faso
Location: Western Africa
Capital: Porto-Novo. Cotonou is the seat of the government
Population: about eight million
Currency: 16 Communaute Financiere Africaine francs (XOF) are worth about NT$1
Government: Republic
面積:十一萬二千六百二十平方公里,約為台灣的三倍
官方語言:法語(官方語言)、豐語、優魯巴語,以及一些主要種族的語言
鄰國:奈及利亞、多哥、尼日、布吉納法索
位置︰西非
首都︰新港。科托努為政府所在地
人口︰約八百萬人
貨幣︰十六非洲金融共同體法郎約為新台幣一元
政體︰共和政體
Comments will be moderated. Keep comments relevant to the article. Remarks containing abusive and obscene language, personal attacks of any kind or promotion will be removed and the user banned. Final decision will be at the discretion of the Taipei Times.