Panda presents 熊貓禮
In 1997, Britain handed Hong Kong back to China, marking the end of British rule in the area. China is likely to give a panda to Hong Kong as a gift to honor the 10th anniversary of the handover, a media report said last week.
"We are working hard on this. There should be at least one new panda coming to town next year," an unidentified source told the South China Morning Post.
The panda or pandas would join two pandas already in Hong Kong, An An and Jia Jia, who live in the Ocean Park complex on Hong Kong Island.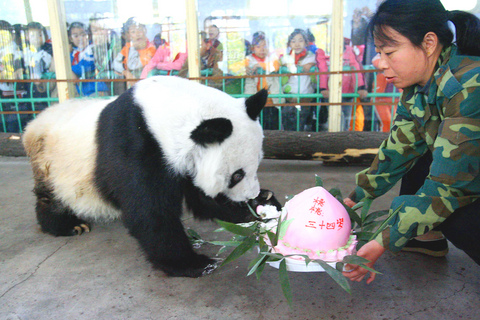 Taotao the Panda receives a bamboo birthday cake at a zoo in Jinan, China. 在中國濟南市得一所動物園,熊貓桃桃享用一塊竹葉壽桃。 (照片:美聯社)
PHOTO: AP
But both An An and Jia Jia are getting old. At 28, Jia Jia is one of the oldest pandas in captivity. Most pandas are only expected to live to be about 24 years old. An An is nine years younger at 19.
Ocean Park has already asked the Chinese authorities for two young pandas that would live in a new section to be built onto the Panda House.
The possibility of two new young pandas are among the attractions being considered for the ceremony on July 1, 2007. Other options for the celebration of the anniversary include an exhibition of national treasures, a concert by a national orchestra, a world-class soccer game possibly involving Chelsea or Barcelona, and fireworks.
So far only one event — a visit by China's President Hu Jintao — has been confirmed. (DPA)
英國在一九九七年將香港歸還中國,劃下英國統治香港的句點。一家媒體上週報導,中國可能贈與香港一隻熊貓,做為主權移交十週年的紀念。
未署名的消息來源告訴《南華早報》︰「我們正在努力。明年至少會有一隻新熊貓到香港。」
新熊貓將與香港海洋公園的兩隻熊貓「安安」與「佳佳」作伴。
不過安安與佳佳都已年邁。二十八歲的佳佳是人類豢養的最老熊貓之一,一般認為,多數熊貓只活到二十四歲左右。安安則是十九歲,比佳佳小九歲。
海洋公園已向中國官方申請兩隻年幼熊貓,新熊貓可望住在熊貓館新蓋的區域。
新增兩隻熊貓的可能性,是二○○七年七月一日慶典的規劃活動之一。移交紀念日的慶典還包括國寶展、中國交響樂團的音樂會、卻爾西或巴塞隆納足球隊的世界級足球賽,與煙火表演。
截至目前為止,活動中只確定中國國家主席胡錦濤將訪問香港。 (德通社/翻譯:賴美君)
Publication Notes
Today's Words 今天單字
1. anniversary n.
週年紀念日 (zhou1 nian2 ji4 nian4 ri4)
例: Today is my mom and dad's wedding anniversary — they have been married for 25 years!
(今天是我父母的結婚週年紀念日。他們已經結婚二十五年了。)
2. unidentified   adj.
身分不明的 (shen1 fen4 bu4 ming2 de5)
例: An unidentified person broke into the flower shop this morning and stole some money.
(今早一位身分不明的人闖入花店偷錢。)
3. captivity n
囚禁 (qiu2 jin4)
例: I don't think animals are meant to be raised in captivity.
(我不認為動物應該被關起來飼養。)
4. confirm v.t.
確認 (que4 ren4)
例: Can you confim the number of people who will be coming to the party?
(你可以確認一下參加派對的人數嗎?)
Comments will be moderated. Keep comments relevant to the article. Remarks containing abusive and obscene language, personal attacks of any kind or promotion will be removed and the user banned. Final decision will be at the discretion of the Taipei Times.