Germans best at saving energy, survey says 德國人最節省能源
Britain is the least energy-efficient country in Europe, according to an NGO survey of the habits of 5,000 people across the continent published last week.
The Energy Saving Trust (EST) found that Germany was the nation most conscious about saving energy. They reported this based on the average number of wasteful acts committed each week. The Germans were followed in order by Spain, France, Italy and Britain.
Germany scored 14, Spain scored 16, France scored 19, Italy scored 25 and the UK scored a very high 32.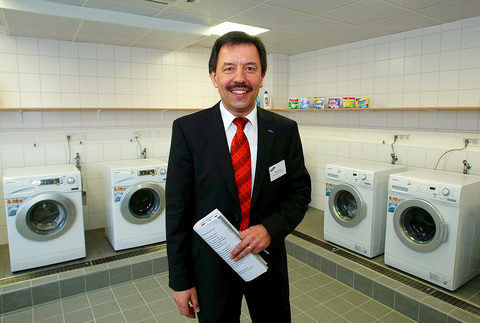 The European Samsung centre of development of domestic appliances opens a new lab.三星在歐洲的家電研發中心開設新實驗室。 (照片:歐新社)
PHOTO: EPA
EST singled out for criticism the British people's over-dependence on tumble dryers, with 32 percent of them avoiding using a washing line to dry clothes altogether.
Italians are the worst in Europe at remembering to turn off the standby button on electrical appliances — 80 percent do this on a regular basis, according to the trust — while the French are willing to wear a sweater instead of turning up the heating.
Only 16 percent of them turn up the heating at least once a week, the EST said.
It praised the Spanish people for their conscientious use of heating systems, with only 12 percent leaving air-conditioning or heating on when they go out, compared to 28 percent in Britain.
Germans, meanwhile, are virtual paragons of good behavior. Some 78 percent always turn off their car engines when sitting in traffic jams and 60 percent regularly wash their clothes at an economical temperature of 60 degrees Celsius.(AFP)
根據一個非政府組織在上週發表的問卷調查顯示,英國是歐洲最浪費能源的國家。這項問卷調查全歐洲五千名受訪者的用電習慣。
節能基金會(EST)的報告是以每週浪費能源行為的平均值為基礎,發現德國是最有節能意識的國家,德國之後依序是西班牙、法國、義大利和英國。
德國得14分;西班牙16分;法國19分;義大利25分,而英國是最高分32分。
節能基金會特別點名英國,批評英國人過度依賴烘衣機,有32%的民眾不願意用晾衣繩一次曬乾衣物。
全歐洲就屬義大利人最記不得關掉電器用品的待機開關,基金會表示有80%的人經常忘記,而法國人則選擇穿上毛衣而不開暖氣。
節能基金會表示只有16%的人每星期至少會開一次暖氣。
節能基金會對於西班牙人節制地使用暖氣設備表示讚賞,只有12%的民眾會在出門時開著冷氣或暖氣,相較之下有28%的英國人會這麼做。
德國同時也是行為良好的模範生,約78%的民眾困坐車陣時一定會關掉引擎,而60%的民眾會固定在經濟溫度攝氏60度洗衣服。
(法新社╱翻譯︰鄭湘儀)
Publication Notes
Today's Words 今天單字
1. criticism n.
評論 (ping2 lun4)
例: If you want to be in show business, get used to hearing a lot of criticism.
你如果想投身演藝事業,要習慣接受很多批評。)
2. avoid v.t.
避開 (bi4 kai1)
例: Green tea makes me feel sick, so I avoid drinking it.
(綠茶讓我不舒服,所以我都避喝綠茶。)
3. conscientious adj.
有良心的 (you3 liang2 xin1 de5)
例: This nation needs more conscientious voters.
(這個國家需要更多有良心的投票人。)
4. paragon n.
模範 (mo2 fan4)
例: Mother Teresa was a paragon of kindess and virtue.
(德蕾莎修女是仁慈與美德的典範。)
Comments will be moderated. Keep comments relevant to the article. Remarks containing abusive and obscene language, personal attacks of any kind or promotion will be removed and the user banned. Final decision will be at the discretion of the Taipei Times.