When it rains, it pours 禍不單行
In the days and weeks leading up to a typhoon, the weather can sometimes be very dry. There will be no rain for some time, and then the typhoon hits. A typhoon brings lots and lots of rain.
In English, people use the saying "when it rains, it pours" to talk about times when things like this happen. It means that once something happens that hasn't happened in a long time, it happens in large amounts. For example, let's say that no one in your family gets sick for many months and then you all get sick in the same week. That is what is meant by "when it rains, it pours."
What the saying really stresses is the feeling that nothing ever happens in normal amounts. It feels like it is always all or nothing. Either there is a typhoon, or else it is very dry, but nothing in-between.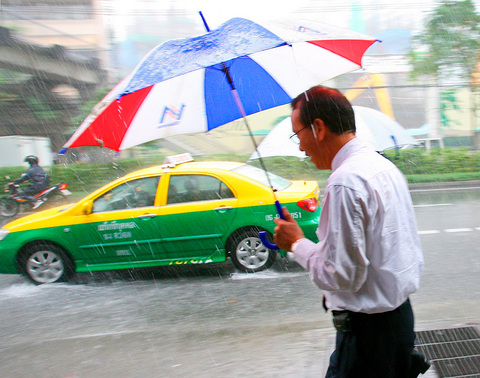 It's pouring in Thailand! A man walks down a Bangkok street in heavy rains. 泰國下起傾盆大雨!豪雨中一名男子走在曼谷的街頭上。 (照片:歐新社)
PHOTO: EPA
(Emily Shih, Staff Writer)
颱風逼近的前幾天或幾星期,氣候有時會非常乾燥,好一陣子都不會下雨,不過之後颱風一來就會帶來豐沛的雨量。
英文中,當這種事發生時,大家就會說「when it rains, it pours(不雨則已,一雨傾盆)」,意指很久沒發生的一件事,一出現就來勢洶洶,例如,你家數月來無人生病,之後卻都在同一個星期掛病號,這就是「when it rains, it pours」。
這句諺語真正要強調的是一種任何事都無法來得剛剛好的感覺,不是全有,就是全無。要不就是颱風,要不就很乾燥,完全沒有灰色地帶。
(翻譯︰鄭湘儀)
Publication Notes
Today's Words 今天單字
1. pour v.t.
傾瀉 (qing1 xie4)
例: It's pouring outside; they say the streets are starting to flood.
(外頭下著傾盆大雨,有人說街道開始淹水了。)
2. amount n.
數量 (shu4 liang4)
例: I only like to put a small amount of sugar in my coffee.
(我只喜歡在咖啡裡加少量的糖。)
3. stress v.i. /v.t.
強調 (qiang2 diao4)
例: Jim tried to stress the importance of the meeting to his staff.
(吉姆試著對員工強調會議的重要。)
Comments will be moderated. Keep comments relevant to the article. Remarks containing abusive and obscene language, personal attacks of any kind or promotion will be removed and the user banned. Final decision will be at the discretion of the Taipei Times.